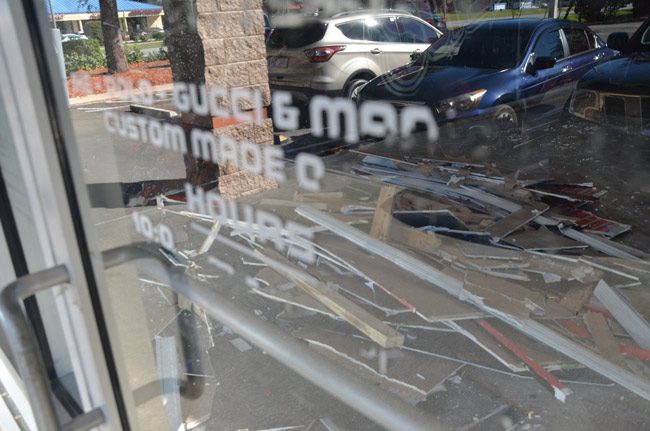 Last Updated: 10:16 p.m.
Super Nova Clothing and Shoes was a storefront in the Belle Terre Shoppes center between Firehouse Subs and a smokeshop. In late July, a SWAT team and other members of the Flagler County Sheriff's Office served two warrants on the business' owner and sole store employee, Jerald Davis–first a search warrant, then an arrest warrant.
Davis, 33, a resident of 7B Buttonwell Lane, is a convicted felon nine times over. The search produced a loaded .380 handgun, less than a gram of cocaine, marijuana, a digital scale, and plastic baggies. There was also a hair salon in back of the 1,200-square-foot store, in violation of his lease. Davis ended up facing five charges, including possession of a firearm by a convicted felon and possession of cocaine within 1,000 feet of a school or child care center. In late August, the State Attorney's Office filed an information–meaning its intention to prosecute–on four charges, including a second and a third-degree felony. But the drug-dealing charge was reduced to simple possession. A pre-trial was scheduled in Davis's case today.
Instead, the state announced that it had dropped all charges.
The state does not explain why it drops charges. A sheriff's spokesman this afternoon said it would be solely the state's decision. It appeared to be a surprising and remarkable turnaround.
But late Tuesday night, a person familiar with the case revealed that Davis was indicted on a gun-possession and drug-dealing charges by a federal grand jury last week, and arrested by federal agents after he went to a scheduled pre-trial hearing in Bunnell today. He is in federal custody, though his current precise whereabouts are unknown.
The indictment, dating back to Oct. 25, may not have been unsealed until the time of his arrest by Bureau of Alcohol, Tobacco, Firearms and Explosives agents, thus suggesting that the state charges had been merely dropped (as was reported in an earlier version of this article.)
The sheriff's office had played up his arrest in July, with the sheriff himself going to the business at the time of the bust, pictures of the weapon and the drugs, and references to the numerous complaints the sheriff's office would receive about Davis's alleged dealing and disruptions he caused with neighboring businesses. "Multiple undercover operations confirmed that Davis was distributing a variety of narcotics from the business, including Fentanyl laced Heroin and Cocaine," the release stated in July, noting that an agent with Homeland Security Investigations assisted detectives with locating and identifying counterfeit name brand clothing that was displayed for sale throughout the store. The arrest was covered by local and regional media, including FlaglerLive.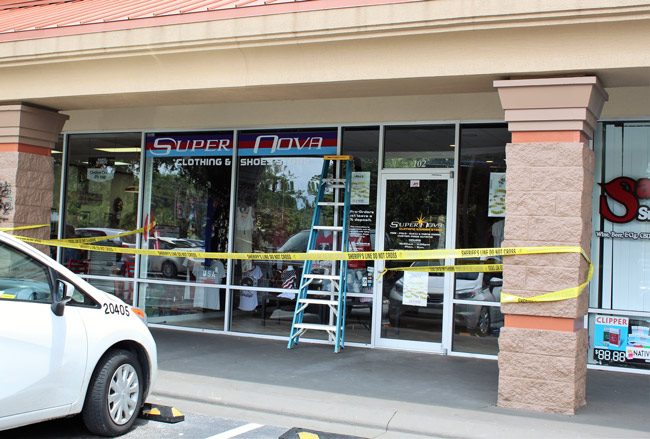 Davis posted bond within hours of his arrest and went back to work at the store. A frequent user of social media, he spoke of his innocence through lengthy selfie-videos. "They say don't judge a book by its cover," he said after bonding out. "You also shouldn't judge a person from their past. People do live and learn and Do Grow up. We ask that you don't give up on SuperNova clothes and shoe store due to these allegations. The REAL TRUTH WILL COME TO LIGHT. Stand by."
Though he tried, he didn't stay open long. On Aug. 14, the city of Palm Coast posted a stop-work order at the store, addressed to the landlord, because Davis had violated city code, carrying out commercial alterations to the business without a permit and occupying it without a certificate of occupancy. (A week later he retained a private attorney, only to reverse course in early October, declare himself indigent and request a public defender.)
On Sept. 13, the Megar Group, the landlord at the shopping center, filed an eviction suit for $6,420 in unpaid rent. Davis had signed the lease on May 1 and owed $3,210 a month, including insurance and common area fees at the #102 unit at the 1475 Palm Coast Parkway strip. Davis disputed the claim about not having insurance.
Megar's eviction document detailed the breadth of claims against him from Magar's perspective: Davis, the suit charged, violated his lease "by harassing, menacing, scaring other tenants and their customers" and by interfering and "injuring" other businesses, failing to obtain a certificate of occupancy from Palm Coast government, violating another section of the lease by "selling knockdown and other counterfeit items as well as conduct[ing] a business not permitted by your lease, to wit: a hair salon." He'd also conducted non-permitted construction within the store.
In early August he'd been given 20 days to address the issues before the eviction was filed. He was subsequently evicted. Today, the store was locked, vacant, the markings of the old business mostly scraped off the glass storefront, debris piled up on the floor in the empty store.
"The business owners never followed through on their occupancy permit," a Palm Coast government spokesperson said today. "The property owner still has a Code Enforcement case that the City wrote for work without a permit."
On Oct. 1, Davis wrote five, single-spaced, typewritten pages to the court in his defense against the eviction charge, disputing all the landlord's claims, claiming that the property manager would conduct surveillance on his business for hours at a time and speak negatively about him to other nearby business owners. He described confrontations with the Firehouse Subs owner over the kind of music Davis played. He referred to the clothing store as "all I had." He blamed required permits and paperwork with Palm Coast failing to go through on his landlord's "office negligence," then referred to the sheriff's July 27 search of his business as "an attempt [by] the landlord to get me and my business banished from the business plaza." But he wrote that his lawyer had advised him not to speak of the matter. Then came the eviction notice.
He described the claims against him as "fabricated," attaching his insurance paperwork and citing a petition from other business owners lending him support. "Many owners of the business plaza were more than willing to sign our petition and show support as they have said they understand how discriminatory the landlord can be once things aren't going his way," he wrote. He said he'd attached the signatures, but they did not appear to have been part of the court file. On Sept. 19, he found Philip Sapienza, a maintenance man for the plaza, stripping off lettering from his business' glass. He wanted Sapienza arrested for vandalism. Sapienza was (for criminal mischief), though the charge was soon dropped. But days later, Davis got a notice from the sheriff's office that he had five days to respond to his eviction.
"I am asking the court to help me reopen my business by mandating the landlord to comply with all dealings within the [city's] building department," he concluded. "That the landlord be held responsible for all backed up bills incurred while being shut down. I am also asking the court to allow me 3-4 months rent free to regenerate my business, giving enough time to reopen, restock, and make my rental payments on time."
Until today, Davis lived with his girlfriend and their numerous children on Buttonwell Lane, where people familiar with his circumstances say car traffic was constant and suspicions rife that drug-dealing was taking place at the property.