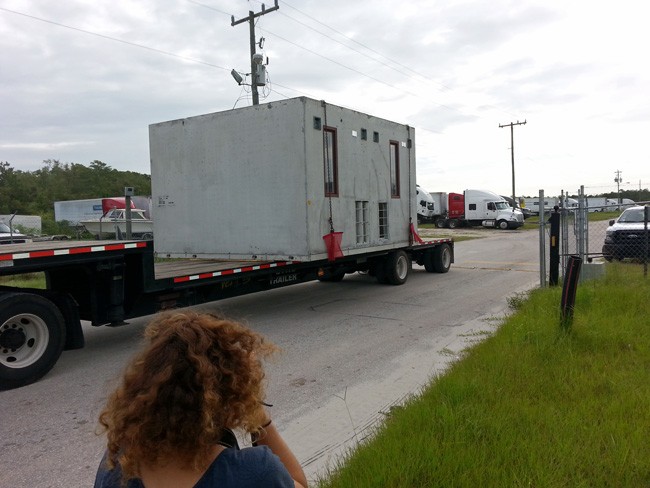 A few days ago the Flagler County Sheriff's Office sent an invitation to local media to photograph the transfer of prefabricated jail cells from one place to another in Bunnell. I guess we were supposed to be impressed with the massiveness of those concrete blocks rolling to their final resting place on the unfortunately termed "Justice Lane."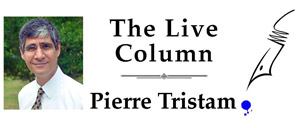 I didn't go. I don't mind the endless groundbreakings for construction projects that are nothing more than government doing its most basic job, with our money (and sometimes pampering its job by building the occasional palace, with our money). But there's a point when the back-patting becomes obscene. Turning jail construction into a photo-op is one of those points. There's nothing to be proud of in the pornography of incarceration.
We need jails. But we don't need monuments. And we certainly don't need them in these numbers. Every prisoner is a symbol of failure: not just his failure, which is no small thing, but his community's, a responsibility we too easily dismiss as non-existent. Prisons and jails mask that dismissal. They absolve us of responsibility even as they aggravate rather than treat the problem. Jails eliminate from society millions of non-violent offenders, decimating families and jobs and branding individuals as criminals for life. Those men and women are condemned to employers' scorn and denied the right to vote long after they'd served their time. That's not justice. It's dehumanization. And it affects millions of non-violent offenders such as drug addicts and mental health patients.
The brainless rhetoric of tough-on-crime politicians allows them to project protection and responsibility even as they are accomplishing the reverse: they are criminalizing a slew of behaviors that have no business being criminalized, they are building an infrastructure of prisons and jails that, with 2 million people behind bars (and 7 million are under direct correctional supervision), exceeds every other nation's incarceration rate. And they boast about it. They set-up photo-ops about it.
I'm not faulting the sheriff's office's PR folks. They're doing what they're told, what their politically savvy choreographers know works like a narcotic on voters' basest instincts. And they're right. The public loves its prisons and jails, the whole harsh, concrete, inescapable clang of it. It loves the architecture of punishment, the thick, drab walls of a criminal justice system that, to quote Daytona Beach Police Chief Mike Chitwood, considers every individual arrested a scumbag until proven innocent, and a scumbag deserving of every inch of those prefab walls. That same public that will ridicule inexpensive mental health or diversionary programs and call them waste even though they're more effective at keeping people out of jail snarls with joy at the prospect of a $26 million lock-up, most of which we don't need. (The new jail itself costs $18 million, running it costs $6 million).
You'll never convince me that a county that's contended with a 140-bed jail all these years suddenly needs triple the lock-up space, even if its population were to improbably double in the next 20 years: not when, finally, politicians are beginning to emerge from their gulag mentality, when the idiotic war on drugs, and on pot in particular, is showing the harsh laws to be more unjust than what most drug users could possibly do, not when crime has been falling year after year, and when the 1990s rash of jail construction was shown to be the racket for jobs that it is. It has as much to do with justice as a billy club does with reason.
But glimmers of progress aside, no one has ever accused the Flagler County Commission or the county's interchangeable sheriffs for being ahead of their time. If the military keeps fighting the last war, these guys keep fighting an outdated crime wave even as they boast of endlessly falling crime rates. They could have built a new jail in line with that trend and in line with necessary safety concerns. Instead, they're giving us Fort Apache: Flagler.
That's what explains this lust for more jails, this inability to see something wrong in turning what should be a shame of the community into prefab pride on par with boasts about parks or beaches.
But in the end it's not the politicians' fault. It's yours. It's your dollars, your votes, your lusts for disproportionate punishment that has turned what should have been necessary islands of confinement into an archipelago for warehousing human flesh. To call it a system of "corrections" is a euphemistic first-degree  felony. Inmates don't get "corrected." They don't get cured, rehabed, treated or educated. They learn how to more effectively despise an incorrigible system and to be better criminals before going off to pad those recidivism rates. They live up to what we've made of them, intentionally and sadistically: subhuman creatures mirroring a subhuman architecture of punishment.

Pierre Tristam is FlaglerLive's editor. Reach him by email here or follow him on Twitter @PierreTristam.A version of this piece aired on WNZF.