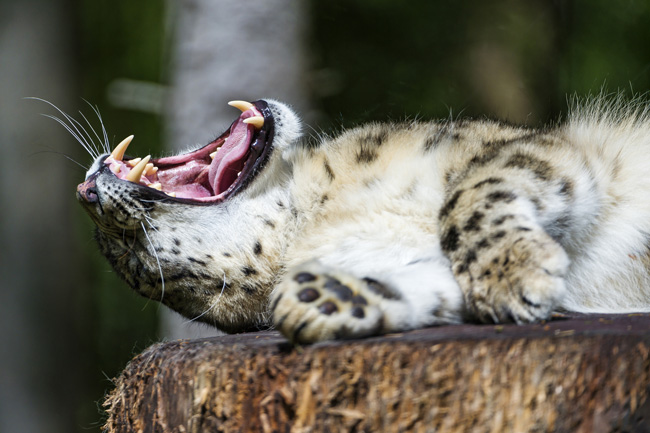 Today's Live Wire: Quick Links

Americans Want More Bombings of ISIS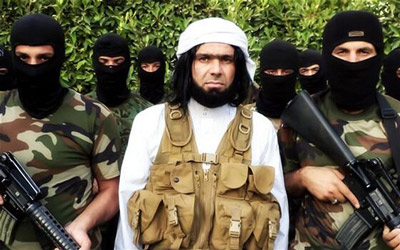 Here we go with the latest exaggerated fears and imbecilic responses, especially from a president looking for every possible way to raise his ratings. A war always helps, briefly, anyway. From the always reliably hawkish Washington Post: "Americans overwhelmingly view Islamic State terrorists as a serious threat to vital U.S. interests and, in a significant shift, widely support airstrikes in Iraq and Syria, according to a new Washington Post-ABC News poll. The nation's increasingly hawkish mood will form part of the backdrop for a speech by President Obama on Wednesday, when he will outline his thinking on how to confront the threat from the Islamic State. Obama's remarks will come a day after he confers with congressional leaders at the White House about the administration's planning. Obama's speech also comes at a critical moment in his presidency. He will address the nation at a time of record or ­near-record lows in public assessments of his performance. Only 43 percent of Americans say he is a strong leader, the lowest reading since he entered the White House. Just over half the country says his presidency has been a failure, although partisanship colors that judgment. His overall foreign policy ratings are his lowest yet in a Post-ABC News poll. […] [H]e has faced increasing calls from lawmakers in both parties to expand the U.S. military role, not only in Iraq but also in Syria, where the administration has been reluctant to intervene directly in that country's civil war. […] Today, 71 percent of all Americans say they support airstrikes in Iraq — up from 54 percent three weeks ago and from 45 percent in June. Among those who say Obama has been too cautious, 82 percent support the strikes; among those who think his handling of international affairs has been about right, 66 percent support them. Nearly as many Americans — 65 percent — say they support the potentially more controversial action of launching airstrikes in Syria, which Obama has not done. That is more than double the level of support a year ago for launching airstrikes to punish the Syrian regime for using chemical weapons." The full story.
See Also:


Beth Kassab in the Orlando Sentinel: "Tests are not the result of Common Core. When Lee County voted to opt-out in late August, there were headlines like this one from USA Today's website: "Lee County first in Fla. to opt out of Common Core testing. […] But Common Core doesn't produce any additional tests. Common Core, now called Florida State Standards, is just that: standards. They tell us what kids should know by the end of each grade. Like understanding fractions in third grade. Or being able to talk about the meaning of a sonnet in the seventh grade. Those are real examples. It's not scary unless you're wearing a tin-foil hat. […] The short story is that there are too many tests because a well-intentioned effort to link teacher pay to performance went off the rails. The Legislature decided to judge teachers based on how well their students perform on tests. So now districts are creating tests in every subject from P.E. to drama, and it's a mess. […] Common Core will not indoctrinate your child with fringe political beliefs. If you're hearing that all of this testing and Common Core talk is just a way of turning our children into little socialists, you need to question the source. That claim is complete hooey."
See Also:

Fox Dumb-Asses Mock Ray Rice Victim
Fox host Brian Kilmeade has never made headlines for his wits. He has none. His IQ does not quite register on amoeba scales. He proved it again Monday. So did co-host Steve Doocey. From Think Progress: "New footage of Baltimore Ravens running back Ray Rice knocking his fiancee out cold in an elevator was released this morning by TMZ. The video shows Rice leveling Janay Palmer, and then casually dragging her limp body out of the elevator.
Responding to the video, Fox host Brian Kilmeade on Monday blasted the victims of domestic violence, criticizing Palmer (now Janay Rice) and other women who don't break up with their partner after a domestic violence incident, saying they send a "terrible message."
Kilmeade then proceeded to provide mocking advice to Palmer, quipping, "I think the message is, take the stairs." Co-host Steve Doocey gamely joined in, "The message is, when you're in an elevator, there's a camera." Watch:
See Also:


Roger Cohen in the Times: "Another round of violence is over in the Holy Land. More than 2,100 Palestinians, most of them civilians and many of them children, have been killed. More than 70 Israelis are dead. The grass, in that appalling Israeli metaphor, has been mown (and will now start growing again). Hamas, through its resistance, has burnished its reputation among Palestinians. Israel is angrier. Nobody is better off. Periodic eruptions are intrinsic to Prime Minister Benjamin Netanyahu's strategy of maintaining the status quo of rule over millions of Palestinians, expansion of West Bank settlements and maneuver to deflect American mediation. Oppressed people will rise up. Israel's anemic embrace of a two-state objective is the best possible cover for the evisceration of that aim. Still, the question arises: Was this mini-war necessary? I think not. Certainly it was not in Israel's strategic interest. [… The only certainty now is that this will happen again unless the situation in Gaza changes. That in turn necessitates Palestinian unity and renunciation of violence. It also hinges on a change in the Israeli calculus that settlement extension, a divided Palestinian movement, and vacuous blah-blah on a two-state peace are in its interest, whatever the intermittent cost in blood. […] [R]ead Yehuda Shaul in The New Statesman on the corrosive effect of the occupation and his experience of military service in the West Bank: "We needed to erase the humanity of Palestinians along with our own humanity."
See Also:

U.N. Scientists See Largest CO2 Increase In 30 Years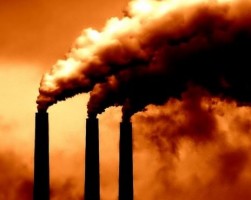 From Think Progress: "More carbon dioxide was emitted into our atmosphere between 2012 and 2013 than in any other year since 1984, putting humans on the fast track toward irreversible global warming, the United Nation's weather agency said in a report released Tuesday. The World Meteorological Organization's (WMO) annual Greenhouse Gas Bulletin showed that the increase of atmospheric CO2 from 2012 to 2013 was 2.9 parts per million (ppm), the largest year-to-year increase in 30 years. Because of that growth, the average amount of CO2 in the atmosphere reached 396 ppm — just 9 ppm away from an average level some scientists believe could cause enough sea level rise, drought, and severe weather to significantly harm human populations across the globe. […] Atmospheric methane reached a record high of about 1824 parts per billion (ppb) in 2013, the report said, due to increased emissions from humans. Most human-caused methane emissions come from natural gas production, followed closely by industrial agriculture. Even though there have been large increases of greenhouse gases emitted into the atmosphere, however the report noted that the ocean has been absorbing more and more of it, causing widespread acidification of the sea. Comparing current data of the ocean's acid content with paleo archives over the last 300 million years, the WMO called the sea's current rate of souring "unprecedented." Major concerns with acidification include large-scale die-offs of calcifying organisms like coral, algae, mollusks, and plankton, and a general decrease in biodiversity." The full story.
See Also:

Clinton and Bush, Together Again
From USA Today: "There they were, just a couple of retired guys talking about old times — though in their case the old times involved being President of the United States. Former presidents George W. Bush and Bill Clinton visited the Newseum on Monday to chat about a new leadership scholarship program, and also to joke around about their newfound friendship. As his cellphone rang, Clinton — whose daughter Chelsea is pregnant — said he hoped a family member wasn't calling to tell him he was "about to become a premature grandfather." […] The two former chief executives said they get along well in their post-presidential years. Clinton, who defeated Bush's presidential father in the 1992 election and also considers him a friend, referred to himself as "the designated black sheep" of the Bush family. […] In the only brush with contemporary politics, Bush joked about the interviewer who asked him about the prospect of another Bush vs. Clinton race in 2016, referring to former Florida governor Jeb Bush and former secretary of State Hillary Rodham Clinton. "My answer was the first one didn't turn out too good," Bush said. […] While members of the presidents club usually get together for funerals or library dedications, Bush and Clinton promoted the new Presidential Leaders Scholars program, co-sponsored by their presidential libraries as well as those of George H.W. Bush and Lyndon Baines Johnson. The program is designed to teach leadership skills to members of the private, public, non-profit, and military sectors who would meet with officials who worked for past presidential administrations." Watch:
See Also:

Ford's Nixon Pardon in a 3rd Grader's Eyes
From the National Archives: "On August 9, 1974, facing impeachment for his role in the Watergate affair, President Nixon resigned from office, and Gerald R. Ford succeeded him as President. A month later, on September 8, Ford stunned the nation by announcing that he was granting Nixon "a full, free, and absolute pardon" for all crimes committed during Nixon's time in office. The decision to pardon Nixon was one of the most controversial decisions ever made by a President. A few days afterwards, a one-line letter arrived for Ford. "Dear President Ford," it said, "I think you are half Right and half wrong." The writer, one Anthony Ferreira, did not state his age, but his brevity, handwriting, and use of wide-ruled paper suggest that he was quite young. While his figures weren't precise—fifty-nine percent of the population actually opposed Ford's decision—this child managed to encapsulate, in a single sentence, the country's deep division over the pardon."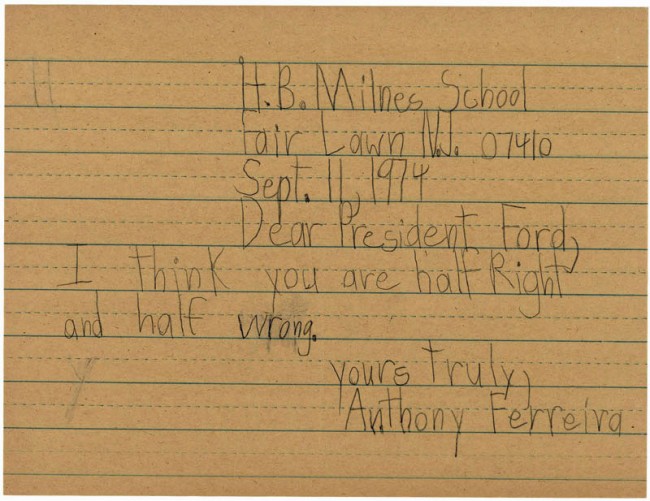 See Also: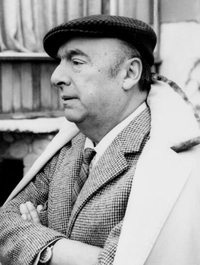 We have lost even this twilight.
No one saw us this evening hand in hand
while the blue night dropped on the world.
I have seen from my window
the fiesta of sunset in the distant mountain tops.
Sometimes a piece of sun
burned like a coin in my hand.
I remembered you with my soul clenched
in that sadness of mine that you know.
Where were you then?
Who else was there?
Saying what?
Why will the whole of love come on me suddenly
when I am sad and feel you are far away?
The book fell that always closed at twilight
and my blue sweater rolled like a hurt dog at my feet.
Always, always you recede through the evenings
toward the twilight erasing statues.
See Also:

From biography.com: "Away from the spotlight, Kinison became known for his hard-partying lifestyle. He was known to drink in excess and use drugs. For much of his career, Kinison "lived more like a rock star than a comic," wrote his brother and manager Bill Kinison in his book, Brother Sam: The Short, Spectacular Life of Sam Kinison. Kinison was also known for his outrageous appetite for women and had romantic dalliances with the likes of Jessica Hahn, Penny Marshall, and Beverly D'Angelo over the years. One to bear a grudge, Kinison feuded with fellow comedians Bobcat Goldthwait and Whoopi Goldberg among others during his career. […] According to the book Brother Sam, he had several car wrecks in 1990 because he was driving while intoxicated. His long-time girlfriend Malika Souiri was reportedly raped in the Los Angeles home they shared by a man the two had met at a club earlier that evening. Souiri shot at her attacker several times, using one of Kinison's guns. Kinison was unaware of what was happening at the time because he was passed out in another room in the house. […] On April 5, 1992, Kinison married his girlfriend Malika Souiri in Las Vegas. The couple honeymooned in Hawaii for a few days before returning to California so that Kinison could make it to a gig in Laughlin, Nevada. Kinison and Souiri set out for Laughlin on April 10 with Kinison's brother Bill and several others following them in a van. About 200 miles east of Los Angeles, Kinison's sports car was hit by a pickup truck driven by a 17-year-old. He was conscious briefly after the accident. According to Brother Sam, Kinison's final words were "Why now? I don't want to die. Why?" He then stopped breathing and efforts to revive him proved unsuccessful. At the age of 38, one of America's most distinctive comedians died from his injuries."
See Also:

Electronic Reading Is Not the Enemy
It is becoming a cliché of conversations between twentysomethings (especially to the right of 25) that if you talk about books or articles or strung-together words long enough, someone will eventually wail plaintively: "I just can't reeeeeaaad anymore." The person will explain that the Internet has shot her attention span. She will tell you about how, when she was small, she could lose herself in a novel for hours, and now, all she can do is watch the tweets swim by like glittery fish in the river of time-she-will-never-get-back. […] Reading insecurity. It is the subjective experience of thinking that you're not getting as much from reading as you used to. […] A long train of studies suggests that people read the Internet differently than they read print. We skim and scan for the information we want, rather than starting at the beginning and plowing through to the end. Our eyes jump around, magnetized to links—they imply authority and importance—and short lines cocooned in white space. We'll scroll if we have to, but we'd prefer not to. (Does the weightless descent invite a momentary disorientation, a lightheadedness? Or are we just lazy?) We read faster. […] So maybe we're right to be worried about our e-reading. Maybe we've sensed that we rely on physical cues to ground ourselves in complex arguments, and that we get more of those from books than from flickering screens. […] So maybe the answer is just to close the laptop and read more books. Books! Hallelujah. Except that it sometimes feels as though we are Typhoid Marys, transferring our diseased Web habits back to print. […] Not only do 52 percent of digital natives (at least, those of them ages 8 to 16, according to the National Literary Trust) prefer screens to spines, but their comprehension and recall doesn't seem to vary depending on what reading technology they use. (Screw you, guys! I'm sorry, I didn't mean that—I'm just insecure.) They appear to have mastered focus and self-monitoring skills in the age of Google. They take real joy in online reading, unmarred by uncertainty and shame. Their ease and comfort on the web implies that reading insecurity has less to do with technology per se than with the liminal status of a particular few generations, after Gen X and before the post-millennials, with one foot in the print world and another in the digital world, creatures fully of neither." The full story.
See Also: