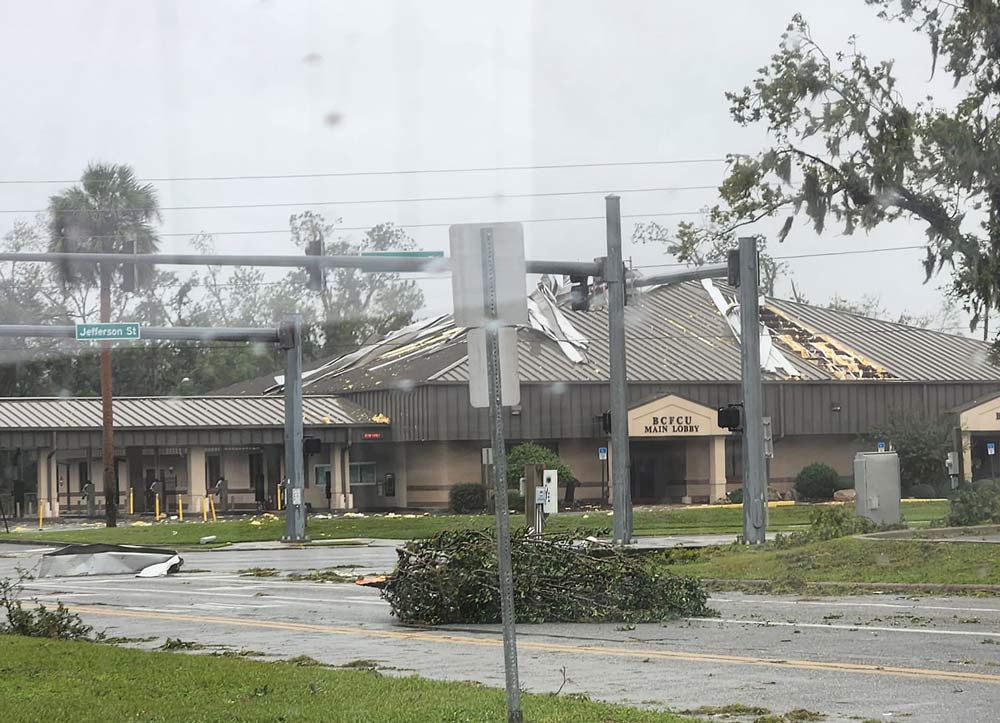 PERRY, Fla.–Several hours after Hurricane Idalia hit, Gov. Ron DeSantis on Wednesday went to rural Taylor County, where debris, downed trees and some power lines littered the roads.
The Category 3 storm made landfall in Taylor County's Keaton Beach area, and county Sheriff Wayne Padgett said other hard-hit areas included downtown Perry and Steinhatchee, "a little fishing village on the coast down there," which he said had the most storm surge.




"As bad as it is, it still ain't as bad as it could have been," Padgett said.
Padgett also said that no fatalities had been reported "that we know of, right now."
"We may get some reports tonight or tomorrow … as the water recedes and we can go in to try to check on people. As of now, we have not," Padgett said.
Idalia, which made landfall about 7:45 a.m. with maximum sustained winds of 125 mph, pounded rural Florida counties, including Taylor, Dixie, Levy, Suwannee and Madison, before racing into South Georgia. DeSantis said clearing debris and downed trees will be a "huge effort."
"There's going to be a lot that's going to be required to be able to clean this up, and to get everything back up and running again," DeSantis said during a news conference just after 3 p.m.
At the time of DeSantis' visit, a bridge leading into Steinhatchee was not passable. Florida Department of Transportation Secretary Jared Purdue also said State Road 24 leading into Cedar Key in Levy County also was not accessible Wednesday afternoon.




DeSantis said that some aspects of recovery in the area could take months.
"You have people's lives that have been at risk. We don't necessarily have any confirmed fatalities yet, but that very well may change. And then you have people whose livelihoods have been turned upside down, so they're going to need support," the governor told reporters.
While no fatalities had been confirmed, DeSantis said during a 6 p.m. news conference in Tallahassee that the Florida Department of Law Enforcement was investigating a traffic-related death.
DeSantis contrasted the impacts of Hurricane Idalia with Hurricane Ian, which devastated Southwest Florida nearly a year ago.
"I can tell you, with Hurricane Ian … within an hour after it hitting, there were frantic phone calls to 911 locally there, of people that were literally drowning in their house," DeSantis said. "And I remember talking to the sheriff down in Lee County on the phone, just the feeling of dread that those phone calls represented. You knew that there were going to be a lot of problems. We have not seen that in the same way on this storm."
DeSantis added that "a lot of people really heeded the warnings that their local officials issued."




The Taylor County Sheriff's Office on Tuesday issued a mandatory evacuation order for all coastal residents.
Padgett said that "most" people in Steinhatchee evacuated ahead of the storm.
"We had a few that did not, but so far everybody's safe," said Padgett, who also urged people to "stay home" as power lines and trees were being removed from roads.
Heavy damage to some buildings was evident Wednesday.
The storm knocked over a canopy of a gas station operated by Ware Oil and Supply Co.
"Most everybody here, company-wise, evacuated. As a matter of fact, my county manager was just rolling back into town from evacuation. They don't know what their house looks like, they haven't been there yet," Tallahassee resident Doug Everett, an owner of the company, told The News Service of Florida outside the station. "Nobody died, that's the key."
Everett echoed state officials' sentiments that recovery would be a long road.
"In the last 40 years, this is probably hurricane number four for me. And, when you start fixing stuff like this, it's quite an undertaking," Everett said.
More than 500,000 utility customers had lost power during the storm.
State Emergency Management Director Kevin Guthrie said crews started "search, secure and stabilize" recovery efforts after Idalia made landfall about 75 miles southeast of Tallahassee as an "extremely dangerous" Category 3 storm packing maximum sustained winds of 125 mph.




DeSantis said crews had restored power to about half of the 500,000 utility customers who lost electricity in various parts of the state. But he said the number of outages could increase.
Duke Energy Florida, which serves many areas hit by Idalia, reported midday Wednesday that more than 64,000 customers did not have electricity, while the utility had restored power to nearly 70,000 others.
The company advised customers in the hardest-hit areas to anticipate extended outages, noting that restoration can be slowed by high winds and widespread flooding.
About 42,000 customers of municipal utilities had power outages as of noon. Amy Zubaly, executive director of the Florida Municipal Electric Association, said in a news release that service had been restored for about 52,000 others.
Tampa Electric Co. reported that most of its 35,000 customers who lost power in Idalia were back online by the time the storm made landfall.
"The weather impact was not as severe as anticipated, and our crews were able to work through the night to restore customers during the storm," Tampa Electric President Archie Collins said in a statement.
With landfall in rural North Florida, Idalia is expected to cause less damage than Hurricane Ian, which hit the Fort Myers area last year. But conducting searches and helping residents can be more time-consuming in sparsely populated areas, Guthrie said.
"Up here in the Big Bend, you may have two houses on a five-mile road," Guthrie said.
Initial reports included Madison County being nearly 100 percent without electricity and flooding in Levy County's low-lying Cedar Key, officials said.
Idalia pushed sea waters up to 16 feet in some areas of the Gulf Coast.
Department of Transportation Secretary Jared Perdue said about 1,000 bridges were being inspected to make sure they are safe. More than 900 flights were canceled or delayed in Florida because of the storm.




Flights were expected to resume Wednesday night at Tampa International Airport and Gainesville Regional Airport. Tallahassee International Airport is set to reopen Thursday morning.
The state relies on confirmation of fatalities from the Florida Department of Law Enforcement, based on information from medical examiners.
"I think there have been unconfirmed reports of traffic fatalities that may be storm-related and maybe not," DeSantis said. "Obviously, it was happening within the time that the storm was either approaching or was on target."
Meanwhile, what DeSantis called an "ancient" oak tree split in half and fell at the governor's mansion in Tallahassee. DeSantis said the first family was OK.
–Ryan Dailey, Jim Turner, News Service of Florida