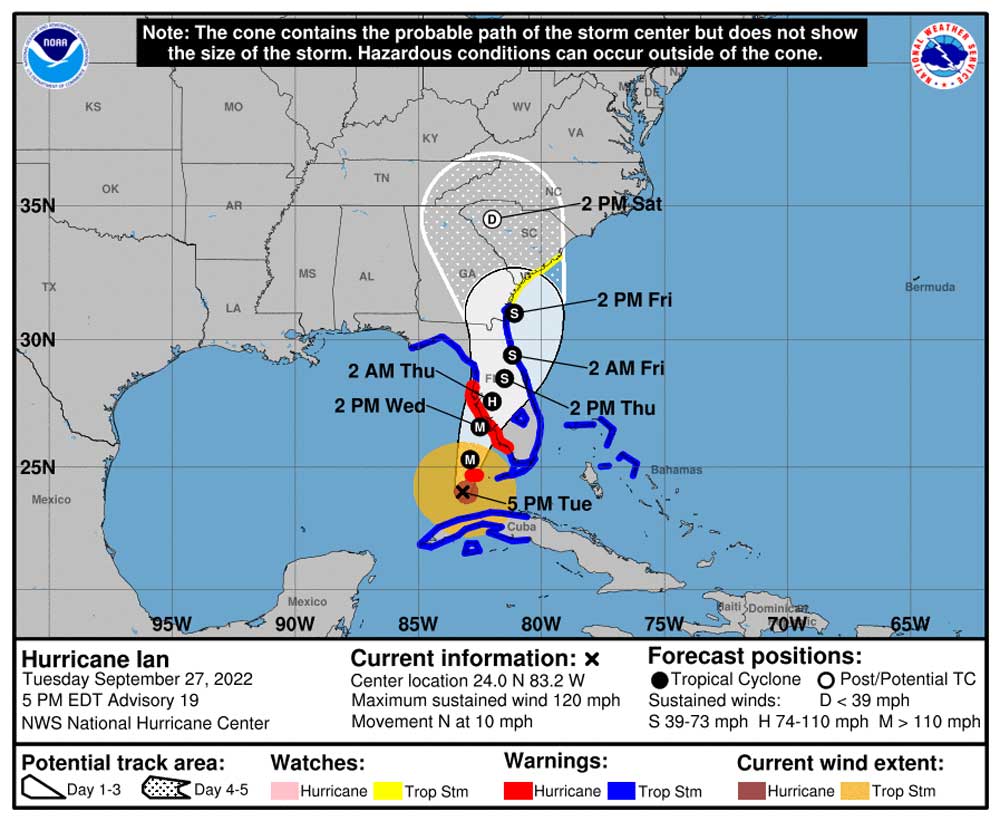 Last Updated: Tuesday, 5:58 p.m.
For previous coverage, go here and here. To jump to sandbag locations, go here. For sheltering information, go here.
Tuesday, 5:30 p.m.–The latest forecast of the National Hurricane Center, issued at 5 p.m. Tuesday, places Hurricane Ian, on a straight path for the heart of Flagler County by early Friday morning, by which time Ian will be a tropical storm. The storm will have spent 36 hours crossing Florida from just south of Tampa Bay, its easterly rain and wind bands lashing Flagler the entire time.
More than 2 million people on the west coast of the state have been urged to evacuate, if not necessarily far from home: the focus is on evacuating to "higher ground," as the governor put it, to family and friends' homes, or to shelters in the same counties. Evacuation orders for parts of Flagler County are expected Wednesday, including the entire Barrier Island, parts of neighborhoods on the mainland, east of I-95, and parts of west Flagler around Crescent and Dead Lake. Shelters in Flagler are set to open Wednesday, since evacuation orders can;t be issued without such alternatives.
"This storm will bring with it both wind and water concerns for Flagler County," Jonathan Lord, Flagler County's Emergency Management director, said at a news conference in Bunnell this afternoon.  "This is a very large storm and around the time of landfall, dangerous winds may extend almost 200 miles out from its center. What this means is we could potentially experience winds of over 40 miles an hour, as early as 4 p.m. tomorrow.
"However, it is more likely that we would see those tropical storm force winds starting a few hours later, closer to 2 or 3 a.m." Lord continued. "Those winds will then continue through midday Friday–yes I said Friday." He said there was the potential for hurricane force winds for a few hours Friday morning, "as well as isolated tornadoes throughout this event.




Flagler County officials sought to present a united front, both to Hurricane Ian and to residents of Flagler County and its cities, in a live, joint appearance at a press conference at the Emergency Operations Center this afternoon in Bunnell. Lord spoke alongside Sheriff Rick Staly, Whitson, Bunnell City Manager Alvin Jackson, Palm Coast Mayor David Alfin and Superintendent Cathy Mittlestadt.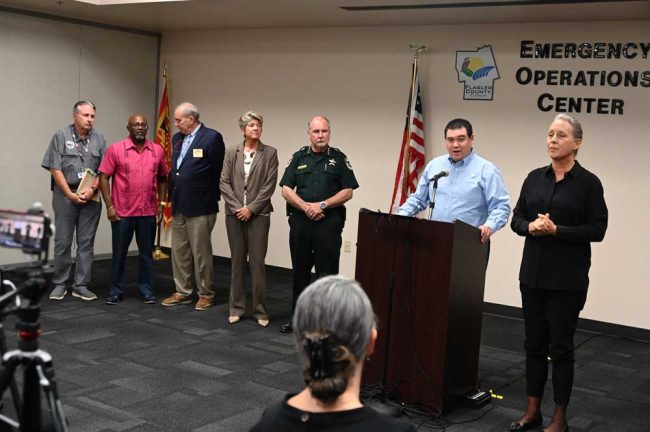 The water risks are especially pronounced with 10 to 15 inches, starting Wednesday evening. " This rain on its own will likely cause flooding issues in many areas of our county," Lord said, in addition to a 4 to 5-foot storm surge coinciding with a king tide–an unusually high tide due to the moon's perigee.
The highest tides on the Atlantic will be will be at 11 a.m. on Thursday and noon on Friday, at the same time that the storm's most intense activity is expected locally. It's a particular concern for properties along the Intercostal Waterway and its connected waterways as well as Crescent and Dead Lake areas.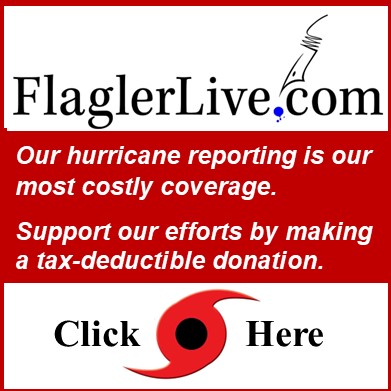 Lord put it starkly, for those who remembered Hurricane Irma in 2017, when 400 homes in Flagler Beach were flooded, all along the Intracoastal: "If your home or business was flooded, then you can likely expect to see similar flooding with Ian as well," he said. "However, because every storm is different, please don't assume that Irma's lack of flooding in your neighborhood means that you're all you're in the clear."
Flagler Beach City Manager William Whitson called it "Irma Plus Two."
Traffic on the Flagler Beach bridge will be regulated: The westbound lanes will always be open," Whitson said. But to go eastbound–to cross onto the island–"you'll need to specifically bring identification so that we can get you through and we will make every effort to keep the bridge open unless sustained winds go above 45 miles an hour. But again, westbound always open."




"In the event evacuations are ordered, it is likely that some type of curfew will also be ordered at some point starting to coincide with evacuation," the sheriff said. Tampa Bay is preparing for just such a curfew ahead of Hurricane Ian's landfall. "So my message to the community is, please cooperate with our deputy sheriffs. In the event those orders do occur, to the criminal element: Don't try to prey on our community. I have plenty of bed space for you at the Green Roof Inn, or the county jail. And just because there might be a lot of rain, you'll just go to jail wet. We'll still arrest you."
Two key factors play into the opening of local shelters: the school district, which makes its schools available, with its staff's preparatory work, and the Flagler Health Department, which staffs the special-needs shelter at Rymfire Elementary. Shelters are also secured with sheriff's deputies. "I'd just like to appreciate the coordinated efforts that we have put in place to make sure our community is taken care of as our county prepares for the storm," Mittlestadt said. "Please make sure that you are reviewing the rules and expectations as you visit our school campuses to make sure that we are taking care of each other in a safe and fair manner."
The News Service of Florida reports that Florida Emergency Management Director Kevin Guthrie said the center of the wide-ranging system was forecast to hit Wednesday near Venice in Sarasota County, about an hour south of St. Petersburg, with 125 mph sustained winds. Still, as Ian's track shifted east from earlier forecasts, the storm's center could "wobble," causing changes in its path.
Power outages are expected across the state in the coming days. Utilities have more than 28,000 workers on standby, including crews coming from other states, the News Service of Florida reports.
Watch the full press conference with Flagler officials here:
Previous updates are below.

Tuesday, 11:30 a.m.–Hurricane Ian will make "an extremely dangerous hurricane landfall" in the Tampa Bay area Wednesday night–now sooner than earlier predicted, by about eight hours, the National  Hurricane Center said in its 11 a.m. advisory today.




Ian will then cross Florida in a slight and painfully slow arc, from the southwest to the northeast, remaining a lower-category hurricane inland through Thursday morning, degrading into a tropical storm by Thursday night as it hits Central Florida in the Orlando area. The storm is expected to reach Flagler County, still as a strong tropical storm, Friday morning, its eye squarely on top of the county according to some models, including the NHC's latest forecast. The slow movement of the storm will compound its damaging impacts.
The first evacuation orders in Flagler were imminent today.
Jonathan Lord, Flagler County's emergency management chief, said the eye passing over Flagler means somewhat less rain by then, but higher, more damaging winds, making it an unenviable trade either way. The National Weather Service in Jacksonville is keeping potential hurricane-force winds in the forecast for Flagler Thursday and Friday. "The eye right over us it actually might diminish some of the rain," he said, "however it will pretty much at that point on [be] guaranteed as category one."
County government late this morning said "residents who live east of Interstate 95 – or in mobile homes or low-lying flood prone areas – should be prepared to evacuate."
"While we don't want people to panic, Hurricane Ian is gaining strength and is currently projected to make a direct hit to Florida's Gulf Coast and here in Flagler we will at the very least have tropical storm force winds, if not hurricane force, and storm surge issues," Lord said. "The best way to protect yourself is to be prepared."




Late this morning Flagler County schools announced the closing of all schools starting Wednesday through Friday. "This is not a decision we take lightly, but we want to give our families enough time to prepare their homes for this storm or evacuate the area if they feel that is the best option for them," Superintendent Cathy Mittelstadt said in a statement. "We also need to use this time to prepare the emergency shelter space our campuses offer, should people be asked to evacuate."
All after-school activities planned for Wednesday through Friday have been canceled. This includes extracurricular activities, including sporting events. The SAT testing scheduled for Matanzas High School on October 1st has been moved to October 15th. Rymfire Elementary will open as special needs shelter, Bunnell Elementary will open as a general population/pet shelter on Wednesday.
Courts will be closed starting Wednesday in Flagler, Volusia, St. Johns and Putnam counties. Chief Judge James Clayton at noon today announced the suspension of court operations throughout the circuit, with the exception of first appearances. Those will continue to be held by video link between judges and the county jail every day at 8:30 am.
Hurricane shutters and generators should be in place and ready. Food, fuel, water, medication, pet supplies, critical papers, and family comfort supplies should be purchased by the end of today. Porches and patios should be cleared of items that can create a hazard.
"This is critical," Lord said. "We have a locally declared emergency as of Monday. We need everyone to take this very seriously."
Flagler County has opened its Emergency Operations Center Call Center – 386-313-4200 – from 8 a.m. to 5 p.m. Tuesday and Wednesday will be expanded as warranted.
Here's the latest briefing from the National Weather Service in Jacksonville:
nws-jax-briefing

Previous updates are below.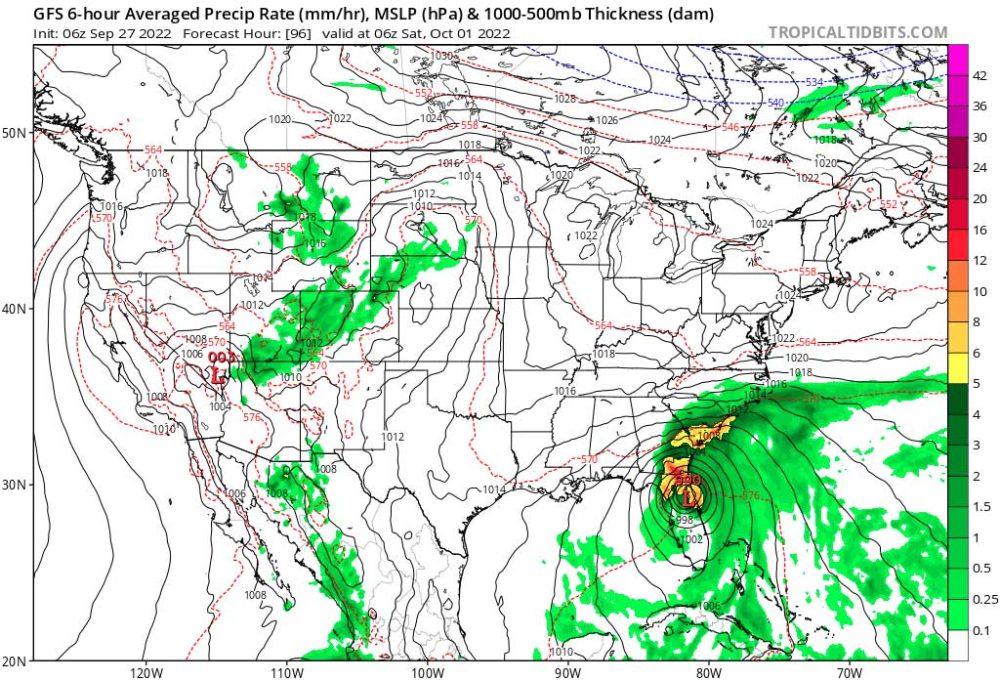 Hurricane Ian Forecast Projecting Damaging, Flooding Path from Tampa to Flagler Starting Wednesday
Tuesday, 7:15 a.m. —The consensus forecast for Hurricane Ian has solidified overnight Tuesday around a likely landfall around the Tampa Bay area as a major hurricane Thursday morning. It would then degrade into a still-damaging tropical storm as it swings across north-central and northeaster Florida, potentially including parts of Flagler County Friday. Ian would move into Georgia Friday afternoon.
Overnight projections have worsened considerably for Flagler County, with higher amounts of rain projected over a longer period of time, stronger winds, a storm surge potential of up to two feet and the possibility of dune breaches along the shore. Schools are expected to close Wednesday through the rest of the week, and shelters begin opening either Wednesday or Thursday. Evacuations of some areas in Flagler-Palm Coast are possible, if not likely: they would be announced later today.
"Our expectation is later today we will probably make an announcement of what areas may have to evacuate with us calling the evacuation Wednesday morning," Jonathan Lord, the county's emergency management director, said this morning. That's pending the 11 a.m. National Hurricane Center forecast, which may change things–either moving up the call or altering it.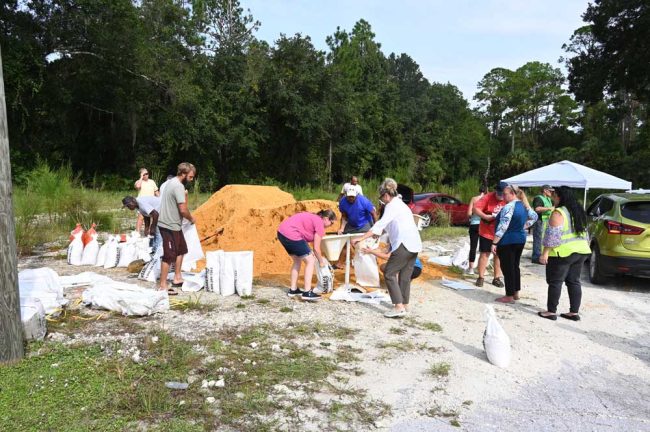 "But the game plan today is to identify the potential areas that should be considered to evacuate." Lord said, "and then Wednesday morning we'll make the call in concert with when we know the shelters are ready. Today our governments are finishing our preparations to be ready to do sheltering should we need to do so, and I would think the answer is yes, we're going to have to do it. But again, the forecast will change things like timing for us as the storm gets closer."
Flagler County is now under a tropical storm watch and a flood watch. Once the storm hits beginning Wednesday and intensifying over the following two days and nights, peak sustained winds in Flagler are projected to reach 45 to 60 miles per hour based on the National Weather Services's latest projections (as of 5 a.m. Tuesday), with wind gusts to 85 miles per hour. "The wind threat has increased from the previous assessment," the service warns. A local storm surge of up to 2 feet is possible.
Under current projections by the National Hurricane Center, Flagler would get its first tropical-storm-force winds late Wednesday morning, and its first heavy rains after midnight tonight. Today should be cloudy with a chance of showers only in the evening, providing local residents yet more time to prepare.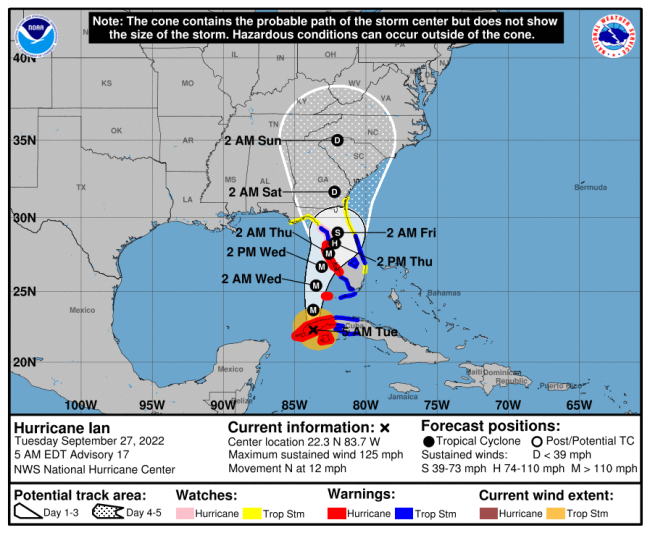 Winds would pick up Wednesday and continue to intensify through Friday. Flagler County is entirely in the cone of probability for Ian's path, leading the National Weather Center in Jacksonville to note that "hurricane conditions [are] possible" in Flagler Thursday and Friday, with tropical storm conditions continuing into Friday night.Both the European forecasting model, which (but for one anomaly of a few hours on Monday, when it pushed the storm west) has led the way in accurately projecting a path for Tampa Bay, and the global Forecasting System, are projecting the storm to swing fully over Flagler County, not west of it. The two models diverge only on timing, with GFS seeing the storm over Flagler during the night from Friday to Saturday, by which time it would be a tropical storm, and the European model placing it there 12 hours earlier. The National Hurricane Center has typically split the difference between major models like the GSF and the European model.
Of equal if not greater concern than the wind to local officials is the flood-rain potential, which has increased significantly with every major advisory for the past 48 hours: the entirety of Flagler County is now projected to receive from 10 to 15 inches of rain, with locally higher amounts.




Rain will be especially heavy because Hurricane Ian will first stall for almost 48 hours Wednesday and Thursday in the area of Tampa Bay, then pick up speed and weaken as it moves east toward the western edge of Flagler, making a slight arc toward the north. The entirety of Florida, with the exception of the Panhandle, is now at 40 percent risk of Flash flooding at some point over the next three days. Flagler's risk is highest from Wednesday through Friday.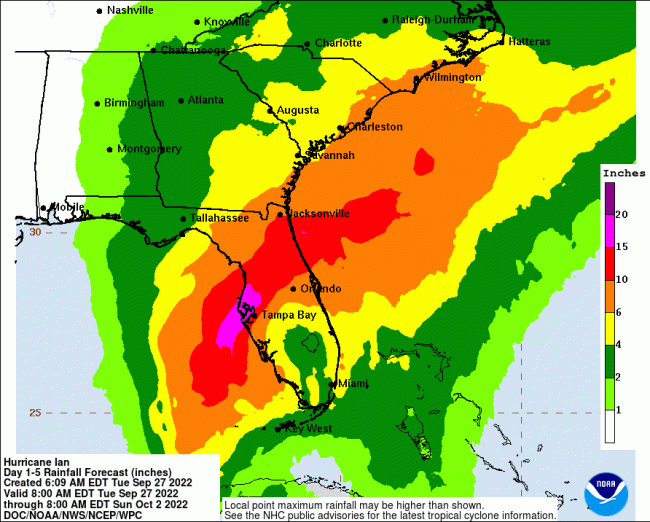 The flooding rains are coinciding with a king tide, creating difficult drainage conditions for water accumulating in the Intracoastal and in low-lying areas like the Crescent Lake basin in west Flagler, and backing up against land in those areas.
The National Weather Service projects "localized inundation with storm surge flooding mainly along immediate shorelines and in low-lying spots, or in areas farther inland near where higher surge waters move ashore." Moderate beach erosion is also expected, "breaching dunes, mainly in usually vulnerable locations," the service warns. That's of special concern to northern Flagler's shore, where dunes have already eroded since being rebuilt in the aftermath of Hurricanes Matthew in 2016 and Irma in 2017.
As of Monday evening the Flagler County school district had not issued an advisory about school closings other than to say it was monitoring the situation. At the time, there was still enough uncertainty in the storm's path to leave open the possibility that it would edge just enough west to spare Flagler serious impact. That possibility appears to have vanished overnight, making it almost inconceivable that schools will not be closed starting Wednesday and for the rest of the week.
That announcement will likely be made today, because in any case Rymfire Elementary is already slated to be an emergency/special needs shelter. The timing of the shelter's opening has not yet been determined, but will be later this morning.
"When school is out today at 3:40 p.m. personnel from the county will start to stage cots, mattresses, and other supplies outside of Rymfire Elementary, or bring to Rymfire these items that will need to open up special needs shelter," Bob Snyder, the Flagler Health Department director, said early this morning. "The Department of Health will be closed starting tomorrow morning, because it'll be all hands on deck for our employees to begin bringing over medical supplies and other supplies and basically turning the Rymfire gym and all the surrounding classrooms into an outpatient MASH unit." (The acronym stands for mobile army surgical hospital.) "So we'll spend the morning tomorrow morning, getting set up and ready in anticipation of the special needs shelter opening sometime mid to late tomorrow afternoon."
Snyder discussed that plan with Lord at 6 p.m. Monday evening, before the worsening of the forecast. "Now with the 5 a.m. update I'll be heading over to the EOC in just a few minutes for an 8:30 briefing. And then we have a nine o'clock meeting with the school district to make sure every one is on board, and I believe they are," for the health department top have access to the school Wednesday morning.
Palm Coast declared a local state of emergency on Monday. Flagler Beach is doing so this morning. Gov. Ron DeSantis declared a statewide state of emergency over the weekend. The designation is largely technical: it enables state and local governments to bypass normal procurement rules when signing contracts or buying supplies. It also allows governments to tally costs associated with storm response and bill those costs for reimbursements through the Federal Emergency Management Administration (FEMA).




A major hurricane, Category 3 or higher, is defined as having winds of 111 miles per hour or higher. Hurricane Ian is now projected to be at major hurricane strength when it makes landfall, but it will quickly degrade after that.
Currently, a dome of cold air is centered over east Texas and pushing on the storm away from Florida, while another weather system to the east of Florida is pushing the storm toward Florida. The result is that near-stall expected for 48 hours of Hurricane Ian's duration, followed by a weakening of the storm right around the time it makes landfall. But it would strike Florida while still a strong hurricane.