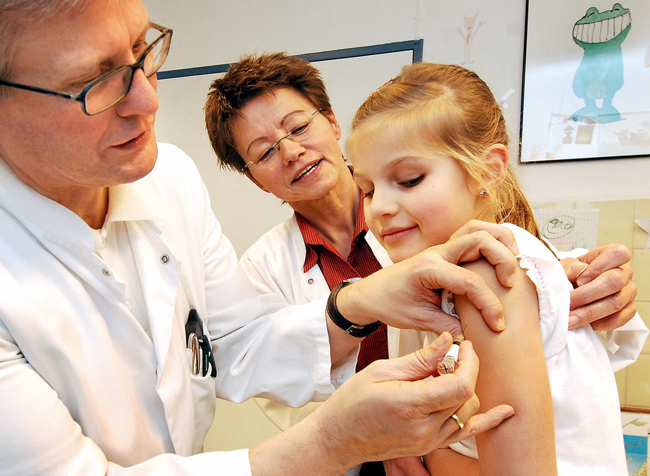 The human papillomavirus–HPV— is the most common sexually transmitted infection in the United States and a principal cause of cervical cancer. But its prevalence dropped by half among teen girls  between 2006 and 2010, from 7.2 percent among girls ages 14 to 19 to to 3.6 percent.
Health officials attribute the drop directly to the HPV vaccine, even though in the United States parents are far more resistant to vaccinating their daughters than they are in other countries. That resistance is growing. While vaccination rates in some European and African countries is around 80 percent (including in countries as varied as Britain, Denmark and Rwanda), a study published in March found that 44 percent of parents in 2010 said they would not immunize their child against HPV.
Parents cite fears that the vaccine could have dangerous side effects. The fears are baseless, but have led to a significant drop in HPV vaccination that worries health officials. Friday, the Centers for Disease Control produced hard numbers about that drop.
HPV vaccination rates in girls aged 13-17 years actually failed to increase between 2011 and 2012, according to the latest CDC data. Three-dose coverage (the vaccine is administered in three doses over period of many months) actually declined slightly from 2011 to 2012. (The vaccine is for both boys and girls.)
Among girls un-vaccinated for HPV, 84 percent had a healthcare visit where they received another vaccine (such as one aimed at meningitis or pertussis) but not HPV vaccine, suggesting that the prejudice against HPV is not necessarily associated with a fringe but persistent prejudice against vaccines. Rather, it is the result of unsubstantiated assumptions among parents that vaccinating a girl for HPV would encourage promiscuity or accelerate the beginning of sexual activity. Such assumptions are more sexist and harmful, health-wise, than accurate: among girls who receive the HPV vaccine, there is no correlation between injections and the incidence of sexual activity.
If the HPV vaccine had been administered to those showing up for other vaccines between 2010 and 2011, the CDC found, vaccination coverage for one or more doses dose could be nearly 93 percent rather than 54 percent.
Approximately 79 million Americans are currently infected with HPV. About 14 million people become newly infected each year. HPV is so common that nearly all sexually-active men and women will get at least one type of HPV at some point in their lives.
"Progress increasing HPV vaccination has stalled, risking the health of the next generation," said CDC Director Tom Frieden M.D., M.P.H. "Doctors need to step up their efforts by talking to parents about the importance of HPV vaccine just as they do other vaccines and ensure its given at every opportunity."
According to CDC, for each year that HPV vaccination coverage remains near the current level of 33 percent instead of achieving the goal of 80 percent coverage, an additional 4,400 women will be diagnosed with cervical cancer and 1,400 cervical cancer-attributable deaths will occur in the future.
But much of that blame lies not just with parents, but with physicians and other health care providers who neglect to be forthright about the HPV vaccine.
The 2012 National Immunization Survey Teen data show that not receiving a healthcare provider's recommendation for HPV vaccine was one of the five main reasons parents reported for not vaccinating daughters. The CDC actively urges healthcare providers, including local health departments, to give a strong recommendation for HPV vaccination for boys and girls aged 11 or 12 years.
The other responses parents provided indicate gaps in understanding about the vaccine, including why vaccination is recommended at ages 11 or 12.
"Parents need reassurance that HPV vaccine is recommended at 11 or 12 because it should be given well in advance of any sexual activity," said Dr. Frieden. "We don't wait for exposure to occur before we vaccinate with any other routinely recommended vaccine."
Parents also reported safety concerns as a reason for not vaccinating. But in the seven years of post-licensure vaccine safety monitoring and evaluation conducted independently by federal agencies and vaccine manufacturers, no serious safety concerns have been identified. So-called "adverse events" to the vaccine have steadily decreased from 2008 to 2012 and the numbers of serious adverse events reported has also declined since 2009.
Parents and caregivers are encouraged to ask about vaccination every time they take children for a healthcare visit, especially for  preteen boys or girls. For many, it's easier than ever to get the HPV vaccine. Because of the Affordable Care Act, most private health insurance plans must cover the HPV vaccine at no out-of-pocket cost, meaning no co-pay or deductible.
CDC officials urge healthcare providers to increase the consistency and strength of how they recommend HPV vaccine, especially when patients are 11 or 12 years old. Reviewing vaccination status at every healthcare encounter and taking advantage of every visit, including acute care visits, can increase HPV vaccine coverage in the United States.