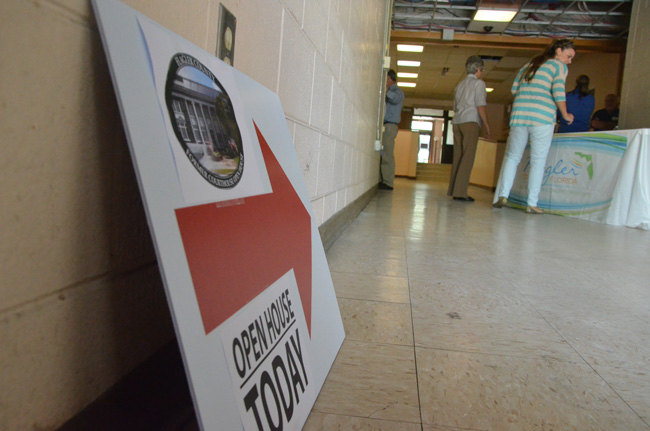 It must be Thanksgiving because as with the first Thanksgiving, the pilgrims seem more interested in clobbering their neighbors than feeding them.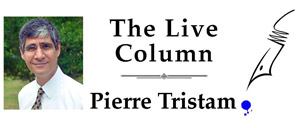 Surely you've heard by now of Arnold Abbott. He's one of those veterans, World War II in his case, governments love to shower with honors and flattery for his service, as long as it's in the abstract and not the kind of service at home that makes governments sick, in Florida especially: helping the poor. That's a problem for Abbott. He's 90 years old, but he likes to feed the homeless.
Fort Lauderdale is one of those Florida cities that criminalizes anything to do with homelessness. Its ordinance forbids feeding them or providing them anything "life sustaining." The ordinance actually uses those words, "life sustaining," to define the prohibition. Three times now Abbott has been arrested and cited for feeding the homeless. He faces up to a $500 fine and two months in jail.
One of his arrests was caught on camera. Abbott had set up a table near a park in Fort Lauderdale. Two cops in full beef brisket gear walk up to him and, taking him by the arm and to the chants of "shame on you," arrest him and two priests. The cops aren't rough with Abbott. They gently walk him around the table to their cop car and issue him a citation while another cop packs up the food. The cops aren't exactly to blame, as people gathered there seem to think. They're doing their job, and I'm pretty certain every single one of them would rather be serving the food with Arnold and the priests than arresting them.
The fault, of course, is that of the Fort Lauderdale city government and others like it, among them Orlando, where your dreams come true. They must think that waging a war on the poor is as American as denying them apple pie.
It's not like we're that much better than Fort Lauderdale. Flagler County and Palm Coast have had their own homeless problem for years, with only one place, the First United Methodist Church in Bunnell, providing a decent refuge for the homeless to "lay their head," as St. Matthew puts it. But the church has been saying for years that it can't go it alone, and every once in a while the city's crueler hearts band up against it. Meanwhile Palm Coast has been content to act as if the homeless either do not exist or should be chased off wherever they're caught. The county does more, but it's still only periodic outreach. It can do much more. In the old courthouse we have a 50,000 square foot government building sitting vacant for seven years, at a cost of $70,000 a year just for utilities. The county has been wrestling with what to do with the hulk all this time and just gave a committee three months to find it some tenants.
But not once this entire time has the county ever mentioned that perhaps a small portion of the building could be used as a homeless shelter, thereby generating those grant dollars county commissioners are constantly begging for. Not once. Even Charlie Ericksen, the only county commissioner who's regularly volunteered at the homeless shelter on cold nights, has been silent on the matter.
The latest of countless committees organized to figure out a use for the thing is focused on the buzz word of the day: "economic development." It's looking for a knight riding a shining business plan, or a platoon of knights anyway, to get in there and get the clunker off the county's burdens. The county must think the homeless are too dirty to share a building with, that economic development and social responsibility are mutually exclusive. That's small thinking.
No business in its right mind these days would occupy that place without all sorts of guarantees and costly pre-requisites fulfilled. It's likelier to be mothballed or demolished, in whole or in part, before it finds a more useful life again, though a second life as a hybrid business center and socially conscious hub isn't at all an unrealistic John Lennon song. It's quite possibly the building's only chance short of rubble.
But no. Politely, wordlessly, the word on the homeless remains what it's always been: screw 'em.
So we will ignore them, harass them, arrest them, we'll feed them a meal once a year—and the county in all its hypocrisy will even sponsor the feeding through Feed Flagler before going back to ignoring them. But we will not house them.
God forbid Christ walked among us. He was Mr. homeless, if he was anything at all. If the Grand Inquisitor caught him around these parts, he'd probably spend Thanksgiving at the Flagler County jail, assuming Fort Lauderdale didn't want him extradited there for beefier punishment.

Pierre Tristam is FlaglerLive's editor. Reach him by email here and follow him on twitter @pierretristam.