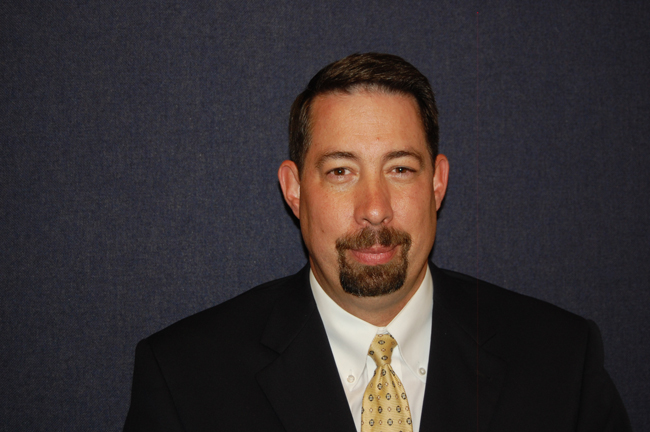 In a withering, 20-minute critique of County Administrator Craig Coffey, Flagler County Commissioner Milissa Holland said this morning in a meeting of the commission that "I don't feel we need to renew Mr. Coffey's contract." Calling Coffey "unprofessional," "mediocre," "disrespectful" and "aggressive" and questioning his priorities, Holland said his contract, which runs out in December, should not be renewed, nor should Coffey have a year's severance.
But while other commissioners agreed with some of the points Holland brought up, Alan Peterson, Barbara Revels and Commission Chairman George Hanns rejected, at times with equally strong language, Holland's call against renewing Coffey's contract–and particularly objected to Holland's characterizations of Coffey as a professional administrator.
The consensus was to renew, but for one year instead of three, and to reduce the severance package from one year to nine months. Revels turned the tables on her fellow-commissioners, suggesting that they "give better directions and expect potentially better results."
Commissioner Bob Abbot moved to not renew Coffey's contract. Holland seconded. The motion failed, 3-2, with Holland and Abbot in the minority. Hanns, Peterson and Revels voted in the majority.
That vote was followed by a motion by Revels to renew the contract for one year and reduce the severance to six months' pay, with 120-day notification (instead of 90) to Coffey should, a year from now, the commission chooses not to renew the contract. There would be an automatic two-year renewal unless the commission provides notice 120 days in advance–that is, next August.
That motion passed with the same 3-2 breakdown.
Holland, defeated, said the commission was sending mixed signals by conceding that Coffey's contract should not be renewed by three years, a concession Holland equated with at least some agreement with the problems she raised. She described herself as "frustrated," a term she used several times today.
But her colleagues wanted to move on. "You brought a lot of things to the attention of the board," Hanns told Holland.
Abbott, taking the tone of an aggrieved school principal, told Coffey from his commission seat that he wanted a two-hour meeting with the administrator, during which he would bring up his "concerns." It's the sort of comment commissioners usually reserve for their private conversations with their top executive. Abbott was grandstanding. (Not long before, and while Peterson was speaking about Coffey, Abbott left his seat, walked down from the dais and held a brief, whispering conversation with the county attorney.)
Before those votes, motions and whispers, each commissioner in turn spoke in support of Coffey, including his professionalism. Peterson explicitly rejected Holland's claims of "mediocrity" and questioned her cherry-piking through Coffey's record.
"I take exception to Milissa's comment about mediocrity," Peterson said. "I have worked over the years with many city managers, they all have diff styles, but I cert would not classify the efforts and the work that Craig has done over the last three years as mediocre."
"I'm not in favor of dismissing Mr. Coffey," Hanns said. "I believe there's food for thought."
"I am not fearful of my job," Coffey said, his voice close to breaking. He said he bought a house here, loved being in Flagler County, and "for someone to say those things is kind of hurtful." He described as "despicable" some of the things said about him in the community at large.
At 10:45, Hanns opened the floor to public comment.
Ed Caroe, who occasionally serves on county boards, was first to speak in support on Holland's position. "This is not a nice person," he said of Coffey, but he also had a motive–a suggestion for someone "right here locally" who "would love to be county manager." (Queried later about who Caroe had in mind, Caroe refused to say.) The next individual to speak was more on Peterson's side, calling Coffey "a human being and a wonderful guy."
Jerry Full, a former Palm Coast City Council member: "What specifically do you want to have done, by whom, for how much and for what purpose?" (Holland responded that the county has a "strategic plan" to outline the commission's priorities.) Full followed several individuals who spoke in support of not renewing the contract. In all, four people spoke against renewal, one person spoke in favor of renewing.
"I think it is essential that we have an open dialogue with our administrator," Holland says, her tone softer: she sensed the way the vote would go. But she again raised issues, restating objections.
Following the votes on Coffey's future, the commission took a break at 11:20 a.m. By close to noon, Coffey and Holland were exchanging routing questions and answers on other matters on the agenda, though not without an edge to their exchanges.
See Also: