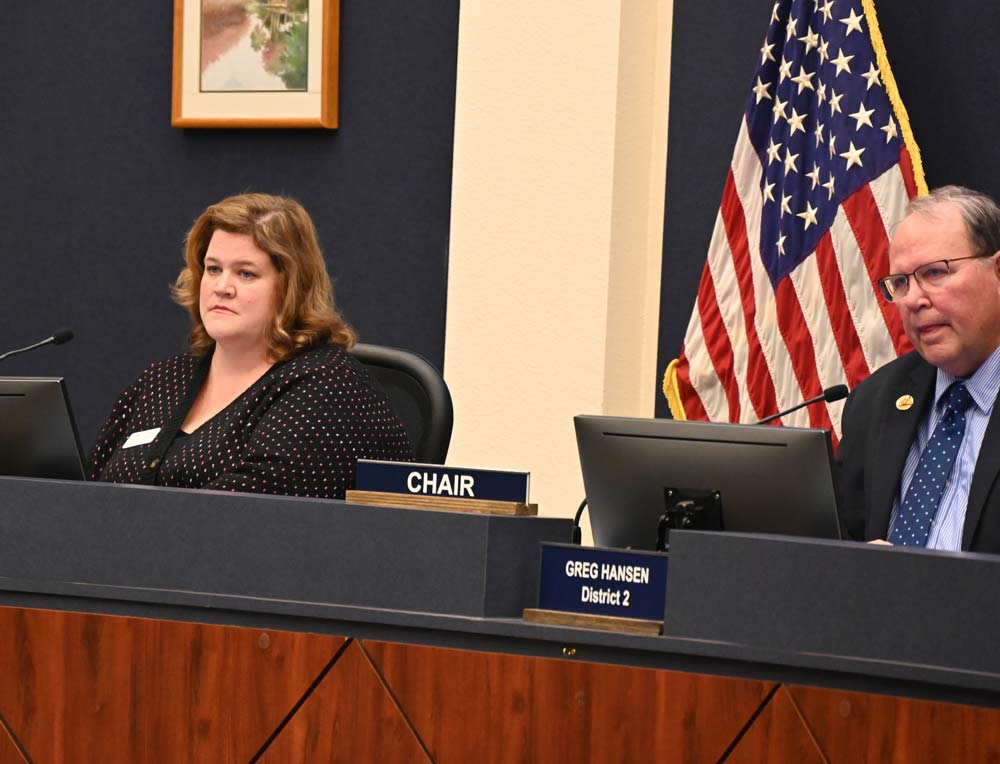 The Flagler County Commission is giving Realtor Heather Haywood, who the commission appointed to the county planning board in February 2022, 30 days to drop her homestead exemption in Volusia County or appear before the commission for another vote on her eligibility for the planning board. But for the homestead record, there appears to be little question that Haywood is a Flagler County resident.
In early 2022, a vacancy opened on the Flagler County Planning and Development Board. Six candidates applied for the three-year appointment. None of them qualified for the seat, which required the applicant to live between U.S. 1 and the Intracoastal. But the commission could by a supermajority vote of four waive that requirement. It did, and appointed Haywood.




On her application, Haywood had listed Flagler as her county of residence, as had all other applicants. She did not list the number of years she'd been in Flagler. The other applicants did. She listed her place of business (Heather Haywood Real Estate) in DeLand, which happened to be the house she owns there, on West Pennsylvania Avenue.
The form also asked whether she was a registered voter. She said yes. The form did not ask whether she was registered in Flagler County, though she is, and has been since 2019. The form that went before commissioners did not ask where the applicants were homesteaded in Flagler County. Had the form asked, Haywood would have had to say No: she is homesteaded at the Pennsylvania Avenue address, according to property appraiser records there, making that her permanent residence.
On Monday, County Commissioner Leann Pennington raised an issue with that. The county code, she said, states that "not only do they have to be an elector voter at all times, and a full time permanent resident, they have to be able to provide a valid homestead exemption and maintain it throughout the term of office."




Pennington is right. The county code is explicit: each member of the planning board "shall be a full-time permanent resident of Flagler County." The board member, the code states, "shall be a full-time permanent unincorporated resident of the area as verified by a valid homestead exemption in his/her name maintained throughout the term in office." (The provision, incidentally, is implicitly discriminatory against residents who may choose to live in apartments and rent.)
Pennington went on to note that "there's a piece where we can waive it. But we we have to know that, and before we put them in to the board, which I don't think didn't come on that vote."
"How can they do that?" Commission Chairman Greg Hansen said.
In fact, not only had the commission voted to waive that requirement, with Hansen in the majority. Hansen himself moved for, in his words, "a one-time waiver for residency requirement for the planning board," and got the necessary 4-1 vote.
Nevertheless it was very clear from the context of the discussion at the time that the commissioners thought they were waiving the geographic requirement within Flagler County: Commissioner Dave Sullivan had very clearly expressed himself that the county could not have found someone, anyone, between U.S. 1 and the Intracoastal, as the seat required: "There are a lot of people that live in that area, and I'm kind of shocked that there's no one that's we've been able to come forward to in that area," Sullivan said at that February 2022 vote.




He was the dissenting vote. He would have likely been even more shocked had he known that the candidate who got the appointment was homesteaded elsewhere.
But none of the commissioners appear to have known, or were told by Planning Director Adam Mengel, who organized the balloting for that appointment, that Haywood was homesteaded in Volusia County. So Pennington was also right when she told commissioners that "at that time when you swore in this member you did not know that they were homesteaded elsewhere as well." (Haywood did not return a text or an email before this article initially published, and her phone's mailbox was full.)
Still, Haywood's appointment does not appear to have violated the code.
The code's provision for waiving the homesteading requirement is less explicit and vague than the provision about residency. The wording leaves a crucial question open to interpretation. The code states: "The Flagler County Commission may waive the elector, full-time permanent unincorporated residency, homestead, and geographic area representation limits […] through a super-majority vote of the county commission." The code is silent on whether or not the provision could be waived for someone homesteaded in Volusia County, St. Johns County, or Graham County, Kansas.
That also suggests that the planning board's decision with Haywood participating are not vulnerable to challenge.




But on Monday, Commissioners Donald O'Brien and Hansen were on Pennington's side, at least going forward.
"We brought it up and brought it up to staff. It's been going on since July," Pennington said, never mentioning Haywood by name. "But I totally agree with being a voter first and foremost on a board, and then having a permanent residency, and then ensuring that our staff verifies the permanent residency."
Pennington wants the commission to reconsider "what we want to do with that particular member, and then too, going forward, we want to make sure that we stand up the voter registration and that they're residents, whether or not they're homesteaded, and we can make an exception for the homestead going forward." She was not willing to make an exception for a resident who doesn't consider Flagler County his, her or their permanent residence.
County Administrator Heidi Petito, referring to Haywood as "they," said "they claim to rent property in Flagler and we deliver packets to them at that rental property," meaning Haywood's agenda packets. Haywood lives on Westgrill Drive in Palm Coast, in a non-homesteaded property that pays close to $6,000 in property taxes. Petito said Haywood divorced, and her homesteaded property stayed in her husband's hands.
Pennington, fearing a legal challenge to planning board decisions, wants members like Haywood to have "a certain timeframe to clean that up," then open the seat back up. Commissioner Andy Dance wants all advisory board members who may not be in compliance with one or another provision of their service to have time to "rectify and fix": their status–whether it's being a registered voter, a permanent resident or any other such detail.




The county administration, at Pennington's request, had tabulated all its advisory board members' status. The analysis found that on the seven boards' 54 seats, 51 serving members responded that they were both residents and registered voters–including Haywood, though a check of the voter-registration rolls as of
Armando Mustiga, a member of the Library Board of Trustees, did not respond to the county's inquiry, and did not attend the last library board meeting, causing the county to speculate that he had moved out of the county. But property and election records indicate he is both a homesteaded county resident and a registered voter locally. Lisa Robinson, who represents Hampton Inn and Suites on the Tourist Development Board, did not respond to the county's inquiry about her voting registration status, but said she is a resident.
Pennington's concerns were especially focused on the planning board, conceding that she does not have a problem with a renter on the board. But she wants that representative to be a full-time resident in the county. "How do we want to deal with a person who is knowingly homesteaded somewhere else?" Pennington said. "I'm concerned that we're defective procedurally on that board and making decisions."
But as County Attorney Al Hadeed made clear to the commission, the parameters of service have to be made clear and precise down to homestead questions.
"And so I suggest that maybe the consensus is that we bring this person back in for that waive, and see if we're willing to waive by supermajority the homestead," Pennington said. Hansen reduced Haywood's options to two choices: eliminate her homestead in Volusia, or appear before the commission to see if the commission will waive that requirement.
Though she was serving on the county board already, Haywood applied for an appointment to the Palm Coast planning board last October. She was not picked.

local-boards