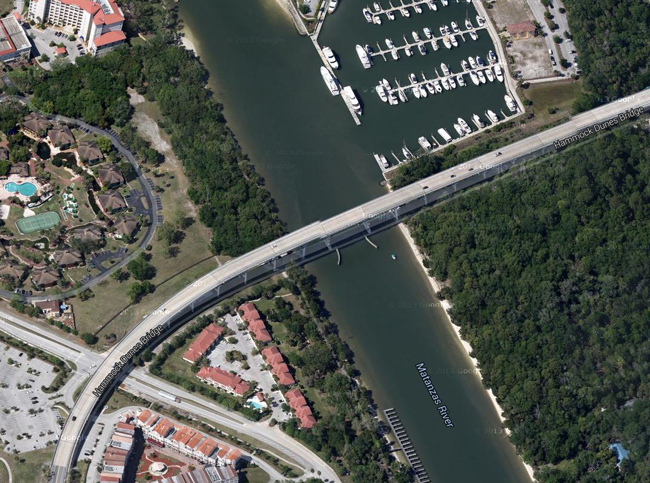 The Hammock Dunes Bridge in Palm Coast was closed for almost two hours midday Sunday as Flagler County Sheriff's deputies talked 19-year-old Dylan Mulligan out of committing suicide as he stood on a narrow concrete ledge jumping from a concrete ledge, 60 feet high.
The incident began shortly after noon. Mulligan, a resident of nearby Canopy Walk, the gated condominium community, had driven a black Kia registered to his parents to the area of the bridge above the Intracoastal Waterway, parked, then walked out and across the concrete barriers to the outer side of the bridge's railing, where he stood on a concrete base while holding on to a light post. When deputies arrived, several people had already stopped and stood nearby, talking to Mulligan and attempting to walk calm him down as he cried.
According to the sheriff's reports on the incident, Mulligan told authorities that he was upset over a break-up with his girlfriend the previous day, and about getting fired from the Palm Harbor Golf Course that Sunday. He kept repeating that no one could help him and that he no longer wanted to live. Mulligan is a 2013 graduate of Matanzas High School and a recipient last year of a $1,000 scholarship from the Men's Golf Association of Palm Coast, which was helping him through his first year at Daytona State College.
Mulligan had slept at his sister's home the previous evening because he was having thoughts of harming himself after the break-up, he told authorities. He has struggled with depression, he told deputies, and tried killing himself before.
The Hammock Dunes Bridge was closed in both directions and numerous agencies were called to the scene, including the sheriff's Marine unit, the Flagler County Fire Rescue water rescue unit, the Palm Coast Fire Department and others. A member of the sheriff's office who personally knows Mulligan was finally able to convince him to climb back over the rail to safety. As Mulligan was escorted away from the railing, he briefly passed out. He was taken to Florida Hospital Flagler, then to Halifax hospital's psychiatric unit in Daytona Beach, as a Baker Act. His vehicle was towed to Roger's Towing's yard in Bunnell. 9His parents were traveling in Pennsylvania at the time of the incident.)
No injuries were reported during the incident.
The last time an individual committed suicide off the Hammock Dunes Bridge goes back three years, to April 16, 2011, when Jane Allen, 50, jumped from the roadway.