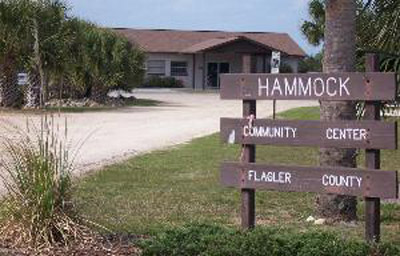 Blood was visible on a chair and the front-wall area of the building. A knife was located near a vehicle, in the bushes, in the parking lot. And a lot of people were milling about, but many more had left, and there was talk of people getting stabbed.
That was the scene when Flagler County Sheriff's deputies arrived at the Hammock Community Center on Malacompra Road, off State Road A1A at the northern edge of Palm Coast in the early hours of Saturday. A private Halloween party had taken place at the center, mostly involving Haitians. Something had gone very wrong. But none of the victims were at the center when cops began arriving, and people there refused to give details, other than that there'd been a fight.
The community center is usually a quiet place, its last brush with notoriety occurring earlier this month when the sheriff's office set up a public-masturbation sting in the area, and caught one man.
Flagler's 911 began receiving calls about a disturbance at the community center just after 2 a.m. Saturday. While one deputy was en route there, he conducted a traffic stop on a 2003 gold or tan PT Cruiser at the intersection of A1A and Camino del Mar, the road that curves toward the toll bridge across the Intracoastal and down to Palm Coast Parkway. A tan Chevrolet was also stopped.
One of the Chevrolet's occupants had a spot of blood on his shirt, and his face appeared swollen, according to a police report. That man told cops that a big fight had broken out at the community center. When he tried to leave the party, he was punched several times in the face by an unknown male, the unidentified victim told deputies. (Their names were redacted from a police report, as the investigation is ongoing and charges may be filed.)
None of the occupants of the two vehicles, who were patted down, had weapons. They consented to having their vehicles searched. No weapons were found in there either. None of the occupants had outstanding warrants. None of their papers were out of order. They were released.
Around that time another deputy had arrived at the community center itself. "There was a large amount of people that had already left the scene and no one was able to provide information on what had happened," the police report states. "Several others refused to answer any questions. It also appeared that the victims had left the scene in unknown vehicles."
The Flagler Beach Police Department had been alerted and was on the look-out for unusual activity. A speeding Oldsmobile was stopped near North 16th Street. One of the stabbing victims was located in that car. The man had a stab wound to his lower back. He was taken to Florida Hospital Flagler.
A passerby told a deputy at the center that another stabbing victim had left in a silver Huyndai Sonata. That car was located on the Hammock Dunes toll bride, heading toward Palm Coast. Cops stopped the car at Palm Coast Parkway Northeast and Palm Harbor Parkway. The victim, whose name was redacted, had a deep laceration to his back, and was taken to a trauma unit at Halifax hospital in Daytona Beach.
The third stabbing victim showed up on his own at Florida Hospital Flagler, with a cut to his chin. Bother the victims at Florida Hospital Flagler "were reluctant to provide any useful information on the suspects," the police report states. "Both stated that a large fight broke out but could not describe who was involved or what it was about." But other people who'd been at the party, and who arrived at the hospital, gave cops two names that the cops determined were among the suspects.
A deputy went to Halifax hospital, where the trauma victim was asleep, but was not facing life-threatening injuries.
Both suspects are from Palm Coast. One is 20, the other is 21, according to the report. All three victims are from Bunnell, and all in their mid- to late 20s. The police report lists the following people as witnesses and others: Jean Dessaint, 24, of Palm Coast; Terrance J. Louis, 18, of Palm Coast; Jean Isenader, 19, of Palm Coast; Lemont Harris, 31, of Palm Coast; Willie Milfort, 31, of Daytona Beach; Latisha A. Brown, 23, city not listed; Timothy J. Fishburne, 56, of Daytona Beach; Donnelle J. Golphin, 28, of Palm Coast; and Charlton A. Nelson, 28, of Daytona Beach.
Anyone with information on the disturbance is asked to contact the Sheriff's Office at (386) 313-4911.