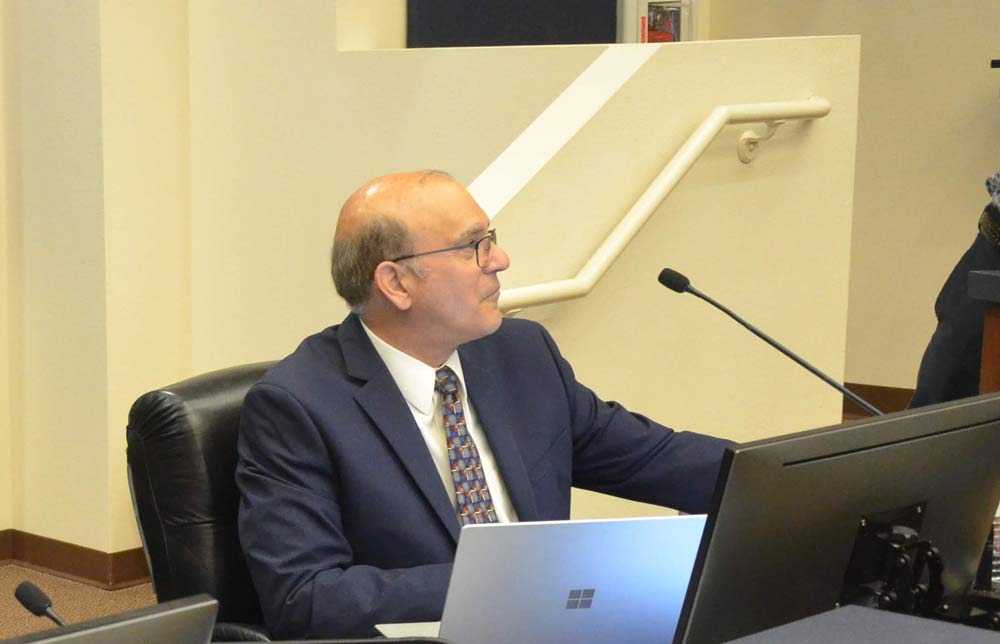 Reeling in a school's worth of red herrings, County Attorney Al Hadeed today fervently defended the authority of County Commissioner Dave Sullivan to ask Flagler Beach government a week and a half ago to pull from discussion a request from the County Commission for support of a proposed increase in the sales tax.




The County Commission, by consensus, had directed County Administrator Heidi Petito in late July to send letters to each of the local municipalities, requesting that they in turn write letters of support for the sales tax increase. Petito did so. The Flagler Beach City Commission placed the request on its agenda for discussion at its meeting on July 27. (See: "Tone-Deaf Flagler County Wants Palm Coast and Other Cities to Support Sales Tax Increase.")
Addressing the County Commission today, Hadeed never mentioned that, in fact, Sullivan never himself went before the city commission on the 27th–that it was Hadeed who did so, on behalf of Sullivan, who had not been able to make the meeting. Hadeed's appearance before the Flagler Beach commissioners was brief, and his request was specific: "He would like you to table it until your next meeting," Hadeed told the city officials, referring to Sullivan. (See: "Without Authority, a County Commissioner Asks Flagler Beach to Table Sales Tax Increase Discussion.")
It is extremely unusual–it is unheard of in the last 14 years–for an individual commissioner to unilaterally request such a delay, without the authority of the commissioner's board behind it. It circumvents the directive of the commission and gives the appearance of inappropriate maneuverings. Sullivan says he did not discuss the request with his own commissioners beforehand. That would have been a violation of sunshine. Nor had there been time for a discussion, since the commission wasn't meeting in the interim. Sullivan asked Hadeed to appear before the commission and ask for the item to be pulled, so he (Sullivan) could work on the item some more, though there'd been no discussion at the county commission to that end, either.




"There was some question that was raised as to the legality of Commissioner Sullivan going to address the Flagler Beach City Commission on an item which it had agendaed regarding the proposed surtax," Hadeed told his own commissioners today, referring to the FlaglerLive article that reported the matter last week. (See: "Without Authority, a County Commissioner Asks Flagler Beach to Table Sales Tax Increase Discussion.") "The suggestion was made that that was not authorized, that that was in contradiction to the board's action, that it was an improper action. Some of this occurred in a news article, some in social media. I just want to make the record absolutely clear that every one of those statements is totally off base, and are inconsistent with the authority that each of you have as a commissioner, to address the groups as you wish."
Hadeed then proceeded to conflate any elected official's right and authority to appear before any elected or non-elected body, or at any meeting, which, contrary to his claim, was never questioned, with Sullivan's wish to supplant his own commission's direction, without his commission's approval–an entirely different matter, regardless of the circumstances. (Sullivan had legitimate reasons to seek a delay: the administrator's letter included some serious errors, and the proposal is acutely half-baked: missteps trip into missteps.)
Sullivan in an interview insisted that he was acting on his own, and Hadeed stressed that that could only have been the case.
"When you go to meetings and you speak, unless you have been specifically directed otherwise by the board, you're only speaking as an individual commissioner," Hadeed told the county commissioners, accurately enough. But if that's what Sullivan had intended in his request to the city commission, it was only implied, not stated. Hadeed simply made the request that Sullivan wished to have the item pulled. He didn't qualify. Sheathed from clarity, the implications cut both ways: Sullivan (or Hadeed) could just as easily have been speaking for the commission. None of that was made clear.
There was no explanation–no mention that it was Sullivan's request as an individual, certainly no mention that he had not been directed by the commission to have the item pulled. It would have been simpler, and less questionable, had the administration alone requested that the item be pulled pending a few corrections, since the letter's wording and alleged facts were the administration's doing. The directive alone was the commission's–the directive Sullivan was unilaterally interfering with.




Then came more red herrings as Hadeed likened the Sullivan request to the way commissioners host town hall meetings or sit on advisory boards, as commissioners routinely do. "But you know that when you go there, you're speaking only yourself, you're one of five, you're not going there and saying, Look, I'm speaking for the entire commission," Hadeed said. But those appearances never (or never should) entail an individual commissioner interfering with a commission directive. They are informational meetings, not requests for action–as Hadeed's request to the city commission very much was: the city commission considered the request and took a vote to table the discussion of the sales tax.
Still, Hadeed went on with an assertion entirely superfluous, since commissioners' right to address bodies and groups was never in question: "You could not fulfill your constitutional responsibilities as elected legislative members of this body if you were not permitted to go to talk to groups, on your relationship with them as an individual commissioner," he said.
"So these comments that are out there, that somehow there was something wrong: there was nothing wrong," Hadeed continued. "There was nothing wrong that Commissioner Sullivan was proposing to do that was inconsistent with any board action that contravened any board decision, and he would have gone to address them purely as the commissioner from his district, representing the city of Flagler Beach." Again, he did not mention that Sullivan himself had not gone, or why he would have felt the need to go.
Astoundingly, none of the county commissioners exhibited the slightest curiosity–either about Sulivan/Hadeed's request to the city commission, or about the sales tax request. None asked Sullivan why he wished to have the item tabled. None asked Petito whether she had sent the letter to all municipalities. Sullivan himself did not provide an explanation for his actions, all of which suggests either that the commissioners are woefully disengaged from or indifferent to their own rather momentous request to the cities, not to mention the unilateral actions of  one of their own; or they know something that hasn't been discussed in the open.  Since they claim not to break sunshine ("you can't do that. You already know that," Hadeed had told them today), it leaves indifference.




If they're that indifferent, it's difficult to imagine why the cities would want to make up in enthusiasm or responsibility what the County Commission is itself failing to provide in accurate information, to say nothing of conviction. For the second time in two years, commissioners' sales tax proposal has been a series of  slithers, errors, obfuscations, and now red herrings. The county's proposal, in sum, rings hollow even before it tolls. (See: "How Flagler County's Drunken-Sailor, All-Republican Commissioners Tried to Con You Into a Higher Tax.")
It has not been an auspicious start for what would be, dollar for dollar, the largest collective tax increase in Flagler County since Palm Coast succeeded in winning the first half cent in 2002 and the school district added its own, though back then both initiatives were done by popular referendum. This half cent would be added unilaterally (an approach clearly favored by this commission) by the County Commission in a supermajority vote of at least four members, the way the commission renewed the first half cent in 2012.
The sales tax proposal is nowhere on Palm Coast's long workshop agenda on Tuesday.