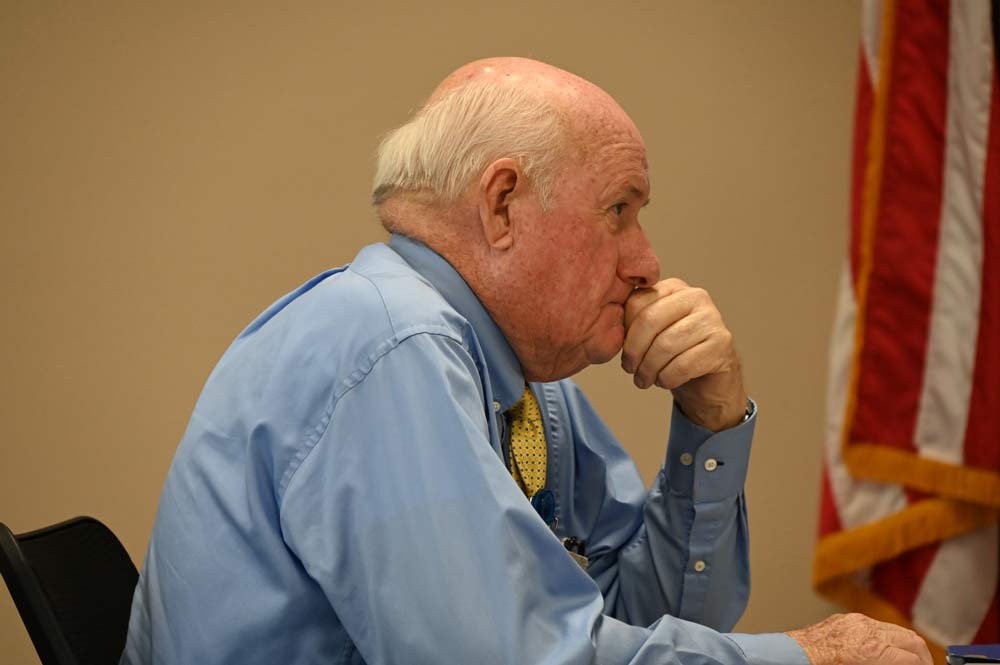 Last Updated: 9:24 p.m.
A strange thing happened at the Flagler Beach City Commission meeting last week.
More than two hours into its meeting, the commission took up a request from the Flagler County Commission to consider supporting an increase in the sales tax. Commission Chairman Eric Cooley read the item summary, noting that the request came from Commission Chairman Greg Hansen and the Board of County Commissioners. It was relayed to the city through a letter from County Administrator Heidi petito.




Just then County Attorney Al Hadeed appeared at the podium.
"Doesn't look like Greg Hansen to me," Commissioner Rick Belhumeur quipped.
"I'm here not to address this issue except to bring to you a request from Commissioner Sullivan, David Sullivan, who was going to be here tonight to address this, but he was out of town, had some issues, plus he's doing some further work on this, and he would like you to table it until your next meeting. If you would. Please."
"OK. That's it?" Cooley asked him. That was it. Hadeed sat down. Commissioners were not eager to take up the matter anyway. Belhumeur made a motion to table the item to a "future meeting," without a set date. The commission was unanimous.
The County Commission had directed Petito to draft and circulate the letter to all local governments. The directive from the commission was to have the item on city commissions' and councils' agendas for discussion. The County Commission has not changed its mind. It had not taken any other action or discussed it in the days between its decision to send out the letter and when it appeared before the Flagler Beach commission.
A single county commissioner has no authority to override his government's directive, whether he's conducting further research or not. Not without agreement from that government. Yet here was Hadeed, relaying Sullivan's direct request to table the sales tax item, as if Sullivan were a government of one. It was no different than if, say, Flagler Beach had an interest in a land use issue going before the County Commission and one of its commissioners unilaterally asked the county to table the item.




Sullivan, by way of Hadeed, did it anyway. Sullivan could not have had direction from his fellow commissioners. That would have been an illegal directive, conducted outside sunshine. Sullivan himself, in an interview, said he was acting unilaterally. He insisted that he had not talked with fellow commissioners. But he saw nothing wrong in requesting that the item be pulled.
To be sure, Sullivan has every right to address other boards, give his opinion, make suggestions, even make requests such as pulling an item from consideration–as long as it's clear he's doing so individually, not as a representative of the commission. That may have been implied, but not stated. There's also nothing sinister behind Sullivan's moves: he wants the tax initiative to succeed, he's only trying to repair damage and ensure a smoother way, though the way may have been further mucked up instead.
He wanted the item pulled "because I'm working on some details and I've talked to Heidi and Al about it," Sullivan said in an interview. "Obviously I can talk to Heidi and Al about this, but I can't talk to the other commissioners about it. That would be a violation of the sunshine law." Nor could Hadeed or Petito relay any information, consent or objection from other commissioners to Sullivan about it. If they did, that would be a violation of law. So officially, Sullivan was acting entirely on his own–and going against his own commission's consensus on his own.
When asked about his authority to override the county's directive, he said he was doing no such thing, and suggested it wasn't his idea to pull the item. Referring to Hadeed, he said: "I didn't tell him anything, I told him I wasn't going to be at the meeting. It was up to Al." But Hadeed was acting exclusively as a messenger, and his message was simple and direct: Sullivan wanted the item pulled. Reminded of what Hadeed had told the commission, Sullivan then said: "I have no authority. That's up to the city council. They didn't have to pull it if they didn't want to."
Sullivan said there was no "time limit" on the county's letter. Hadeed said the request was from the commissioner representing the Flagler Beach district. "I didn't see anything improper in that whatsoever. It never even occurred to me that it might be even construed that way," he said.
For the second time in two years, the County Commission, strapped for money, is considering raising the sales tax an additional half penny, to 7.5 percent. The county already has a 0.5 percent sales tax in effect, as does the school board. The first 6 percent belong to the state. (An additional 5 percent is levied as a tourist tax on hotel, motel, short-term rentals and other touristy lodging transactions.)




The reason Sullivan wanted the item pulled is because the county administrator's letter, as FlaglerLive first reported last week, was based in part on false information: that 40 percent of sales tax revenue in Flagler County is generated by tourists. Petito was basing her estimate on what she referred to as "research" by the school board. But there was no such research. The school board had itself sloppily relied on information disseminated by the Flagler Education Foundation when it was pushing for a renewal of the schools' half penny surtax, peddling the false information by inaccurately drawing it from a statewide report.
In fact, that report attributed only 16 percent of sales tax revenue to tourism spending statewide. There was no figure for Flagler County.
Sullivan had himself further disseminated the false information when addressing a business group in Flagler Beach last week, again in support of the sales tax increase. Now, Sullivan acknowledges the error without reserve. "When I told you the 40 percent deal, I apologize, that was wrong," he said. That's the reason he wants to do further research.
When interviewed last week, he said he'd figured out the true ratio of tourism revenue from the sales tax in Flagler, and placed it at 21 percent. His source: the county's "tourism dashboard," which includes marketing information and extrapolations that assumes that in calendar year 2021, tourists spent $543 million in the county, Sullivan said.
But that figure, too, is flatly, demonstrably wrong, relying on an amalgam of assumptions and falsehoods that do not stand up to the scrutiny of actual Department of Revenue figures.
The Petito letter has circulated to other local governments. Palm Coast has not yet scheduled it for a hearing before the City Council. Considering the factual, political and procedural messiness surrounding it, the council may choose–or prefer–to delay considering it with or without intervention by a county commissioner acting on his own. Meanwhile, Flagler Beach will soon propose that the matter be discussed at the next joint meeting of cities and the county, which takes place quarterly.