It's a tale of two triggers.
It didn't take long, after the resignation of Lt. Gov. Jennifer Carroll, for the Legislature to get busy banning those low-stakes gambling parlors called "Internet cafes."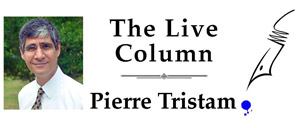 There hasn't been much wrong with those places. Most of them, anyway. They may be sordid little shop-front dives–gambling's version of soft porn–but they've not been the magnets of vice their detractors claim them to be. Their clientele is generally the Medicare set, bored and often brittle men and women spending whatever's left of their fixed income. What crime takes place in their vicinity is less grave or chronic than crime at convenience stores.  
As in any business–and I mean any business–Internet cafes had their dose of sleaze. If bankers could deceive millions of home-buyers into gambling on adjustable-rate mortgages, Internet cafes' croupiers could just as well bilk veterans and other easy prey, as Allied Veterans of the World's dozens of dives are accused of doing. The difference is that some 60 Allied Veterans officials have been arrested, while not a single banker has been brought to account for the mortgage debacle. Carroll's mistake was to have consorted with Allied Veterans for a couple of years as a PR flacker.
Last week the Florida House voted to shutter all Internet cafes. The Senate is expected to follow suit.
Compare that reaction to the Legislature's utter silence following the Sandy Hook Elementary school massacre on Dec. 14, where Adam Lanza murdered 20 children and six adults. A few Florida Democrats floated proposals to rein in the state's all-guns, all-the-time culture. Each proposal was dead on arrival: repealing Florida's Stand Your Ground law, imposing a tax on ammunition to pay for school security, requiring background checks on all gun buys, including at gun shows and in other private transactions, which account for 40 percent of all such buys. None of it went anywhere.
Instead, school district after school district adopted a variation of the NRA's Wayne LaPierre's mad idea to arm teachers. They sent in more school deputies, at crippling costs to already strained school budgets. It's a psychological salve to parental anxieties, and terrific PR for cops, at taxpayers' expense. It does little or nothing to stop school violence. But that arms race has been the extent of Florida's response.
Not that gun-control legislation is going far anywhere. Colorado last week narrowed the allowance of running background checks to licensed firearm dealers and closed the so-called gun-show loophole tighter than most states. But it's the exception. Most states either holstered talk of gun control or proposed going the way of Florida, the way Tennessee is wanting to allow workers to keep guns and ammo in private or public parking lots (an allowance Florida approved a few years ago, to Disney's dismay). Whatever legislation Congress passes, if it does, will be a far cry from President Obama's proposed controls on ammunition and better record-keeping.
Yet gun massacres are literally a daily routine in the United States. According to Slate's GunDeath tracker, and as of the end of last week, 2,923 people have been killed by firearms since the Newtown massacre, 190 of those in Florida–including, on March 22, a 12-year-old shot and killed by his brother in a gun "mishap" in the Orlando area. The day before, a 13-month-old child was killed in Brunswick, Ga., across the border from Duval County (Florida's murder hothouse) as his mother was pushing him in a stroller. The child's mother was wounded in the attack.
The rare crime aside–because gun violence is so prevalent anywhere–no Internet cafe has ever killed anyone. Banning them is silly. Regulating and taxing them would have been smarter. But Florida knees jerk to their own irrational tunes. Internet cafes are banned because of one company's corruption. Guns are worshipped despite their daily carnage.
Florida's penny-ante politics have never been so simultaneously dumb and deadly.

Pierre Tristam is FlaglerLive's editor. Reach him by email here. This column is also syndicated through Florida Voices.