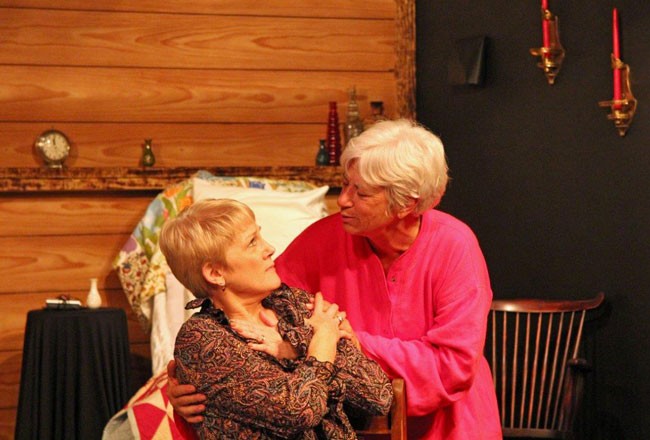 Flannery O'Connor, the sardonic 20th Century Southern writer, once said, "All human nature vigorously resists grace because grace changes us and the change is painful."  O'Connor was Catholic, so her concept of grace was nuanced. What wasn't nuanced was the absence of it in the lives of her deeply troubled characters, even though they usually didn't know it. When one would finally come to know it, however, the result was nothing short of glorious, even if sometimes horrific.
Shoot ahead to 1997, the premiere of Tom Ziegler's "Grace and Glorie," which opens for the first time in this area on Friday (Jan. 15) at City Repertory Theater in Palm Coast. The story begins with a dying 90-year old woman, Grace, who's removed herself from the hospital to return to her cottage in the countryside. She plans to die on her own terms, gracefully. She has no education to speak of and she maintains an askance view of modern society and medicine. Her faith has taken her deep into a life along which she's buried almost everyone she's ever held dear.
Glorie is the New York City-bred volunteer hospice worker with the Master of Business Degree from Harvard. She's drawn to Grace or maybe something else, pain medicine in-hand. But she has her own issues: her only child was killed in an auto accident. She was the driver. She has no faith to speak of and often says the Lord's name in vain.
The dynamic is clear: the two women (Sue Pope plays Grace, Nancy Grote, Glorie) are quick friends but also foils to each other, and the question becomes what can Grace learn from Glorie and what can Glorie learn from Grace in the little time they have.  "Whatever you're selling, I'm far past buying," Grace says to Glorie in the first act. She also accuses her of volunteering to help her die.
Pope, who just played Nurse Ratchet in City Rep's "One Flew Over the Cuckoo's Nest," was the one who brought the "Grace and Glorie" script to the attention of John Sbordone, City Repertory Theater's artistic director. She had seen the original Broadway show with Lucie Arnez and Estelle Parsons in 1996 and loved it so much that she sought an audition for a Lake Worth production. Still in her 40s and a stock broker at the time, she showed up wearing a suit and carrying a briefcase, fully intending to read for the sophisticate Glorie. But even then, "the director took one look at me and said, 'there's my Grace.'" She protested, but the director stood his ground.
She fell in love with the character. Otherwise, there wouldn't be any opening of that play in Palm Coast this weekend. Even if she didn't then realize it, Grace was in Pope's blood. Pope's great-grandmother, who lived to be 100 years old and died when Pope was about 14, led a very similar life. She wasn't educated, married at 17, and had 10 children, seven of whom died. But she always saw the bright side of life.
"That's why I think I like Grace so much. She's uncomplicated. She's never questioned life," Pope says. "This is what you do. You get married. You take care of your husband. So what if it's tough." In fact, the coverlet on Grace's bed was knitted by Pope's great-grandmother.
In contrast, Glorie, the modern woman, questions everything and overthinks everything. "She always wanted more than what her parents had. I have a lot of identification with her." Grote says, describing the character as more than a little bit her.
City Repertory Theatre will stage "Scapino!" at 7:30 p.m. Friday and Saturday March 17-18 and March 24-25, and at 3 p.m. Sunday March 19 and 26. Performances will be in CRT's black box theater at City Marketplace, 160 Cypress Point Parkway, Suite B207, Palm Coast. Tickets are $20 adults and $15 students, available online at crtpalmcoast.com or by calling 386-585-9415. Tickets also will be available at the venue just before curtain time.
Click On:
---
Grote, like her character, is from New York. Unlike her character, she had a long career in musical theater. This is Grote's first play with City Repertory Theater, but she's performed in shows in St. Augustine, including the Limelight Theater. She's performed in "You Can't Take it With You," "Picnic" and "Harvey."
"This isn't typical CRT stuff, but I think Palm Coast audiences will love this," Pope says, though she admits that when she first handed the script to Sbordone, he  cringed. At first glance, the universal themes regarding tragedy and unusual friendships don't exactly fall on the edgy side for which his theater is known.
But Sbordone is willing to make exceptions. "When we have actors, good actors, fine actors, we do special things just for them," he says. This was one of those times, although he ended up surprised by how strong and complex the script really was. "It's a strong relationship, the mother-daughter relationship that develops is really fascinating to watch," he says.
In addition to the poignancy of the drama, the clash of culture is hilarious, he adds. One scene that stands out in the second half has the sophisticated urbanite bringsing the rugged mountain woman, who loves her Velveeta with Miracle Whip, some New York deli.
For a theater that prides itself on being visually spare, this play operates within the confines of a quite elaborate set–furniture, cooking appliances, wood paneling, and taxidermy animals. The credit goes to Ken Flannigan, the lighting man, whose set design capabilities were also on display in "One Flew Over the Cuckoos Nest." An embroidered sweater depicts an apple orchard. The item is particularly meaningful to Grace. It was created for the play by Bob Ammon of the Flagler County Art League.
"It's a show that works better in a realistic set," Sbordone says. "And we happen to have a visual artist working with us, who can create it. So that's part of the equation. We're not giving up the platform and the light because that's fundamental, but when we do a show like this, it's nice to be able to fill it."
Then there're the mechanical effects: the birdsong and other ambient farm sounds, such as the chickens that'll make the audience think the theater is situated next to the Salvo Art Project Gallery at Nature Scapes in Bunnell.
While it's not a "socially active" play, as Sbordone puts it, the edge comes in other ways, mainly the converging of opposites, as in one of O'Connor's stories, where she routinely merged the beautiful with the grotesque. The show also pits opposites against one another: "You can come here and laugh your ass off and cry at the same time," Sbordone says.

City Repertory Theater's "Grace and Glorie," written by Tom Ziegler, directed by John Sbordone. Opens Friday, Jan. 16, with performances that evening and on Jan. 17, 23 and 24 at 7:30 p.m., and Sunday matinees at 2 p.m. on Jan. 18 and 25. Tickets are $20 for adults and $15 for students. Buy your tickets easily here or call the box office at 386/585.9415.