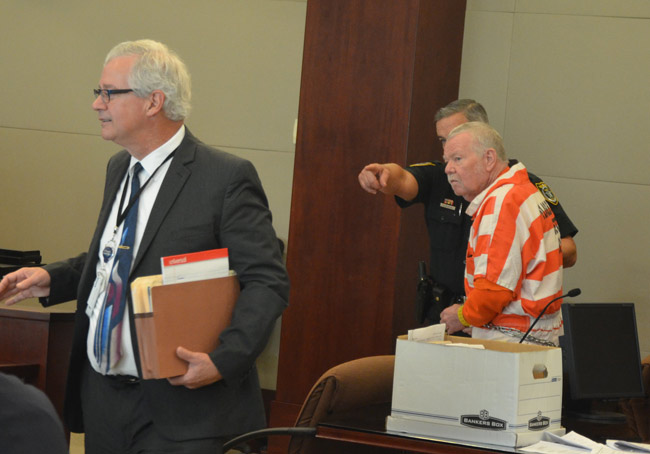 Two weeks after he shot his son at point-blank range on the porch of the family home in Flagler Beach, Bobby Earl Gore, 74, was indicted on a first-degree murder charge, a capital felony that exposed him to the death penalty. He initially pleased not guilty.
On Tuesday, Gore changed his plea to no contest–essentially, a guilty plea that legally avoids an admission of guilt, but has the same effect as a guilty plea. He did so as part of a plea deal that reduces the charge to a manslaughter with a deadly weapon, a first-degree felony.
The death penalty is off the table. The certainty of prison is not. Gore is to be sentenced by Circuit Judge Dennis Craig at 9 a.m. Dec. 11. He faces between eight to 15 years in prison. Given Gore's age, the sentence may be the equivalent of a life sentence regardless where it falls, making the absence of probation once the sentence has been served all but irrelevant.
Gore is represented by Ray Warren, a public defender. Gore may have had little option but to take a plea. The night of the killing, Lucas Gore, 31, had been arguing with his mother, Bonnie Jeanne, 57, on the back porch of the family home on South Daytona Avenue in Flagler Beach. Bobby Gore approached his son from the house, from the back, and fired two bullets at his son's head. Bonnie Jeanne described the killing to police, a witness statement Gore would have had difficulty overcoming at trial whatever the circumstances that led to shooting his unarmed son from the back. The shooting was also heard, but not witnessed, by Lucas's brother Matthew, who had opted to leave the house because of the argument and was in the front porch when he heard the shots ring out.
The sentencing hearing is likely to feature some of the evidence that would have been produced had there been a trial, but also the likelihood of statements from Gore's family or friends, in an attempt to minimize the sentence. Judges in similar situations are not unswayed by such testimony, but in Flagler County in the last many years, no judge has gone so low as to sentence a defendant to the lowest number of years in the range, more often opting for a mid-range between the minimum and maximum.