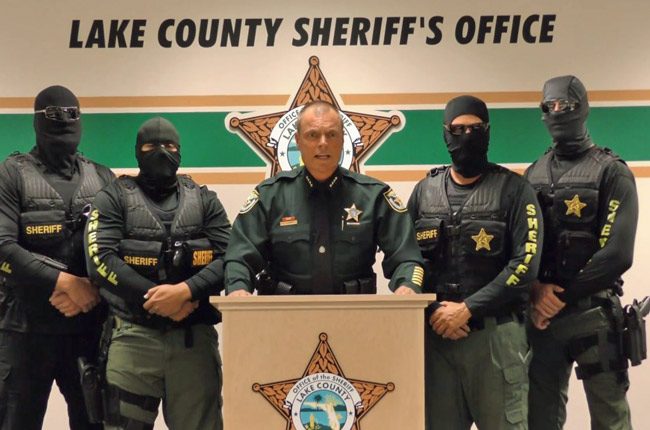 In the very same week, a goon posing as a cop bloodied a passenger out of his airline seat, and a cop posing as a goon released an amateur video threatening much worse on drug pushers. It's not a coincidence.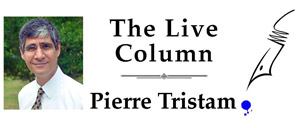 We're a nation enamored with force. It's our manifest destiny. We have periods of calm, or at least periods when conflict-resolution is prized more than blowing stuff up. But those periods are considered sissy, and they make for terrible TV. We're witnessing a resurgence in authoritarianism, applauded and glorified from on high.
You expect it from the nation's top cop, who declared this month that he's not interested in monitoring brutality-prone police departments anymore. You expect it less from private companies (Amazon's and Uber's treatment of their employees aside), though airlines have been treating customers like animals for years. The difference is in discovering that the use of force is now permissible, as it was on that United flight.
But why not? We have a president who repeatedly acted as a goon at rallies, inciting his supporters to violence against protesters and once suggesting his opponent should be assassinated if elected. The authoritarianism starts at the top. He has his admirers. The devolution won't be pretty.
Cue the ominous soundtrack that production-challenged terrorists love to tack onto their "we're-coming for you" videos, the goons standing there with chorus-line choreography but with ski masks and flak jackets fat with ammo, their stern-eyed leader standing in the middle, saying those very words: "We're coming for you." It's the sort of propaganda video ISIS made famous, so ridiculous it's easy to confuse with a Saturday Night Live spoof.
Except that it isn't. The video stars Peyton Grinnell, the newly elected sheriff of Lake County, here in Florida of course, because if this state doesn't have something for SNL to spoof every week, it's not the Visit Florida the rest of the world has come to love and jeer.
Grinnell claimed afterward, when he feigned surprise at the video's backlash (so much for judgment) that he was just trying to ask residents to help put away drug dealers. He could have sent that message with a simple Facebook post, or a tweet, given that preferred literary style among showboating politicians.
---
The danger isn't pot, it's is unbridled power armed with flash bombs, Kevlar, rifles, badges and search warrants more easily acquired than herpes.
---
But Grinnell really wanted to play a cop on TV rather than just be one. This "Grady Judd wannabe," as a friend described him (referring to the publicity-addicted Polk County sheriff) wanted to act as if he, unlike a few hundred thousand cops, FBI and DEA agents before him, will actually win the war on drugs, because clearly all it'll take is SWAT teams blowing doors off their hinges, as he put it. His actual words, which I almost feel I should notarize as his here, because most readers would have every right to think I'm peddling fake news, are this: "So, to the dealers I say, enjoy looking over your shoulder, constantly wondering if today is the day we come for you. Enjoy trying to sleep tonight, wondering if tonight's the night our SWAT team blows your front door off the hinges."
A little perspective here. A New York Times investigation just a few weeks, ago under the Grinellian headline, "Door-Busting Drug Raids Leave a Trail of Blood," found that "from 2010 to 2015, an average of least 30 federal civil rights lawsuits were filed a year to protest residential search warrants executed with dynamic entries. Many of the complaints depict terrifying scenes in which children, elderly residents and people with disabilities are manhandled at gunpoint, unclothed adults are rousted from bed and houses are ransacked without recompense or apology." There's been killing, maiming and humiliation of innocent victims—not in the search for terrorists, for rapists, for murderers, not even for kingpins, but for neighborhood pushers of pot, crack, heroin, or that bountiful new seam of cop-ready busts, prescription pills. Stuff, in other words, that has either the same or lesser effect than booze, and that, demonstrably, harms, addicts or kills far less than booze. Stuff that, as with booze, should be the purview of nurses and doctors at the neighborhood clinic, not cops. But those SWAT teams need to be used for something, and there just isn't enough crime to go around otherwise.
There are a lot of things policing does well. There are a few things it gets dead wrong. Turning cops into soldiers at war with their own citizens is one of those things, especially in the luridly called "war on drugs." Even more especially when cast as tinpot acts cribbed from third-world cutting room floors.
No one is questioning that there's a drug problem, assuming that alcohol is included. But sleazy propaganda and SWAT raids are the equivalent of firing 59 missiles at another country to "send a message." It achieves nothing that wouldn't have to be repeated days later. Enough times we in the local press have been invited to post-bust parades by local cops, after those high-profile sweeps of low-level druggies, knowing all along that almost every single one of the men and women rounded up would be out on bail in days if they weren't already by the time the cameras were rolling at the "news" conference. Now that's fake news.
Safe to say, hotshot sheriffs exploiting the gray zones of due process aren't going to solve a 50-year drug war. Less punitive, more enlightened policies led by treatment options rather than prisons may make a difference. I stress may, because addiction is a medical, not a criminal problem, and addiction will never be eliminated. The more reason to treat it rather than punish it: it's stronger than many of us.
But that's not where we're heading. We're going back to the law and order narcotics of Nixon days, which birthed the war-on-drugs monster, but with the turbocharged authoritarianism of Donald Trump setting the example: a lot more than airline-passenger types are about to be yanked off their seats and dragged through hell. The drug to fear isn't crack, it isn't meth, it isn't dope. Those are treatable, if we had the political will and the social service facilities (which we largely don't: it makes for sucky TV). The drug to fear is unbridled power armed with flash bombs, Kevlar, rifles, badges and search warrants more easily acquired than herpes.
It's been relatively calm along those lines here in Flagler. Let's hope it stays that way. Let's hope Flagler County's cops from the top down aren't as easily seduced by the same drug, remembering that we're not at war—no, we're not, and we're not about to be—and the best use of force is still the force never used.


Pierre Tristam is FlaglerLive's editor. Reach him by email here or follow him @PierreTristam. A version of this piece airs on WNZF Friday.