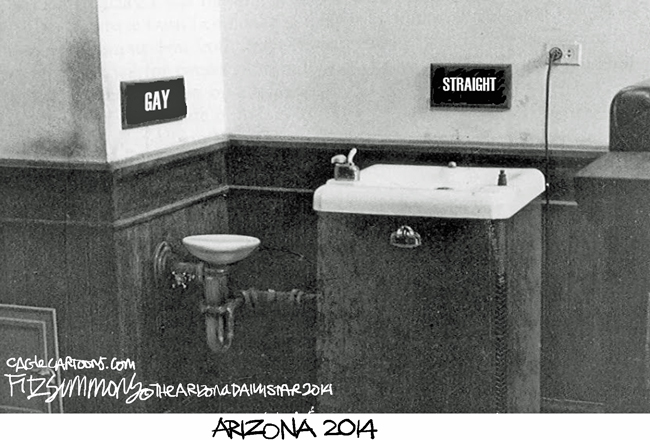 If a Muslim fundamentalist with a dim bulb in place of a business sense owned a car dealership in our lovely little American town, he could make the argument that it's against his religion to sell a car to a woman, on the pretense that women should not drive. I don't know what would give him whiplash first, the lawsuit he'd lose or the speed of the rail running him out of town.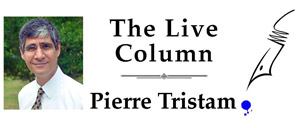 Yet the very same people who'd call a fatwa on the dealer's head have no problem adopting his faith-based reasoning when it suits their own bigoted ends. That's how we end up with lawmakers in four states passing bills that would give business owners the "right" to deny service to gays and lesbians, on grounds that it'd be against the business owners' religion to be accommodating.
Arizona Governor Jan Brewer had little choice this week but to veto a bill that would have given business owners that "right." Not because Mitt Romney, John McCain, Rick Scott and a slew of other Republicans panicking about what the bill is doing to the Republican brand asked her to veto it. But because the NFL, that beacon of gay, lesbian and transgender rights for about, oh, a week or two, risked pulling the 2015 Super Bowl out of the state if the bill became law.
That's not something the governors of Missouri and Georgia have to worry about. Similar bills may well become law there. And you never know what the Arizona legislature will do after cashing in on the Super Bowl. Jan Brewer had no problem signing into law the nation's most fascist-scented measure against undocumented immigrants in 2010, turning any brown skin into a criminal until proven innocent. The Supreme Court struck down most of that state-sponsored racism. But her successor may well be salivating at the prospect of reducing gays and lesbians to second-class citizenship status, in accordance with precepts of Republican bile hiding behind the Bible.
The bills are inspired by a relatively new perversion in American politics: the exploitation of religion as an excuse to discriminate, to humiliate and to demean other human beings. It began about a decade ago when the religious right figured out that it could turn out its most reactionary voters by stuffing ballots with gay marriage bans. It worked. The bigots came out, passed ban after ban, including in Florida, and elected herds of Republicans along the way. When Obamacare became law the religious brigades thought they could eviscerate it by challenging the requirement that contraceptives be part of all health plans. The Catholic Church led that campaign, because it had the added benefit of discriminating against women, a Catholic reflex almost as old as promiscuous priests. The business bigotry bills in Arizona, Missouri, Georgia and Kansas are the latest mutation of that viral need to calibrate one's beliefs in proportion to the degradation of others.
All this in the supposed name of a god the Jesus Christ of the Sermon on the Mount would have a hard time recognizing. That's probably because that god has more in common with the one the Taliban worships than do most people who understand what it means to be a Christian, or at least an American. The oppression of homosexuals is a trademark of the world's most regressive regimes, and not just in the Islamic world's black hole of human rights. We just got done pretending to be incensed by Russia's legalized assaults on homosexuals. Let's not be so accommodating of identical assaults in the United States.
The Bill of Rights should be a protection. Instead, it's being used to justify the assaults. It's how personal rights are degrading into vigilantism. We're seeing it with the Second Amendment. The indisputable right to bear arms has become, in Stand Your Ground perversions, the indisputable right to take the law into one's own hands, to shoot first and ask questions maybe never. The First Amendment's right of conscience is similarly being distorted into a "right" to oppress. It isn't enough personally to believe. You must impose that personal belief on others and demand legal cover for the imposition, as if there were no distinctions between private and public conscience. That's where peddlers of such rights show their impaired reading of the Bill of Rights.
Private businesses and churches claim that they should be free to do what they like, in accordance with their conscience. Absolutely. They can do to themselves whatever they please. They can use both hands if they like. But the moment their doings cross into public realms, all bets are off. If you don't want to serve gays and lesbians, don't be in the service industry. If you don't want to touch pork or booze, don't be a waiter at a sports bar. If you don't want to provide contraception to women, don't run the sort of organization that employs women. You have a right of conscience. You don't have a right to impose that conscience on others. Otherwise we might as well be back to the days when private bus companies could relegate blacks to the back of the bus, shops could deny service to Jews, and country clubs could be redoubts of white Protestant "purity."
Back then the more daring of the ruffians claimed that white supremacy was part of god's plan, and they too called it their free exercise of religion. Maybe that's something a minority of bigots among us are nostalgic for. But the moment any belief validates itself by degrading others, it is no longer about the right of conscience. It's about hatred and the desire to spew it with the force of law. It's about the unconscionable. We are not that country. Not anymore, anyway.

Pierre Tristam is FlaglerLive's editor. Reach him by email here. A version of this piece was broadcast on WNZF.