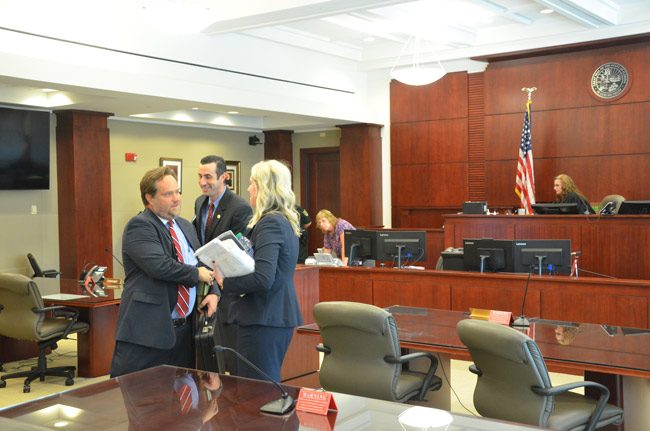 Last Updated: 4:57 p.m.
Telling the attorney seeking a gag order on Sheriff Rick Staly that he was on a "fishing expedition," County Judge Melissa Moore-Stens this afternoon denied the motion, ending an unusual sideshow in the battery case against Flagler Beach City Commissioner Eric Cooley.
The hearing took barely 15 minutes, an anticlimactic end to days of fervent legal maneuvering designed to get the sheriff ion the witness box on one hand, and to keep him out of it on the other. Most of it had little to do with the Cooley case other than to immerse it in more of the very same attention Cooley's attorney had previously said was hurting Cooley personally and professionally (Cooley owns the 7-Eleven on State Road A1A in Flagler Beach). Neither Staly nor Cooley were in the courtroom.
Attorney Josh Davis filed the motion to gag Staly after the sheriff was quoted in a sheriff's office press release addressing Cooley's arrest in late June on a misdemeanor domestic battery charge. Staly said the arrest "goes to show you that domestic violence has no boundaries." Davis argued the statement was prejudicial to Cooley, presuming him guilty.
The motion triggered its own series of counter-motions by the sheriff's office, first with an attempt to quash it before it was heard. Moore-Stens denied that attempt. The sheriff's office attorney then filed a motion asking the judge to reconsider, and to do so Wednesday. When the judge's legal assistant told the sheriff's office that there was no time on the judge's schedule for that reconsideration on Wednesday, the sheriff appealed in circuit court.
The sheriff's attorney argued that the sheriff has a First Amendment right to express himself, that a gag order would have a "chilling effect" on the speech of public officials addressing matters of public concern, and that nothing in what Staly did say imputed actual guilt on Cooley.
All of that now goes away: by ruling against Davis's gag order, Moore-Stens rendered all the subsequent motions by the sheriff's office moot.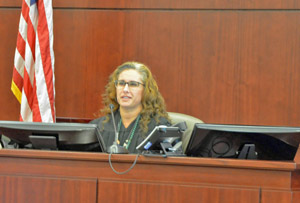 Before reaching her decision, Moore-Stens pressed Davis on what specific statements Staly had made declaring Cooley guilty. There were none. "I don't think anybody else can testify to what the sheriff has said or what he has not said," Davis said, other than the sheriff himself.
Kayla Hathaway, the sheriff's office's attorney, said "in order to get to the point of having the sheriff testify, counsel would have to proffer the statements that give us the opportunity to say, yes those statements were made or they were not." (The statement in the press release is not in dispute.)
"We, Mr. Davis, it sounds like you're on a fishing expedition, quite frankly," Moore-Stens told him. "You are alleging statements that were made immediately after the arrest, and I haven't seen anything substantive alleged from the sheriff more recent than that and beyond that, and you're asking him to be placed under subpoena and forced to testify with no other particularized information of statements that were made by him beyond what's already been acknowledged by counsel, correct?"
"Exactly," Davis said. "That is my motion, to try to keep the sheriff from saying those sorts of things to the public in this little county, from its top law enforcement officer, that people are guilty before their attorney has a chance to get the police report."
"I didn't see anywhere that he said someone was guilty before anyone got a copy of the report," the judge said. "Where was that stated, Mr. Davis?"
Davis referred to the press release, and Cooley's status as a city commissioner.
"But that's not what the statement says. That may be your inference as his attorney, but that is not what the statement says," the judge said. "You are asking for the sheriff to be brought in to court to give sworn testimony about statements, and if this is the only statement that we're talking about, in a press release that occurred immediately after, I don;t think that rises to the level needed."
Assistant State Attorney Jason Lewis, who is prosecuting the Cooley case, was sitting next to Hathaway. He declined to address the court.
"It got their attention," Davis said of the sheriff's office after the hearing, suggesting that Staly will be more careful in his public statements. "He's up to his own interpretation about how things worked out. At least now they know that somebody is watching."
Reached by phone after the hearing, Staly said he would not be changing his approach.
"This has always been about a First Amendment right<' the sheriff said. "I am the elected sheriff of Flagler County, the chief law enforcement officer of the county. The community has the right to know when suspects are in and out of jail, when they're a danger to the community. Quite often I speak to the community with the help of the media, and I will not be silenced because a small minority doesn't like the way I do my job. I will always speak for the victims in this community. Many times they have no one that can speak for them. I have championed domestic violence [awareness] for the last year and this allows victims of domestic violence to know that they can come forward and be heard, that we'll do everything in our power to protect them and keep them safe, and what I saw here was an attempt by a criminal defense attorney to bully a victim. Had this motion been granted it would have stifled victims from coming forward, and that's just wrong."
Davis disputed the sheriff's interpretation about his (Davis's) role regarding the alleged victim. "The victim has called me several times and asked if I can make the Sheriff and the State Attorney drop this case," Davis wrote in a text. "Is there anyway she can drop this over their objections? I've repeatedly told her that unfortunately they have the decision to go forward against her wishes. She's asked me repeatedly 'why do they keep calling and harassing me.' There is a notarized statement she wrote that I will release when this case is over. I've been fighting for her and her wishes as well since this case started. Everything will be clear when I release the statement. The fact the Sheriff is 'championing a victim' over his own image is nauseating."
The case against Cooley, about which all of these motions revolved like so many errant moons around a planet, is still alive, but barely: the 90-day clock for its required speedy trial runs out Friday. Davis intends to file a motion to compel the prosecution to set trial. Lewis before the hearing did not say what he would do, but at this point, since the alleged victim in the case doesn't want to go forward, that case could result in charges being dropped.
Addressing his statements after the arrest of suspects, Staly said: "I will never be a politically correct sheriff. I speak the truth and I speak it the way I see it and I will forever do that as long as I serve as sheriff. People that make honest mistakes, like people at drug court today for example, you've never heard me call somebody like that a dirtbag." Staly was the keynote speaker at today's drug court graduation. "They get arrested for DUI, I don't call them a dirtbag, they get arrested for domestic violence, I don't call them a dirtbag, shoplifting, I don't call them a dirtbag." But when a suspect is arrested "over and over and over," Staly said, "you've earned that title at that point and I won't change the way I respond."