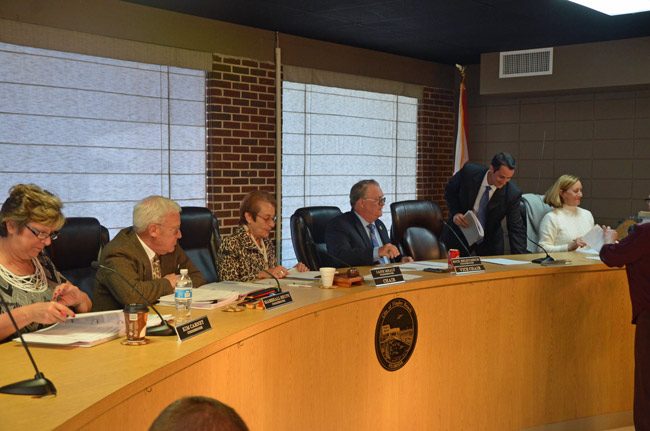 Saying she feels "more of a prisoner now" because of media attention and public "stalking" of her on social media, the alleged victim in the battery case against Flagler Beach business owner and Commissioner Eric Cooley is asking the State Attorney's Office to drop the case against her one-time business and life partner.
Cooley was before County Court Judge Melissa Moore-Stens today for a scheduled docket sounding–the last step before trial is scheduled–but Assistant State Prosecutor Jason Lewis asked and was granted a continuance to late September, the last possible continuance as the defense is refusing to waive the 90-day speedy trial clock dating from the day of Cooley's arrest. By law a trial must be scheduled within that 90-day clock, which expires around Sept. 29.
But without the alleged victim, there is no case against Cooley.
"I cannot allow any more of my past life [to] become part of the media frenzy that this has already started," Suzanne Kenna, 47, wrote Assistant State Attorney Jason Lewis, who is prosecuting the case. "I again, do not want my life details spread for all to see. I also do not want all the things that I went through to be given to perfect strangers to judge and ridicule. My life has been painful enough and I want it to end now."
Kenna's letter is the first look at her own thinking, in her own words, since the case broke two and a half months ago.
Cooley owns the 7-11 on Ocean Shore Boulevard in Flagler Beach, and was elected to the city commission unopposed earlier this year. On June 29, a store employee called police to report that Cooley had allegedly kicked Suzanne Kenna and grabbed her by the throat at the store. Kenna and Cooley worked and lived together for years. He was charged with a misdemeanor battery count. He has pleaded not guilty and denied any allegations of physical violence toward Kenna.
Kenna states in the Aug. 16 email obtained by FlaglerLive that she was "under no corrosion but my own conscience" (she likely meant coercion). But while she appears to have some sympathy for the damage to Cooley's reputation and to his business, she also appears not to be denying that there had been serious issues between them.
---
"I do not want to inflict any more pain to him, even though I have every earthly right to."
---
"From what I understand from a couple of trusted friends," Kenna wrote, "Mr Cooley has also suffered much from the media frenzy and has already lost much of his business and possibly will have to move from Flagler as his reputation continues to spiral downward. I feel that God and Karma are already catching up with him. I do not want to inflict any more pain to him, even though I have every earthly right to."
Josh Davis, Cooley's attorney, said if the prosecution had a "slam-dunk" case, it would have gone to trial already.
"The victim has dodged them, as in, she doesn't want to go forward with it," Davis said today. "So the only person that can prove their case is for whatever reason not wanting this thing to go any further. Whether she has recanted, whether she is sick of it, whether it was blown out of proportion, I don't know, but she has no interest in going any further with this thing, so they're going to try to drag her down there."
Lewis doesn't disagree with the facts of the case as it's developed, but he doesn't abide Davis's characterization. "She sent us a letter that she doesn't want to go forward," Lewis said. "It's affected her life very much, it's stressful and traumatic. We don't necessarily want to drop the case, we're trying to contact the victim to see if she wants to cooperate, and she has not recanted in any way." Lewis added: "I think she feels like the newspaper and the news media is infringing too much on her personal life and it's affecting her in a negative way, and she just feel people are getting too much in her personal life."
Kenna's letter repeatedly cites media and social media intrusion "and the continued lack of intrusion that they cause," in her words, as reasons for her decision not to go forward. "People that I have never even met have made nasty, rude, and uncalled for comments about things they know nothing about," she wrote. "I am done with this and want to close this long and horrible chapter of my life and move on. I cannot as long as this case goes on."
She described numerous physical ailments as a result of the stress of the case and the consequences of her own attempts to refer to the case online. "I cannot comment on family posts to social media without others stalking and asking me questions, I almost feel more of a prisoner now," Kenna wrote.
Davis is eager to run out the clock. Once speedy trial it's over, it's forever barred from prosecution after that," he said. "The defense can waive speedy trial. The prosecution cannot."
Lewis conceded that absent Kenna, it would be difficult to make a case. "I can't speculate, but it'd be safe to assume the victim would need to cooperate for us to go forward," he said.
Davis intends to make a few motions next week to "change a few things," including the no-contact order now in effect between Cooley and Kenna. Meanwhile, Davis intended to be at tonight's Flagler Beach Commission meeting in case any member of the public were to address the issue. He said he would speak in defense of his client, essentially handling public opinion as if he were in court. "I hope that whoever makes the comment when something like this happens to them that people show them more grace and fairness than have been shown to Mr. Cooley," Davis said, stressing the innocent-until-proven-guilty standard.