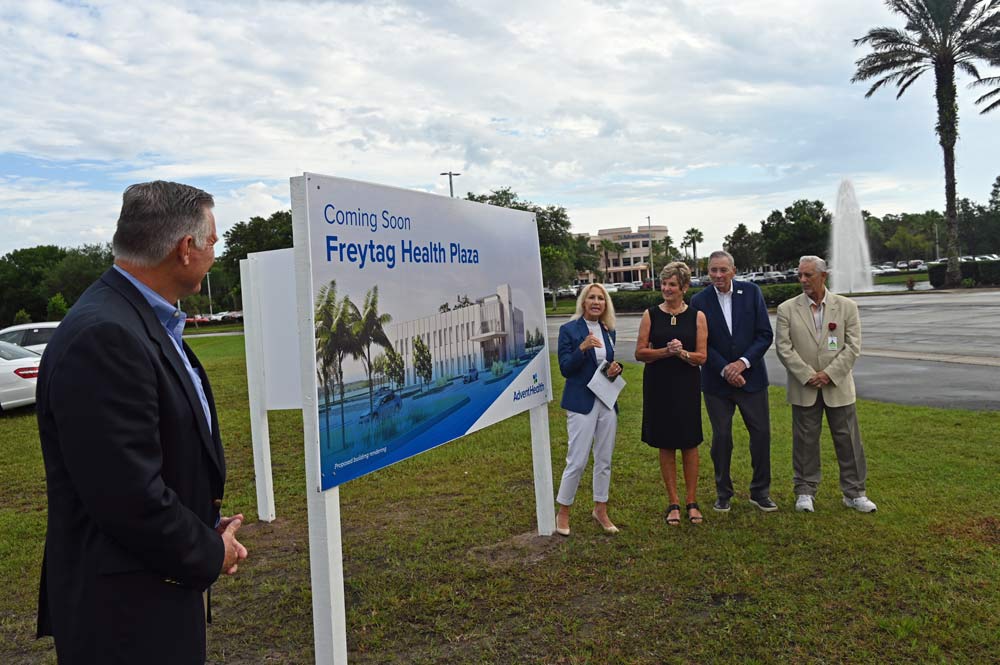 AdventHealth Palm Coast may soon need to open a permanent high-electrolyte hydration center so its executives can catch their breath between unveilings and dedications: the new medical office building on Palm Coast Parkway was dedicated barely a month ago. The new, 100-bed hospital next to it will be dedicated in two weeks.
And today, officials and benefactors unveiled the latest expansion of the State Road 100 campus: the Freytag Health Plaza, a $30 million, 30,000 square foot, two-level cancer and rehab center that will open with the newest technology at the beginning of 2025.




Why move the existing center from the main building across the parking lot? Let Tony Papandrea, chairman of the AdventHealth Palm Coast Foundation, explain.
"Back in 2015 Dottie was diagnosed with lung cancer," Papandrea said, referring to his wife. "I could have gone anywhere in the country to get her treatment. I chose to stay here, in AdventHealth Palm Coast. Her treatments were exceptional as far as the medical goes. As far as the logistical, she had her infusions, her blood transfusions or medicine for hours sitting in a cramped room with a lot of people around. It is undaunting sometimes. This building will prevent people from having to do that. They can come here, stay in town, don't have to go to Jacksonville or to go to Moffitt or to go to Tampa. They can stay here at home, get their treatments and not have to worry about the travel and logistics. This is a beautiful thing for Flagler County."
It's been in the works for three years. The building will also have outpatient rehab facilities, with occupational and speech therapy and other services. Its name honors Peter and Sue Freytag, who have long been associated with the hospital foundation and its projects. "They have made a very generous contribution to getting this building launched," AdventHealth Palm Coast CEO Denyse Bales-Chubb said.
The building is also something of a fulfillment, not only because Peter has himself survived cancer, or because many members of his family had cancer, but because the hospital has played a central role in the Freytags' life decisions.




Years ago when they were still in Bloomington, Ill.–she was a schoolteacher, he was an insurance executive–a friend kept telling them to move to Palm Coast. They gave the town a look. It had a library, which was a plus. It didn't have a hospital, which was not a plus. Back then you had to go to Memorial Hospital in Bunnell.
"I said I'm not moving here until we have good medical care," Sue said. "So then we came back to visit them another time and the hospital had opened." The one that rose behind her this morning on the 100-acre campus of AdventHealth Palm Coast, the one that hasn't stopped seeding expansions in its 20-year history.
The Freytags have been part of the expansions, as at the Freytag Children and Outpatient Rehab Center in the Medical Plaza. The Foundation named Peter and Sue Freytag the 2015 Humanitarians of the Year.
And today, as they stood on the grassy expanse of the hospital campus fronting State Road 100, the Freytags lent their name to what they consider to be an essential medical service.
In Flagler, cancer was a very close second-leading cause of death (after heart disease) in the 2019-21 span, according to the Florida Department of Health. Flagler's cancer death rate was 156.8 per 100,000 people during that span, compared to 137.7 for Florida. The county has the 37th highest incidence of cancer in the state, out of 67 counties. The population has been aging, and as it does, the cancer rate is expected to increase–cancer-fighting advances notwithstanding.




In 2017 AdventHealth Palm Coast invested $4.5 million in what's called True Beam radiation, providing pinpoint accuracy in the treatment of malignant lesions and expediting treatment. What would have taken 40 to 50 sessions could be reduced to 10, lessening exposure to radiation and shortening the slow-burn, debilitating effects on patients. Now, even that's about to improve.
"There will be a piece of equipment equivalent to the True Beam that we have," Wally De Aquino, president and CEO of AdventHealth Palm Coast Parkway, said. "But it's a newer technology. It can treat patients faster." He called it "a huge investment."
As for what will become of the space currently used in the main hospital building for the cancer center, a space analysis is ongoing, De Aquino said, to determine what services will be provided there. Early discussions are focusing on imaging services, the cardiac catheterization lab and cath rehab, and other opportunities.
There continues to be other possibilities for the 100-acre campus as well, which still has numerous buildable parcels, although Bales-Chubb, who oversees the Flagler-St. Johns market, said eyes might be looking north: "We are exploring what services might be provided up in the St. John's market area," she said–which does not necessarily mean in St. Johns, but would also include northern Palm Coast and north Flagler, which currently tends to look to St. Johns for its health care needs. "And so I can tell you that we are exploring what services we might be able to bring to that community to enhance their health care."
AdventHealth conducts an annual Health Needs assessment to determine what the communities' needs are and what health care services to focus on.