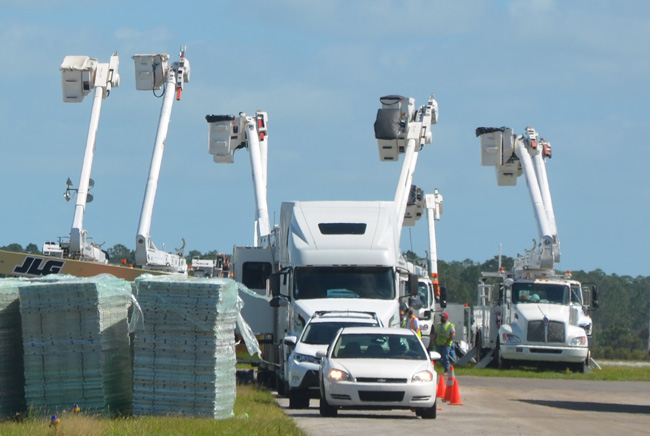 Maybe Florida Power and Light's response to Hurricane Irma elsewhere in Florida has been sublime. It certainly sounds that way, listening to FPL spokesmen in its selfie videos. I don't know. What I do know is that in Flagler County, FPL's response has been disgraceful, deceptive, and secretive, at times at the expense of local emergency responses, at all times at the expense of residents—the company's customers. Irma was bad. FPL made it worse.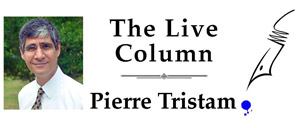 I'll get to the details. First, a disclaimer: This has nothing to do with Florida Power and Light's line workers. Like many others through Hurricane Irma—first responders, emergency management teams, school staffers at shelters, all sorts of government workers (those same governments people love to bash, stupidly and reflexively, but without whom we'd all be lost), and innumerable ordinary residents—these utility-worker grunts continue to be the storm's heroes. Too bad they won't be at the receiving end of FPL's stock dividends.
But let's make this clear: the reason you haven't seen FPL trucks in your neighborhood isn't your imagination deceiving you. It isn't that the trucks are a couple of streets over. It isn't that FPL is working magic through different means. It's because the trucks aren't there. It's because FPL chose to send them elsewhere, letting Flagler County's needs drag. It's because FPL is deceiving you.
We keep hearing from FPL that 21,500 workers are deployed in the state in the largest such effort in the company's history. Great. But it doesn't mean squat when few of those trucks are in Flagler. It's just a great marketing pitch to throw out in company "news" releases and see blindly parroted by our own officials, to FPL's delight, the way Palm Coast's city manager did this morning at a council meeting, as if it means anything. Not to take anything away from Palm Coast's and the county's response to the storm, which has been terrific (FPL could learn a lesson from Palm Coast and Flagler County government) but the fact that the manager of Flagler's biggest city apparently got snowed by FPL's marketing and didn't ask how many of those numbers were in his city tells you everything you need to know: let's not upset FPL. Millions of customers are suffering for lack of power, still a quarter of Flagler's population as of today. But let's not upset FPL.
The hell with that.
Two days ago I called FPL's media line to get an answer to that question: what is the actual size of FPL's force in Flagler. It was my mistake, trustfully offering the question ahead of time. No wonder they never called back. They just lied by omission. The phone flacker parroted to me the 21,500 number and said she'd have someone call me back. (The flacker, as it turned out, was an FPL hired hand from rbb communications, a PR firm whose mantra is "rbb Communications wants to help your company become a Breakout Brand." If that's not a perfect illustration of how the corporate solipsism of "branding" is taking precedence over customer service.)
I pressed County Administrator Craig Coffey on the proportion of line workers in the county this morning. He knew the answer.
There's been an FPL representative at the county's Emergency Operations Center all this time, though he's not allowed to talk to the media, of course. But he talked to Coffey. And he told him: there's a quarter of the FPL force in Flagler for Hurricane Irma than there was after Hurricane Matthew. A quarter. And you remember how long it took for power to be restored during Matthew. Those were not easy times, either. (I'll bet my FPL stock FPL's nuke-powered PR war room will deny the fact.)
Not that you'd need FPL hiding that fact to know it to be true. Last year after Matthew one of the most striking things I saw while reporting the aftermath of the storm was FPL's staging operation at the Flagler County Airport. It looked like a small city, with hundreds of workers under a colossal tent, eating, drinking, resting between long shifts, enough equipment and trucks for a small Normandy invasion, and trucks endlessly in and out of there. These days at the airport? Zilch. Nothing. A great place to land a sparrow.
Maybe it's because in the interim FPL opened that big facility and staging ground near Florida Hospital Flagler, you say, and all the action is there? Well, I spent the last three days squatting at the Hilton across the street, with a good view on that expanse of an FPL parking lot. There was a little activity there, to be sure, but the sort of activity you'd associate with a summer storm down on Seminole Woods, not a hurricane that took out upwards of 90 percent of Flagler residents' electricity. In other words, Flagler's FPL trucks were elsewhere. But FPL will never tell you that. It'll just repeat that line about the 21,500 workers. In essence, a lie, so far as Flagler is concerned, wrapped in a truth irrelevant to Flagler.
---
Hurricane Irma was bad. In Flagler, FPL made it worse.
---
Honesty would have been more honorable, about this and so many other questions, if only FPL could even get its spokesmen to answer reporters' calls. It would have immediately fostered more forbearance for the company rather than mistrust. But that mistrust began after FPL, just before the storm, projected that 10 to 20 percent of customers would lose power in Flagler, and apparently deployed its crews accordingly. In other words, elsewhere. Clearly, it never readjusted after the storm.
There's something worse than the poor response in Flagler that FPL isn't telling you about, and that our own emergency officials have been wrestling with. That's FPL's secrecy regarding its outage mapping system. The company obviously knows where the outages are, what size its outages are, who's getting taken care of and who's not and why down to the last hovel. County emergency officials could use that information so they know where to send help, where to send water, food, emergency supplies, when the power is out beyond reasonable limits, and do so in a more targeted, efficient way, rather than the fishnet approach they're forced to use currently. They could—they should—know that information so as to disseminate it to residents who need to plan, who need to know whether to book another hotel night, who need to know whether it's wise to drive home from wherever they evacuated to.
But FPL has not been sharing those maps or the planning the maps would facilitate. It's not done so with county emergency officials, let alone the public, for two reasons, the county manager told me: first, FPL allegedly doesn't want the "bad guys" to see the maps, which supposedly can become maps to miscreance. Fair point, but not applicable when the map would also be available to law enforcement, who'd respond accordingly. That's why even county officials don't buy that excuse.
Second, FPL's mapping system has had its technological issues, which is one of the many, many examples of where the company hasn't invested its profit billions in the last many years. (We'll get to those billions in a moment.) It may be 2017 in Flagler, but it's still 1955 East Berlin for FPL.
The company has used its local EOC personnel to coordinate with local officials on greatest needs, and certainly many of those needs were met, but that's only part of the story, and it veils the broader issues that betray and explain FPL's unnecessary failures and secrecy. Here we have a monopoly company playing NSA with our own local emergency officials and holding communities hostage to its silence, all the while projecting that image of a team of superheroes by using its linemen as shields to its own venality.
How? FPL has been arranging media outings with its line people, to put a human face on the workers. The editor I work with thought it'd be a great idea to go on one. I did too. But I was invited to one yesterday-in St. Johns County. Today the invites were for Daytona Beach, again as if Flagler County might as well be Madagascar (where power outages are FPL-like). I wasn't about to stop telling Flagler's stories to go on an FPL flack trip out of county.
Then I thought about it: sure, a nice human-interest story like that would be instructive. But in the scheme of things, it's just another scheme, a way for FPL to deflect attention from its executives' lushly compensated incompetence to those line workers everyone justly considers heroes and would never dare criticize. Stories like that will get into the mechanics of a particular fix, the heart-wrenching stories of that neighborhood maybe, of that particular crew. But it won't tell you a thing by way of hard information you need to know. It won't tell you why or how FPL flubbed its response, hid information, shirked Flagler's needs. It's brilliant PR. It's not news. It's also deception.
The deception has continued for days, even as far as media is concerned. For seven years I never had a problem immediately getting callbacks to whatever questions or problems I was reporting on. It got a bit difficult during Hurricane Matthew, though not nearly so difficult after I ran into FPL vice president Rob Gould, who'd come down to Flagler Beach during one of Rick Scott's visits last October. (Not that it should take any reporter contact with a company VP to grease the communication lines.) Gould is the company VP for communications—affable, unpretentious, forthcoming. Back then, anyway. Not a word from him or his army of PR staff this time despite several calls and emails. The best one I got was from Bill Orlove, a superb contact during the Matthew days, whose automated answer this time was: "I am currently in my FPL storm role. I will have limited access to email service." That about sums up FPL spokesmen's storm role: out of service. (As I write this, still not a word, no email, no call back from FPL, and my romance with Orlove is apparently over.)
There is one other lesson we don't have to wait for the after-action report to see. That's FPL's vaunted infrastructure. The company had 12 years after 2004's trio of hurricanes to improve its backbone. It had Matthew's lessons to do so in Flagler. But while we hear about its "investments" in "state-of-the-art" infrastructure in every other press release, we're not seeing its dividends.
Irma was never the devastating storm it was projected to be in Flagler. Emergency Management weather maven Bob Pickering's reports show that top winds never went beyond 83 mph, and that was one such recorded gust. There were a lot of lesser gusts, but with sustained winds topping out at 54 mph. That's not minor. But it's not the sort of storm that should take out 94 percent of a state-of-the-art utility's infrastructure in Florida.
Or for a utility that has been flooded in money and profits for the past decade—another set of details FPL would rather you not pay attention to right now, which is why, again, it's diverting attention to those line workers paid by the hour.
But the numbers are instructive. Especially now, in Flagler's time of spoiled food, dark nights and days of heat index topping 120, as measured at Bunnell Elementary Thursday.
FPL is the cash cow to parent company NextEra. NextEra's stock price grew 275 percent since Florida was last struck by that spate of hurricanes in 2004. It's been breaking new records for days, even as you've been sweating it out. If the lives of the rich make you feel better, there's this: Eric Silagi, the FPL CEO whose name you've been hearing quite a bit these days, has a compensation package of nearly $4 million. Moray Dewhurst, the company's CFO, clocks in at nearly $9 million. James Robo, FPL's chairman, who's pulling in $16 million. I wouldn't mind spending a day in their bucket truck.
FPL profits in 2016: $1.7 billion. That's profits, not revenue. And those record profits by the way were during the year of Hurricane Matthew. Not a dent in FPL's stash. To the contrary. A substantial increase. In 2015, FPL's profits were $1.65 billion. In 2014: $1.52 billion. "FPL said its growth was driven by continued investments in clean, efficient, modernized generation, as well as a stronger and smarter grid, to further improve the already outstanding efficiency and reliability of its system," the Palm Beach Post reported, parroting words from an FPL press release.
"Stronger and smarter"? Tell that to Flagler.
FPL is a monopoly. It has no competition. It sets its rates in part by going to the Florida Public Service Commission, periodically making its case for rate increases and usually getting its way, because the Public Service Commission is essentially an adjunct of the utility industry. Unlike other ostensibly private companies, utility companies like FPL are guaranteed profits. Other companies take risks. FPL builds in its profits in its rate requests from the PSC, and usually exceeds its take.
You'd expect its infrastructure to be as beneficial to its customers as it has been to its stockholders. You'd be wrong. That's why FPL can make glib promises to its investors, as it did in its second-quarter report a few weeks ago, which showed FPL profits of 17 percent for the comparable period the previous year: "NextEra Energy continues to expect adjusted earnings per share to be in the range of $6.35 to $6.85 for 2017. For 2018, the company expects adjusted earnings per share to be in the range of $6.80 to $7.30 and in the range of $7.85 to $8.45 for 2020, implying a compound annual growth rate off a 2016 base of 6 to 8 percent."
Few companies in few industries can make these promises. FPL can.
It doesn't make promises to its customers. It flubs their repair ticket. It tells them their power has been restored when it hasn't. It keeps them in the dark, literally, about when they may get their power back, except with pointless generalities like "by the end of the weekend." It can't tell you when it will conduct a repair that takes 20 minutes. But it can project profits of 6 to 8 percent to its investors through 2020. Sublime.
Thank you, FPL. Thank you.

Pierre Tristam is FlaglerLive's editor. Reach him by email here or follow him @PierreTristam.