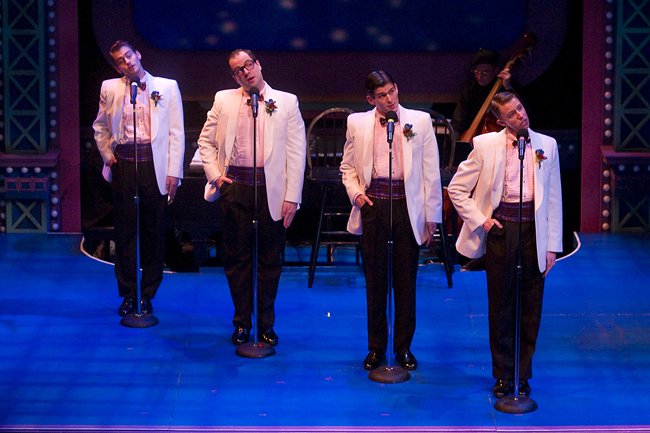 It's an interesting way to begin a story.
It's Feb. 9, 1964, which happens to be the day when the Beatles appeared on the Ed Sullivan Show for the first time, singing five songs in front of 728 screaming, panting fans in the studio–and 73 million people watching on television. Jinx, Sparky, Francis and Smudge are four young men who think they, too, can be big stars, with good reason: they've just landed a gig at an airport bar.
On the way to pick up their tuxes, they're killed. It so happens that they're killed by a bus. A bus filled with schoolgirls. Catholic schoolgirls. Catholic schoolgirls on the way to the Ed Sullivan Theater. So far the plot has the making for a cross between existential theater and Benny Hill, which is about right for "Forever Plaid," the musical on stage at the Flagler Auditorium tonight at 7 p.m.: the quartet's life only begins after death as it gets its Lazarus act going all the way to a real shot at stardom by way of 1950s four-part harmony hits such as "Catch a Falling Star," "Three Coins in the Fountain," "Sixteen Tons," "Shangri-La," "Crazy 'Bout Ya Baby" and "Love Is a Many Splendored Thing."
And all along, it's always more "Nunsense" than "No Exit."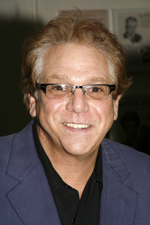 The running theme is the innocence of a "Leave It to Beaver" era of monochrome innocence in plaid rhymes. The running gig is that these four dorks really are dorks, but lovable ones, and 1950s nostalgia really is something worth basking in for a couple of hours rather than gasping about. In playwright Stuart Ross's words, in Mr. Ross's words, "Forever Plaid" is all about "lovable losers, sweet dreams, the creaminess of harmonies and a time of innocence."
"The music is what they love, and I tell my cast, 'Play it honest and it works,' " Robert Randle, who's been directing the show for two decades, told the Saginaw News this week. "That was their lives, and no matter what was going on around them, it was when Sparky, Jinx, Smudge and Frankie opened their mouths to sing that everything came together."
"The story identifies with that era, that time in the early 1960s when everything in the world was changing, and changing fast," Randle said. "It was a time when men didn't say they loved each other, so they found a way to let it be known without going over the line. Then they open their mouths and it's angelic. I grew up with this music, my mother played it all the time, and everyone is going to recognize at least two or three of the songs."
The play, written, directed, and choreographed by Ross, originally staged in New Jersey in 1987 then remade and staged off-Broadway for the first time in 1990, has evolved quite a bit since, dropping some of its coarser banter the four guys engage in to adapt the sort of politically correct style that's turned the show into an international standard. It almost didn't make it: the show's real life followed a plot line similar to that of its fictional stars, almost dying right out of the starting gate. "Eleven years ago," Alvin Klein wrote in The Times in 2000, "a show jump-started and then slipped out of Teaneck [New Jersey], by all accounts a loser, never for all the world to see. Now it has come home a legend, or as close to one as any popular entertainment calling itself theater appears to be.
There's still quite a bit of slapstick, the plot is as nutty and incoherent as its opening premise, and the show still pretends to be something of a play, though it doesn't have to be. It's a musical celebration of an era so bygone that it may never really have happened outside of the the songs it left behind.
Watch a clip below the break.


"Forever Plaid", tonight only (Jan. 14) at the Flagler Auditorium, at 7:30 p.m. Tickets: $39 for adults. Children 17 and under are $28. Groups of 10 or more: 10 percent off. Call the Flagler Auditorium box office at 386/437-7547.