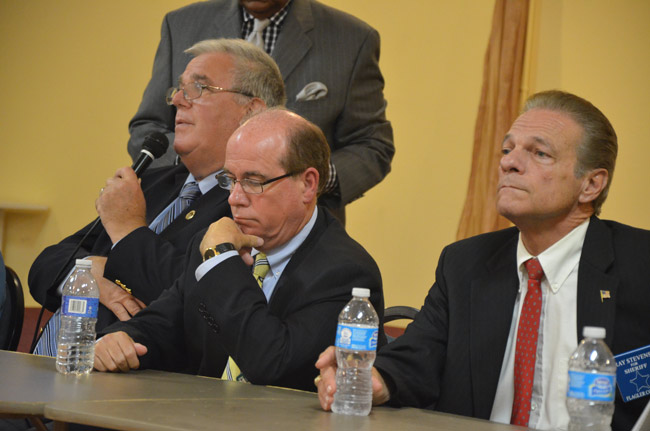 For months during the primary, Ray Stevens, running as a Republican candidate for sheriff, attacked one of his opponents–John Pollinger—for being a fake Republican. Stevens backed a lawsuit filed by his ex-campaign manager to get Pollinger off the ballot, on the ground that he'd been a registered Democrat in New Jersey until January, though Pollinger had been a registered Republican in Florida for over three years. When asked why she was so intent on fighting Pollinger on Stevens's behalf, Anne-Marie Shaffer, a local member of the Ronald Reagan Republican Assemblies, invoked "party purity."
On Tuesday, purity was out the window as what had been suspected for weeks was made official: Ray Stevens endorsed Democrat Jim Manfre for sheriff.
The race for Flagler County Sheriff is one of the two most venomous local races on the ballot Nov. 6: Fleming and Manfre have an intense personal dislike for each other.  But the endorsement reveals the depth of animosity within Republican ranks for some of their own (Ronald Reagan assembly members equally revile Republican Frank Meeker, a candidate for the county commission), while it potentially upends what is expected to be a very close race, where endorsements by former candidates with any kind of base could tip the race one way or the other. Both Stevens and Pollinger carried numbers enough to give their endorsement some weight.
"There is no hypocrisy here," Stevens said this morning. "One has to make a distinction between a partisan primary where Republicans vote for Republicans and Democrats vote for Democrats, and a general election where all the registered voters vote, and hopefully they vote for the better candidate. My issue with Pollinger was not that he was a Democrat. He could have been a socialist or a communist or whatever. But the issue here is, and it is fact-sensitive, that Pollinger swore to an oath of office that he had not been a member of a registered member of another political party for 365 days, which in fact he was, and that is the issue. He was not properly qualified to run in a Republican or partisan primary. That's where it ends."
The endorsement drew laughter from an unsurprised Pollinger, who called Manfre "the flavor of the moment for Ray Stevens" while ridiculing Stevens's evolution going back to his first run for sheriff four years ago, when Stevens ran as an independent and made his no-party affiliation a central plank of his campaign, saying law enforcement should not be politicized. "He's demonstrated that he has no clear allegiance or affiliation with anybody. He's an opportunist."
Pollinger, meanwhile, endorsed Fleming—a move Stevens says could not have been surprising. Stevens never believed that Pollinger had run for any other reason than to split the vote for Fleming. Absent Pollinger's presence in the race, Stevens says he would have "walked away" with victory.
"I don't know what weight or influence I have," Pollinger said, "but the only deal Don Fleming and I made from the beginning was that I was running for sheriff, not against him. The only deal we had was that we would be civil."
Fleming reacted to the Stevens endorsement this way: "I imagine Ray Stevens needs a job, just like Jim Manfre needs a job. There's no party purity when it comes down to that."
The implication is that Stevens might be in line for a job in a new Manfre administration (Stevens commanded the detective bureau at the Ossining Police Department, where he worked for decades before moving to Pinellas County, then to Flagler County).
"It's a lie," Manfre said this morning of Fleming's implication. "He shouldn't say that, it's a slander, because first of all, for me to promise a job is a felony." Manfre said he'll have a transition team that'll make recommendations, but that "no one is getting fired."
"My overall philosophy, and I tell every single person who supports me, is that I make no deal, I make no promises about personnel to any supporter of mine," Manfre said. Fleming's implication, to Manfre, is another indication of the sheriff's alleged facility with bypassing the rule of law. When Fleming got rid of several sheriff's office staffers at the beginning of his first term, he ended up with equal opportunity employment lawsuits that cost taxpayers around $400,000, Manfre said.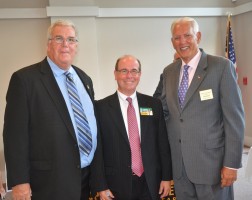 Stevens also dismissed the claim that he's looking for work. "First of all, I don't need a job. I live comfortably. I don't owe any money, and I don't need a job. I ran for sheriff to make a difference, to enhance the quality of law enforcement in this county," he said, stressing that the possibility of a job hasn't even been discussed with Manfre.
But would he decline a job if one were offered? "I don't know. I bought an RV which I'm working on, it's an older one, I plan to travel with my family, as you know I have a 10-year-old daughter. I'd have to discuss that with my wife and make a decision if and when it was offered. One should never close a door or burn bridges. Anything is possible. But I want to stress the fact that it was not even discussed."
Pollinger, too, is itching to get back on the cop beat after eight years away, but he doesn't see that happening locally, and Fleming is discounting the possibility. "I don't see anybody in the agency that I have right now retiring or moving away," Fleming said. The Pollinger endorsement was nothing more than that. "He has come out and said he'd like to support me, he has no terms or conditions for that support. That's the way I like it at this point in time."
When all the barbs, the ironies and the titters settle, there's still the matter of strategy and vote-counting: Stevens has a loyal and substantial base.
In August's three-way primary, Stevens ran second to Fleming, with 3,020 votes (33 percent) to Fleming's 3,540 (39 percent). Pollinger got 2,526 votes (28 percent). Going by strict allegiance, Stevens may appear to carry more votes to give Manfre than Pollinger would Fleming. But that's assuming that most of Stevens's Republican supporters would stomach following him to back a Democratic candidate—a very big assumption, especially in a county as polarized as Flagler.
Fleming thinks the Stevens effect will be insignificant. I don't think it's going to affect the Republican vote whatsoever," the sheriff said. "I believe if you're a Republican, the Republicans are going to vote for a Republican. I think I've been a good sheriff."
But the proportion of Republicans in the county is just 37.1 percent of the electorate, and its down from 37.6 percent four years ago. It's still better than Democrats' 35.3 percent share (down from 37.8 percent four years ago), but that still leaves more than a quarter of the electorate in the independent and minor party column. Holding on to Republicans alone, in other words, is not a winning strategy for Fleming.
Manfre thinks even a 1,000-vote difference in his favor, caused by the Stevens endorsement, would be enough to tip him to victory.
If the electorate breaks down as it did in 2008, Manfre would be right: in 2008, less than 1,000 votes separated Fleming's 41 percent win from Manfre, who got 39 percent. Ruinning third, with 9,400 votes: Ray Stevens, who carried 20 percent of the vote, Even if a fifth of those supporters were to swing Manfre's way, Manfre would win—as long as he is to preserve the base he had in 2008.
This year Fleming is facing three serious liabilities that he did not face in 2008.
First, he was heavily criticized for taking a personal role in personally helping John Fischer the evening when Fischer's wife, Jamesine, driving in the C Section, struck a 72-year-old Palm Coast woman, who eventually died. Jamesine Fischer faces a first-degree felony charge of leaving the scene of an accident. That trial is in January. Fleming and her husband exchanged a series of phone calls subsequent to the accident, a story Fleming changed several times, and Fleming lined up the Fischers with his own department's attorney—Steven Alexander, a repeat donor to the Fleming campaign.
Second, Fleming drew an ethics violation charge subsequent to revelations that he'd accepted a gift card giving him access to the Hammock Beach Resort. Elected officials are barred from accepting gifts with large dollar value. That issue goes before the Florida Commission on Ethics on Oct. 19.
Third, Fleming was severely criticized, including from within his agency, for merely demoting—at the same pay rate—Jamie Roster, a deputy that an internal investigation showed took some $8,000 in overtime pay he did not work for. Roster was accused by his own men. Fleming said he did not fire Roster, even though two other deputies had previously been fired for similar but lesser offenses, because Roster, Fleming said, would prevail once the case worked through a union appeal.
Stevens says he's hoping to generate 1,000 to 1,500 votes for Manfre—and to do so actively: the two men campaigned together at Flagler Beach's First Friday last weekend, and will have joint appearances in coming days.
Manfre is also pulling on the support of other Republicans, including Bill Karback, who ran for sheriff in 2008 and lost in a three-way primary, carrying 30 percent of the vote.
But Stevens's allegiance to Manfre is a one-Democrat exception. Stevens said he's voting Republican all the way, in remaining races. As for Pollinger, he put it this way: "Am I going to actively stay in the Republican Party? I don't know, because I don't know what the Republican Party in the county is anymore."