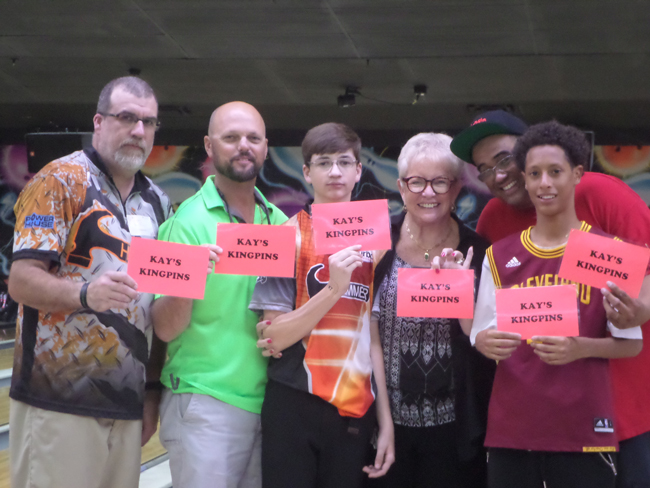 It's been about 10 years since the Family Life Center has received any kind of funding increase from local government: the county grants the shelter for victims of physical and sexual abuse $100,000 a year. Cities grant it nothing. The shelter is asking for an increase, but the best a center official was told by Nate McLaughlin, chairman of the county commission, during a budget workshop Monday was: ""We'll have to see," and "It'll be difficult to commit at this juncture."
The non-profit shelter did get a funding increase last year, but that was only because it took on a new responsibility that the the Volusia-based Children's Advocacy Center had shirked: the shelter became a rape crisis center as well. Nevertheless, in the past five years the center has managed to increase its budget to just under $200,000 through grants and fund-raising.
Last Sunday was an example of how. Palm Coast Lanes was jammed with more than 120 bowlers and supporters at The Palm Coast Yacht Club's bowling tournament fundraiser for the Family Life Center. The event raised $2,200.
The overall team winner, according to a release, was "Kay's King Pins" from St. Augustine, sponsored by Kay Coffey, also of St. Augustine. The top bowler in the team was 16-year-old Wesley Outman, a student at St. John's Technical High School, who bowled a 253.
Eighteen teams of five competed for prizes, which also featured raffles and door prizes. Teams representing the Palm Coast Community included Fields BMW, Grand Living Realty, Thrivent Financial Services, Hammock Décor, Landscape of Flagler, and The Gardners of Washington Oaks State Park.
"There was so much energy in the room we thought the roof was going to explode," Sarah Ulis, who chaired the event, said. The event was hosted by the Palm Coast Yacht Club.
In November, the club staged a major fundraiser for the Family Life Center and continued its historic role as organizer for the annual Palm Coast Holiday Boat Parade.