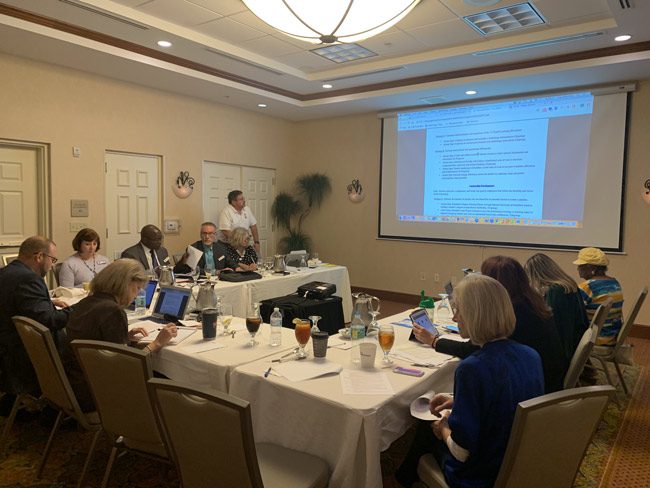 For the third time in seven years, the Flagler County School Board is discussing a substantial reconfiguration of its nine schools that may include sending all sixth graders to middle schools, converting all elementary and middle schools into K-8 centers, rezoning, or elements of all three. The approach that appears to have the most momentum–or at least the least resistance–would be sending sixth graders to middle schools in a couple of years, and looking at rezoning several years after that.
What is certain is that none of this would take place for at least two years. Judging from past history, it may not take place for many more years than that: when the board first considered going K-8 across the board in 2012, it was certain to go through with the plan by 2014. But it did not. When the board again discussed related options two years ago, largely prompted by school-choice issues, it projected some changes to be in effect by this school year. The plan never went further than a workshop discussion.
That could be the case again this time, a spirited discussion this morning by board members, the board attorney and the superintendent at a board retreat notwithstanding.
"How many years have we been talking about this? It's always about getting additional data and redrawing lines, so now I'm hearing the exact same thing," Board member Colleen Conklin, who's participated in every one of those rounds–as have her colleagues Andy Dance and Trevor Tucker–said this morning. Conklin favors going to the K-8 model.
"Well, every time there's rezoning brought up people go, 'It's too close to my election.' That's basically what happened, I hate to say it," Tucker said. "It's a problem. Me? Let's just bring it forward. Let's put this on a workshop and get this started." If the district needs to be rezoned, it should be rezoned, he said. "Kicking the can down the road seems to be pointless." Yet to him, the issue of overcapacity at two schools–Old Kings Elementary and Belle Terre Elementary–will "work itself out because the two largest classes are moving to the middle schools next year, and they're getting smaller and smaller." (The current sixth grade class at Old Kings Elementary totals 209 students. The next three grades in succession total 196, 194 and 162. Belle Terre Elementary's classes also get smaller, but not as much.)
"We have open capacity, which is again why we have been talking about rezoning," Conklin said: combined school capacity is 3,169 seats above the district's actual enrollment of just under 12,000, not counting 879 students at IMagine, the charter school, which is a privately run public school and does not enter into board members' rezoning or reconfiguring discussions. "Capacity is not an issue in our schools. We have capacity, It's unbalanced," Conklin said.
"If we're rezoning not for capacity, then what are we rezoning for?" Tucker asked.
One of the issues prompting the discussion, as it was two years ago, is school choice, which allows parents to place their child in a school of their choice, whether or not the child is zoned for that school. As long as there's capacity in the chosen school, the child must be accepted (disciplinary issues aside). Some schools are more choice prone than others, among them Belle Terre and Old Kings. Shifting sixth graders to middle schools would alleviate that issue.
Buddy Taylor and Indian Trails Middle School have enrolments at or near 900 students, but capacity for 1,610 students at Buddy Taylor and 1,800 at Indian Trails. The two schools could accommodate sixth graders from the district's five elementary schools and remain below capacity, a change that, board members say, would take into account research that shows students will better adapt to their middle school years if they have the full three years rather than if they barely had time to get used to their environment, their administrators and teachers, only to be sent on to high school. For many, the rapid transitions are reflected in lesser academic performance. "It's almost there's like a lost two years," Kristy Gavin, the board's attorney, said.
"This is why we've been saying K-8 would not be bad way to go," Conklin said.
But it's not as if simply moving the sixth graders to the two middle schools would spare the district a rezoning.
"At the end of the day we need to do something with the middle school scenario," Conklin said, referring to the research on student achievement, which she said the K-8 model supports. "The demographic rezoning needs to be done, because it was skewed when we did it years ago. So when you look at the zoning of the students that are going to Indian Trails and Matanzas High School, the students that are zoned and going to Bunnell and FPC, the zoning is not balanced. That is the reality of the situation. So whether we go to 6-8 or we go to K-8 and bite the bullet, you can't do it without doing some sort of rezoning."
Sending sixth graders to the middle schools would require rezoning the high schools' rezoning but two or three years later, Gavin said–a projection Conklin did not agree with, saying merely shifting sixth graders to middle schools, without rezoning now, would compound the problem. "I don't know how this conversation from the last two years went from a discussion of having to rezone our schools, whether again the model was a K-8 or the model is a K-5 and a 6-8," Conklin said, "how now we've gone to possibly adapting a K-5, 6-8 model, without touching rezoning at all. And don't get me wrong. Rezoning is a nightmare. At some point we'll have to address it."
"Take a breath, what they're doing is we're being presented with options," Dance said, attempting to keep the discussion around general ideas and considerations rather than decision-making shifts.
But there's no question that whichever direction the board goes–other than inaction, which it seems less inclined to embrace this time–will provoke an unhappy backlash in the community. Board members are aware.
"That's the point of today though, to just kind of open up discussions and take in information," Tager, the superintendent, said. "Rezoning is definitely one solution. I'm hearing loud and clear that you want to look at K-8." But, he said, echoing Gavin's proposal, one approach that could work for a period of time without rezoning is to make the 6th grade shift to middle schools "for three or four years, but in three or four years you're going to have to do something about Matanzas and FPC," that is, Flagler Palm Coast High School.
Conklin is also concerned about the demographic impact on schools of any of those changes–how, for example, the free and reduced lunch population would increase or decrease in a given school, how the ethnic or racial make-up of a school would be impacted, and so on. Gavin said those analyses would be part of a July workshop discussion, along with discussions of transportation, suggesting that this time, the discussions will not dead-end as they may have in 2012 and 2017.
Shifting the district to a K-8 system or to a 6-8 system would also be costly in transportation and construction costs: four of the five elementary schools were designed as K-8 centers, but Old Kings was not, so it may have to be reconfigured.
Sending sixth graders to middle schools would reduce the need for elementary school buses by nine, for a total saving of $117,500, but the saving would be elusive: more middle schoolers will mean a need for 14 additional middle school buses, according to a recent district analysis, with a net additional cost of $311,000.
The board did not dwell on financial aspects of the discussion, though there will be future discussions about revenue sources, including the possibility of a referendum for a modest increase in the property tax for various discretionary spending.
Tager in a brief interview after the first three hours of discussions placed the zoning conversations in context: it's not happening tomorrow. "None of this would happen next year, I think we're talking 2021 or later," Tager said, "some of these things might be where you have a two to three year plan to roll things out."