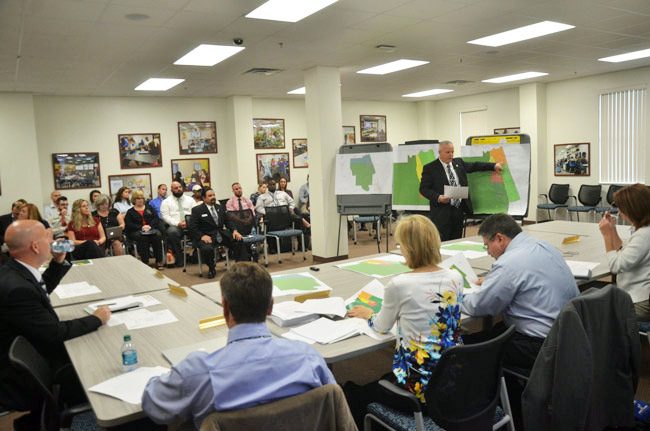 The Flagler County School District is not overcrowded. If anything' it's still considerably under-crowded: it has 2,000 seats district-wide, with about a third of that total in elementary schools and the rest mostly in the district's two middle schools.
But two elementary schools are above capacity: Belle Terre Elementary Schools has 42 students more than it's built for, and Old Kings Elementary has 108 more.
One thing explains the paradox: choice, the new state law—and a policy long before accommodated locally—that requires that parents who want their children to attend a school for which they're not zoned must be provided that opportunity, assuming there's space at that school. District-wide, 1,436 students are attending schools they're not zoned for, though that includes Voluntary Pre-K programs and gifted programs, so the figure is slightly misleading, and the district did not yet have figures that apply exclusively to K-12 students.
Many parents in Flagler want their children to be either at Old Kings or at Belle Terre regardless. Once a child is enrolled as a "choice" student at a particular school, that child may not be booted back to his or her home school, so a first grader who made it to Old Kings as a choice student must be allowed to complete the cycle through sixth grade there. It doesn't matter if the chosen school reaches or goes over capacity along the way. (As a commenter noted below, however, "attendance and behavior issues can (and have) resulted in school choice students being sent back to their zoned schools.")
That's what happened at Old Kings and at Belle Terre. The schools miscalculated. They took in more students under "choice." Those students have stayed. The two schools are required to accommodate all students zoned for them as well. The result was the equivalent of an airline overbooking its flights. Rules, in other words, were not enforced: administrators who should have put a stop to "choice" transfers did not do so. (One reason is that every student in a seat represents a pot of dollars. The more students, the more dollars that school is eligible for.)
And now the district has to contend with the consequences.
Email Your School Board Members:
---
That has prompted the district administration to talk about rezoning that would relieve pressure on Old Kings and Belle Terre Elementary, but end up affecting almost all the elementary schools and Buddy Taylor Middle School. The Flagler County School Board discussed the possibilities in a workshop Tuesday. But it came away leery of any major changes—certainly none this year and most likely none next year. If there is to be any rezoning, it would not happen until the 2018-19 school year.
"The expectation of this discussion is to come forward with a plan that we'd be looking to put in place not for next year, but the following year, is that correct?" board member Colleen Conklin said.
Board Chairman Trevor Tucker said it's more of a matter of figuring out what may be done feasibly in the short term, short of rezoning, as well as the long term, meaning rezoning by 2018-19.
The end result was this: The board will first consider limiting choice enrollment at Old Kings and Belle Terre elementaries, and see whether that would take care of the problem. The district is allowed to do that if the schools are at capacity or beyond. Parents are not entitled to place their children anywhere they please, in other words, if the seats are not available. So the district will have to "follow the rules to limit choice at the two schools," Tucker said. (Keep in mind, the district will not even move to that end before again holding a workshop on the matter.)
Second, the board, at Conklin's instigation, will analyze an entirely new option: possibly converting all elementary and middle schools to K-8 schools. All schools were built with that possibility in mind except for Old Kings Elementary, so the district will have to analyze what it would cost to reconstruct Old Kings to that end. Belle Terre would need some adjustments, too. (The Flagler district had actually seriously considered that switch four years ago, seeing it as almost certain by 2014, but that never came to be. Neither did a rezoning plan.)
Third, it will further analyze rezoning options and consider various scenarios, none of which are currently set.
---
The district is confronted with the unintended consequences of school choice.
---
"I'm not going to tell you that I'm married to any specific idea," Superintendent Jacob Oliva said at the outset of Tuesday's meeting, stressing that he's only looking for direction from the board.
But the rezoning plan that has been produced so far would rezone part of Wadsworth Elementary's zone to Rymfire, and part of the Old Kings Elementary zone to Wadsworth Elementary. Some of Buddy Taylor Middle School's 500-some empty seats would be shifted to nearby Wadsworth Elementary, as the two schools are on the same campus. That would even out the available seating at the elementary schools, leaving each school with between 140 and 300 seats to make available as choice seats.
The proposal, presented by Mike Judd, who used to be the district's facilities director until he briefly retired—to accommodate his state retirement system requirements—and returned as a special projects administrator, would also save money by cutting out 186 hours of bus transportation time (that's 186 hours less that bus drivers will earn in pay), netting the district $100,000—money Oliva said, with a laugh, already committed to other needs.
"I would look at this as a short-term solution, say five to 10 years," Judd said. The long-term solution? A new school, possibly at the southern end of the county, where areas such as Hunters Ridge and Plantation Bay are seeing significant new construction. One complication, however: the population analyses the district is relying on date back to 2008 estimates, which are outdated.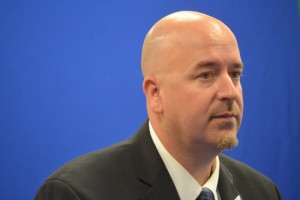 "We're not going down that road unless we're really ready to look at this because we're asking a lot from our folks," Oliva said. "There's a lot of different directions this conversation could go. Our hope today is to kind of narrow that scope if we could, because I think we have a great foundation." He continued: "We might decide it'd be best to leave the zones the way they are and really look at choice, because schools that are at capacity are built on choice, and we've been very liberal, I think, with our school-choice policy, and I think it's the right blend to look for as far as following that spirit, but we will start having waiting lists, especially at Belle Terre and Old Kings."
"Rezoning is never fun, so somebody is getting displaced. We've lived through this before. It's not pretty No one is happy," Conklin said.
True, Tucker said, but it can also be limited if the district were to even out its seats by not displacing people who are already zoned for their home school. Better restrict choice in line with capacity, he said, rather than rezone to enable more of the same.
"But the numbers are going to even themselves out depending on how good of a job we do with rezoning," Conklin said. "At least you'd have more capacity in every school for choice to even take place."
That's actually the case now: Bunnell, Rymfire and Wadsworth elementaries have those seats available. Old Kings and Belle Terre alone don't. That raised another question: why are parents so intent on taking their children to those two schools, but not to others? Board members want the answer to that question, too, as it implies that some schools are perceived as better than others. "That is a management issue, that is an internal conversation that needs to happen," Conklin said. "It could be for reasons that no one has any control over, but at the end of the day that should be a driving conversation, and we should be dealing with that issue. If we want to face choice and have choice, which I strongly think that we should, we need to come up with a way to equalize the populations across the schools, so that even choice can happen."


Proposed rezoning lines for elementary schools. (See current zones here.)
<![if !IE]><![endif]>