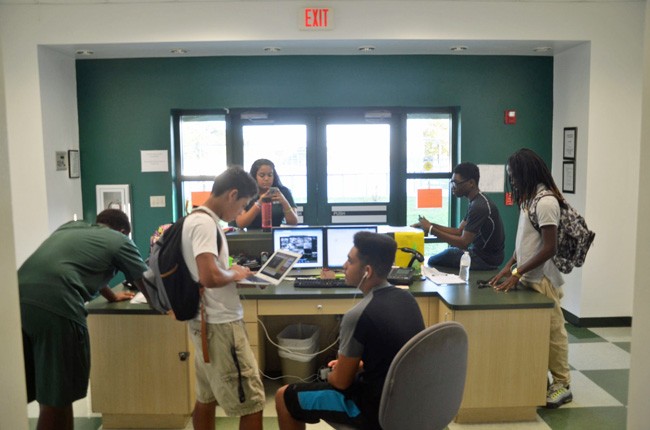 For Dave Halliday, the last few years has been a whole new world in education, both as a teacher and as a parent to two high-school aged children.
Halliday is a history teacher and track and field coach at Flagler Palm Coast High School, and he's noticed big changes for the better since the Flagler School district launched its four-year, $3.2 million plan to provide an iPad or Macbook computer to every Flagler County student by 2017-2018 school year.
Halliday's daughter Darien graduated FPC last year and was constantly using her Macbook to do homework, form study groups with other students, and access learning tools set up by her teacher.
His youngest daughter, P.J. "uses her laptop for everything," Halliday said. "They use programs like Canvas and NearPod in her classes, very interactive stuff that really makes learning more interesting, and frankly, better for us teachers as well.
"I'd say the vast majority of teachers and parents," Halliday said, "are really happy with this program."
Halliday's opinion seems to be the prevailing one among Flagler County teachers, parents and administrators:  With high school students getting laptops first, and now this year with the first group of middle schoolers receiving them, it's clear by most metrics that the laptop one-to-one initiative has been a big success.
The initiative, proposed and enacted in 2013 when Flagler Schools entered into a contract with Apple Corp., is part of a larger five-year, $20 million technology and education program that included upgrading wireless infrastructure in schools, making classrooms "smarter," and updating or upgrading computer labs in the district's schools. It's being paid for by county residents through a voter-approved sales surtax renewed in 2012.
While most of the school district and school board expected greater learning opportunities and effectiveness with the laptop initiative, one striking and positive result  has been that replacement costs for lost, stolen or broken computers have come in way under projections.
According to Ryan Deising, technology manager for the district, a total of $154,000 was budget for replacement costs in the first year, and $165,000 was budget for the second year, to cover costs for the 7,900 machines given out in 2013-14 and 2014-15 school years, for a two-year total of $319,000.
But the actual replacement costs for the two years combined were $194,565.00, Deising said, which is $124,435 less than  projected.
There are a few reasons for this, Deising and several school board members  said. First, the district was able to work with an outside repair company, which allowed them to reduce costs of repair parts, as well as fix devices that otherwise couldn't be fixed by the district's technology staff.
But perhaps an equally big reason: students are being really careful with their laptops. Teenagers aren't exactly known for their delicate natures with objects (ask any parent), but the Macbooks and iPads are a source of pride.
"They're pretty proud of having them and being much more careful than I think anyone expected," said school board member Trevor Tucker. "I was definitely worried about that at first, that you'd see a lot of machines left on buses or on athletic fields or other places. But the students really seem to realize their importance and do a great job taking care of them."
Parents are required to pay an annual Technology Liability Fee with a co-payment program at the start of each year, with the annual fee depending on whether the student qualifies for free or reduced lunch. The fee ranges from $10 to 25. The co-payment for damaged or lost devices is $100 for a MacBook Air and $85 for an iPad.
As of this writing there are 8,991 MacBook Airs and iPads in use, Deising said, with the middle school grades 7-8 getting theirs in August at the start of the school year, and iPads being given to elementary grades 5 and 6 this year as well.
School board member Andy Dance said he's been very pleased with what he's seen from the program, adding that the collaboration aspect he's seen with his own kids has been impressive.
"The group component has what's impressed me the most, seeing the collaborative learning and the online study groups going on," Dance said. "The goal was to integrate these machines into education and the curriculum, and I think that's what's happened. This has gone much better than we expected."
Deising said there've been "very few" issues reported with the expansion of the program to the middle school grades this year, and that the fifth and sixth-graders, whose iPads were limited to in-school use until Parent Night (when parents could sign off and pay the Technology Liability Fee) have also seen very limited damage or loss.
Over the next two years the program will continue to spread to the lower grade levels, and Tucker said he thinks that any expansion of the initiative would depend on educators' judgment of the youngest  children being able to handle their own laptops.
But for now, the devices have been a success for students and educators alike.