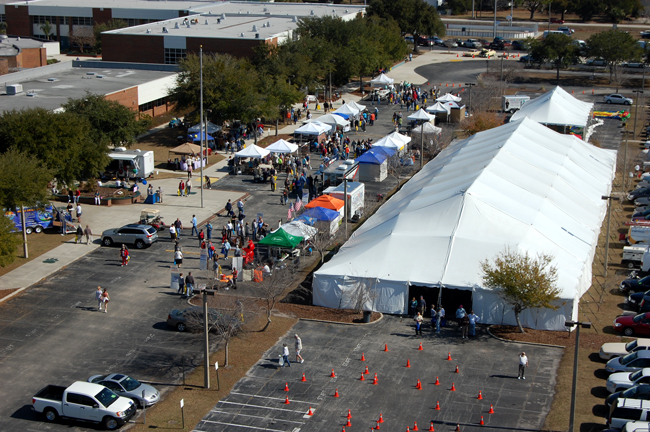 The Flagler County Home and Lifestyle Show was back today, and will be back again tomorrow, Sunday (Jan. 30), as concentrated a sprawl of the region's various organizations, businesses, government agencies and cultural organizations as you could hope to see locally: no fair and no festival matches the school district Adult Education's show for the sheer number of vendors—300 this year–it attracts year after year.
Even in down years. The economy isn't on speed anymore, but the show lost a mere 20 vendors this year, compared with last, according to Home Show organizer Becky Harper, a program manager with the district's technical center and a school district staffer for as long as the home show has been around. ("The job that I do," Harper said, is minuscule compared to the jobs the volunteers do this weekend." Hundreds of them, and they were everywhere, managing a crowd that may total upwards of 15,000 by the end of the weekend.)
And no fair or festival matches the home show's purpose: to raise money and fund scholarships. Last year's home show, Harper said, raised close to $25,000 after expenses. The money helped pay for summer camp, technical-school students' tuition and some college scholarships.
The weather was ideal: cool, dry, sunny, a bright contrast with the tales of snow and woe further north. And FPC's campus was a swarm of commercial and civic life in all its local varieties, from the usual real estate, home building, home fixing, home decorating, home reinventing traders the show is focused on to assisted living facilities, pet cemeteries, artists, writers, every civic or political organization you can imagine (well, mainstream organizations, anyway), including old and new media. There was food, too, and music, and a constant stream of dance acts in the Bulldog Cafe, compliments of several local dance troops. (See the photo gallery for faces and names.) Also: the health fair, dominated this year as in previous years by Florida Hospital Flagler's perennially growing services.
That's why calling it a "home show" is somewhat of a misnomer: when the show started almost a quarter century ago, back when Flagler County's entire population, Palm Coast included, could fit in a minor league baseball stadium, it was a service fair: civic, government and educational groups gathered under one metaphorical tent to give local residents a chance to become familiar with the institutions that made their county and cities run. Back then the whole thing could fit on the more modest grounds of Buddy Taylor Middle School.
As the county began its spiraling growth, and the housing industry became to Flagler County what oil is to Saudi Arabia, the event moved to FPC (in 1990) where it's been held since. It's still a wonderful way for residents(or visitors, for that matter) to familiarize themselves with local institutions, large and small, to browse local commerce's many faces, and of course to socialize: every booth is its own bar stool, minus the booze.
The home show is on again Sunday. Meanwhile, enjoy this photo gallery of Saturday's displays.
---
Home Show 2011: The Gallery
[nggallery id=52]