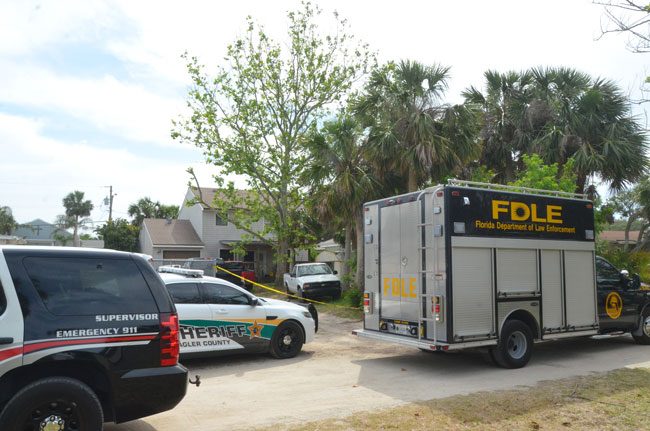 Last Updated: 1:48 p.m.
For an update with further details on the shooting, go here.
A domestic dispute in Flagler Beach ended with a man shooting his son dead at a house on South Daytona Avenue around midnight Saturday. Bobby Gore, the alleged shooter, is in police custody and was charged with first-degree murder.
Lucas David Gore, 31, was killed. Police found him slumped over a table, unresponsive, when they got to the scene.
"There was some tension between the father and son," Flagler Beach Police Chief Matt Doughney said this morning, "resulted in the shooting."
Gore, Doughney said,"will be charged with the death of his son, to what degree at this point I'm not exactly sure." By 10:22 this morning, when Gore, 74, was booked at the Flagler County jail, he faced a first-degree murder charge.
The property, a 1,600-square-foot two-level house, has been owned by Bobby and Bonnie Gore for almost 25 years. Bobby Gore is is custody. The couple have three adult sons, including twins. The victim was one of the twins.
The county's 911 center got a call about the shooting at 12:26 this morning, according to a release Doughney issued in early afternoon. Bobby Gore was still armed when authorities first got to the house, the release states.
The front of the house, across the street from Flagler Beach Community Church, was cordoned off with crime tape this morning, but was otherwise unremarkable. FDLE's crime scene unit was parked in back of the house, along with detective units from the sheriff's office. The back driveway, inside the crime tape, was filled with three pick-up trucks and a sedan.
At 11 a.m., investigators were observed cataloguing evidence from the crime scene, including a rifle with a scope (see below), though it's not clear whether that had been the weapon involved in the shooting: one report, unconfirmed, has a .22 handgun as the weapon used in the shooting.
A neighbor who lives immediately across the back alleyway of the Gore house said she'd heard what sounded like "a couple of shots" around midnight but thought it was people setting off firecrackers. She said she'd occasionally hear arguing in the Gore house. But she said the Gores kept to themselves, never interacting with neighbors. Other neighbors who live three houses down (one house down from the property owned by Flagler Beach City Commissioner Rick Belhumeur) also described the Gores as people who did not interact. The word "odd" was used as neighbors described the family. They said a fence had blocked off the house from the alleyway previously, but rickety as it was, it had been blown off during Hurricane Matthew.
Reached in late morning, Belhumeur said he hadn't heard the sound of gunshots overnight. "I did know a thing. I sent Larry a text this morning, totally unrelated thing," Belhumeur said, referring to Flagler Beach City Manager Larry Newsom. "He called me up." Newsom, who'd been filled in by his police chief, informed the commissioner of the shooting in his neighborhood.
"I've never seen or met these people," Belhumeur said of the Gores. Only thing I know about that place is about the dog, the dog always seemed to be left unattended."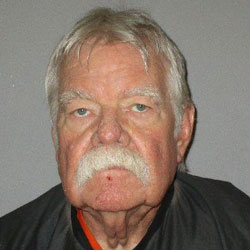 "Our deputies in Flagler Beach responded to a call of a shooting," Sheriff Rick Staly said this morning, referring to the incident at 1002 South Daytona Avenue. "When we arrived our people supported the Flagler Beach Police Department with securing the scene, and I'm not sure who apprehended the suspect but it was a domestic type related incident."
Flagler Beach Police Chief Matt Doughney called in the Florida Department of Law Enforcement's crime-scene unit, which was still at the scene late this morning. The State Attorney's homicide investigation unit, sheriff's detectives and patrols were also at the scene to support the Flagler Beach Police Department, Staly said.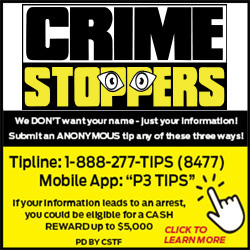 The incident reportedly began as the Gore parents were arguing at the house. Bobby Gore then went to Poor Walt's, the bar on State Road 100 on the east side of the Flagler Beach bridge. One of his sons followed him there, and the two argued at the bar before returning home, where the shooting occurred.
"It's a Flagler Beach Police Department case unless they ask us to take it over, which they have not, they strictly asked for support," Staly said.
It will in fact be a Flagler County Sheriff's Office case, led by Det. Jorge Fuentes, as the Flagler Beach's detective, who would have normally handled the case, was not in town when it broke.
It is the second homicide this month in Flagler County. In mid-April, the Sheriff's Office said that Charles Singer, a 48-year-old West Flagler man who'd gone missing, was found buried on his property and was believed to have been shot. There have been no arrests in that killing. Flagler Beach hasn't had a murder in five years, the last one dating back to Paul Miller shooting dead his neighbor Dana Mulhall in the 1300 block of South Flagler Avenue. Miller, now 70, was found guilty of second-degree murder and is serving life without parole.
"This was a prime example of the city, the state and the county all working together," Staly said of the ongoing investigation, an observation Doughney echoed. "You want to talk about city, county and state working together like a team should, from my standpoint, it couldn't have gone any better from a law enforcement perspective," Doughney said.
Investigators, after a final walk-through the house, left at 11:30 a.m. A deputy took down the crime scene tape. A back porch light was turned on just before law enforcement left.
"This case is an absolute tragedy," Doughney is quoted as saying in the release. "As a Department our hearts go out to the Gore family. Our Victim Advocates are committed to assisting the Gore family during this most difficult of times and please keep them in your thought and prayers."