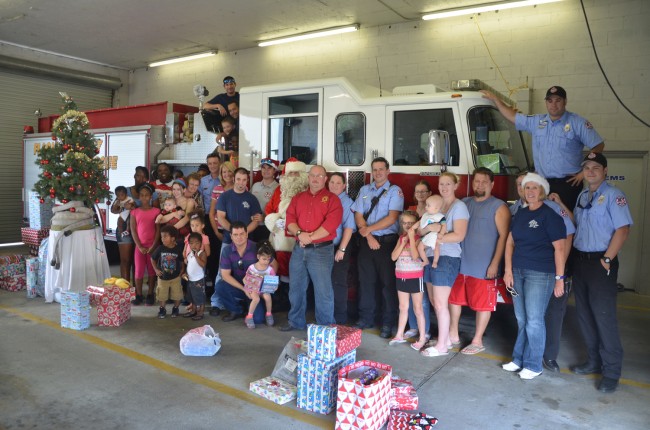 This year Kyle Lockwood, the Flagler County Fire Rescue firefighter-paramedic who traditionally organizes a Christmas-buying spree on behalf of needy children after each Thanksgiving, wanted the gift-giving to take place at his fire station rather than–as in previous years–in a parking lot.
"We wanted to keep it in the station so it's more inviting," Lockwood said, "and invite the community to see a softer side of what we can do."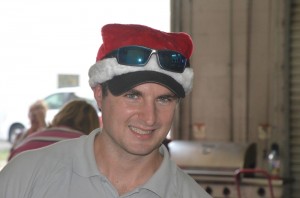 So there they were Sunday (Dec. 22), the piles of wrapped presents lined up alongside a fire engine at Station 92 (the fire station near the Flagler County Airport), a Christmas tree rising from their midst, cookies and other goodies lined up on tables in the middle of the hangar, and children with their parents beginning to gather for Santa's arrival.
Children were about to have their wishes, as Lockwood already had. But then what usually happens in a fire station happened at Station 92. As if marking high noon, when the festivities began, the alert sounded about smoke in a house in Seminole Woods. That's Station 92 territory. Firefighters immediately scrambled into the fire engine and an ambulance and headed out, lights flashing. The wall of presents suddenly looked naked, or at least a bit less Christmassy, without the bright red firetruck reflecting the wrapping paper's colors behind it.
The call to the two-level house at the corner of Sea Beacon Place and Sea Breeze Trail turned out to be nothing to worry about. A few gallons of gas later, the fire truck was back in its place, just in time for Santa's arrival. Christmas resumed its normal schedule.
"It was a little bit easier this year," Lockwood said of his annual effort. "A few more people understood and more people helped out, including the Palm Coast professional firefighters," meaning the the Palm Coast Fire Department's union. Lockwood is a member of Local 4337 of the firefighters' union. Flagler Beach firefighters also contributed.
As in previous years, Lockwood and other volunteers hung the names of children on Christmas trees in fire stations around the county. The names were provided by Tamara Armstrong, a family assessment worker with Healty Start of Volusia-Flagler–children who, without Lockwood's efforts, might have not had a few presents to call their own this Christmas.
Along with the names, Flagler County Fire Rescue and Palm Coast Fire Department firefighters got wish lists for each child. Then they went out–the firefighters themselves or their spouses–and bought the presents with their money, on their own time. (Keep in mind that firefighters may do some of the most dangerous work in the county, but are not at all the best-paid public employees: they make $10,000 a year less than a starting teacher).
Last year the effort fulfilled the wishes of 42 children. This year it's up to 58. "My goal next year is to start even earlier than Thanksgiving and try to get 100 names," Lockwood said.
To the children who were arriving the behind-the-scenes numbers were not nearly as enticing as the certainty that some of the presents they were looking at–including some on two wheels, some in particularly large boxes, all carefully and seasonally gift-wrapped–were about to walk out with them.
And that they'd get an audience with Santa to boot. (Santa this year was a contribution of the Palm Coast Fire Department, compliments of Patrick Juliano). When the odd pair of firefighters wasn't claiming his knees, children surrounded Santa, some of them too shy to speak, some of them inquisitive enough to look in his eyes as if to make sure it was him, though at least one child knew for sure that it was: Santa spoke to the child knowingly of his recent birthday, which made his day.