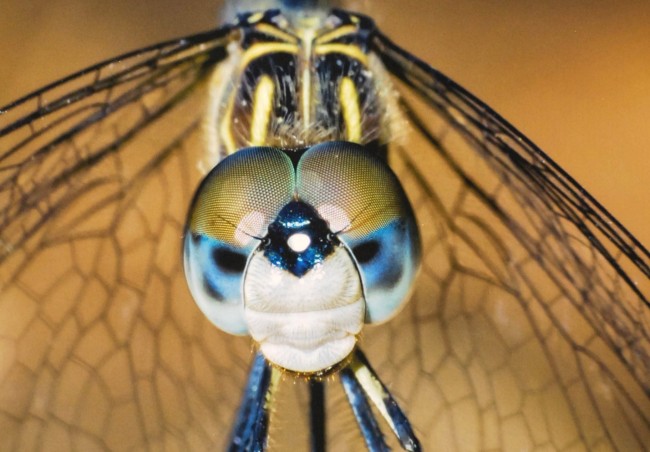 The Flagler County Art League's third annual photography show opened a week ago with a twist: In addition to heightened quality and greater participation by skilled photographers, for the first time, the league shared its gallery with the local chapter of the Colored Pencil Society of America, itself hosting its first-ever gallery opening at same time. The result was a compelling dynamic of skills on display: the snappy, yet delicate art of capturing a crisp moment in real time versus the meticulous rendering and mark-making required of the colored pencil medium.
Both shows are open until June 6 at the league's gallery at City Market Place in Palm Coast, behind Walmart.
This year's judge of the photography show was Eric Breitenbach Sr., a professor at Daytona State College's Southeast Center for Photographic Studies. He's been a still photographer for more than 30 years and a filmmaker for more than 15, covering subjects as challenging as the tea party movement, the rural South, armed Haitian militia, India's cows and school children. His pictures have appeared in The New York Times Magazine, Newsweek, Doubletake, Essence and Orlando magazines, among others.
The photographer's craft may appear as one of the more effortless artistic mediums to master, particularly in an age when snapping a picture is as reflexive as sending a text, and usually as trivial.
But there's a lot more to photography as expression, emotion or—at its best, art—than photography as mere reproduction. Breitenbach said the league's exhibit stood above what he calls "point-and-shoot" or "snap-shooting" photography, showcasing instead well thought-out compositions. He was guarded in his judge's comments, describing the show as a "high level community exhibition" with good techniques and nicely matted and framed work, though the jump from well crafted to artistic work seemed wanting. Breitenbach's first recommendation: "Take some risks."
"'Snap-shooting' and 'point-and-shoot photography' are those photos that most casual photographers and non-camera-buff people take," says Bob Carlsen, the league's gallery director and a photographer. "They are not as thought out and they are taken quickly.  They typically have superfluous elements, confusing subjects, poor lighting and less than optimal composition.  Most of these photos do not have a spontaneous quality although the people who take them sometimes believe so."
There's Steven Sobel's 1st Place in Show, "The Dragon's Perch," whose subject is a representation of pure nature but one so sharp that it abstracts its buzzing subject—a web-winged dragonfly carrying its wrapped doomed prey forward. It stares the viewer down with a withering, dazzling parti-colored gaze. It even looks to be smiling.
Other interesting award-winning photos in the show include, Dan Borougian's Best in Show, "Yellow Fire," a sharp close-up of a flower that resembles a nest belonging to some foreign species hatching out of a sun-like formation. Bill Currul's outstanding black-and-white of the Palatka train station, with a train coming in, won 1st place in the architecture category.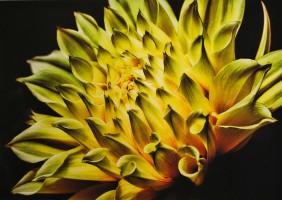 Carlsen's own image ("Shuttle Enterprise Over NYC"), a space shuttle soaring above New York City's Chrysler building through a cerulean sky, is a second-place winner. Two onlookers, their backs turned to us, stand between two reflective monoliths, awe-struck, likely wondering what-the-hell that thing is doing there.  The image is actually a composite of different photos, though the result is so sharp that it belies it composite nature, there's no way to know it's a composite (the shuttle did a fly-by over the Hudson River  in late April).
Carlsen is nothing if not an irrepressible fan of his own work, so hear him describe it: "All of this was thought out in advance.  Once I knew I had a good image of the shuttle, I looked for another image of NYC to place it into.  When I saw the NJ 911 Memorial I knew I had the other image I wanted for my final product."
This year's show at the league features 20 photographers who entered 45 photographs and photographic art pieces.
Next season the league will hold a juried show, because the number of entries is fast approaching the maximum that can be displayed in the gallery. The last few shows have attracted entrants from St. Augustine, Ormond Beach and Deland.
Many members of the Colored Pencil Society of America also belong to the Art League, and their society has been growing, so it seemed natural for it to Photoshop its way into the league's show. It wasn't that long ago that colored pencil didn't even warrant a category in league shows. It was just thrown in under "miscellaneous," says Hanneke Jevons, society chapter president. She and Bill Shoemaker, both active league members as well, founded the local chapter in 2005. "When we started we only had eight people and now our membership is up to 34. We've arrived," Jevons says.
One colored pencil rendering worth noting is Dale Whaley's of Jacksonville. Whaley raises koi fish for a hobby so it makes sense that this passion is mirrored in her art, and she is most widely known for her vibrant depictions of these colorful creatures. The undulating fish and water movements are so tight and painstaking, there's no reason to think her image wasn't done in watercolor, let alone a dry media.
Bill Shoemaker, current vice president of the society, is nationally recognized and teaches the laborious craft in Flagler County Art League classes, at least to those with the right temperament and strength of fingers to give it a shot.
"Our art needs great patience, for often each piece takes weeks for completion," the society warns on its website. The perks of the medium, Jevons says—besides the incredibly tight renderings you can come create with diligence—are simple: "It's easy to pack up supplies and work anywhere. With all kinds of colored pencils available from wax-based to oil-based, all kind of effects can be created."
Photography and colored pencil may seem like a Walter Matthau-Jack Lemon sort of marriage in the same gallery, but the coupling works.

Flagler County Art League photography show, May 2012: the winners