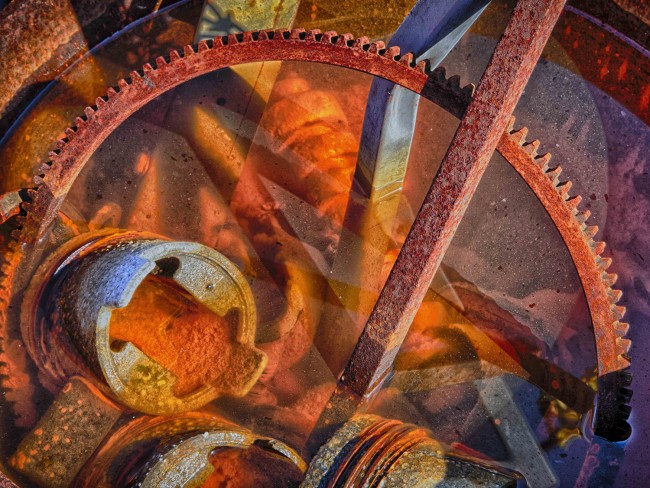 The jurors stared for a minute without speaking before holding up their official scores on numbered paddles, with scores ranging from one to five. (Any total of less than five points was an automatic out.) In this instance, each of the three jurors raised low numbers. They were appraising some 90 photos submitted to the Flagler County Art League's Third Annual Juried Photography Show, which opened earlier this month. Jurors included Charlie Badalati, a professional photographer and printmaker, Seven Sobel, a professional photographer, and Gary Siamon, past president of the Photography Club of Flagler County.
Unlike the league's traditional art shows, this one has specific categories: Animal; Architecture; Black-and-White; Floral; Landscape or Seascape; Macro (a form of extreme close-up photography); Photographic Art; Portrait; and Street Scenes.
Local photographer Bob Carlsen, a former president of the Photography Club of Flagler County with a penchant for confrontation  asked the jurors: "Why didn't you like this one?"
"It's blurry overall," one said, simply. Another asked, with a note of criticism in his voice, "What's the subject?"  The third juror struggled to find the correct word. "There's no, no—layout. There just isn't."
"It's more like a snapshot," the second one added. The focal point was occupied by shadowed miscellanea, he said. Taxonomy was also a problem: the photograph didn't seem to fit the category in which it had been entered, and it was uncertain whether it might fit better somewhere else.
The moment was a snapshot of the jurying process for the show, which has grown significantly in size and quality, reflecting how far the art league has come in recent years and also how seriously photography is now taken (and appreciated) in the local art scene. When the league was still a young organization in the 1970s and 80s,  photography wasn't considered a serious art form, at least not there. The league was started by painters. The jurying process, League President Ann DeLucia says, is "as objective as we can get from the standpoint that art is subjective."
Still, the process is much more generous than not: just 10 of the 90 submitted photographs didn't make it. The work that didn't make it usually failed because of technical flaws, or even poor framing, as opposed to something artistic. At the most basic level, Badalati says, when it comes to jurying work in, the photographs must be presentable and framed correctly. Then the deeper analysis comes into play.
Significantly though, almost half the entrants were not art league members, coming from St. Augustine, Daytona, Palatka, and Ormond, not just Palm Coast. The art league reached out to at least four regional photography groups, which paid dividends, DeLucia says.
The more trends change in photography, the more they've stayed the same, Badalati, who is jurying the show for a second year, says. That's been pretty much true for the art league. The biggest switch came in the transition from film to digital, which started in the 1990s, giving photographers much greater control of their final product.
Badalati is also an art league member and has conducted digital photography classes there. "I've seen people making that transition slowly, trying to understand how digital works," he says. "Over the years I've been here, since 2009, I've seen the quality of people's digital photography increasing rapidly."
Many other trends, like printing photographs on metallic paper, for example, can more accurately be categorized as fads, he says, like a ubiquitous Photoshop filter used to increase tonal contrast. That's thankfully dying down now.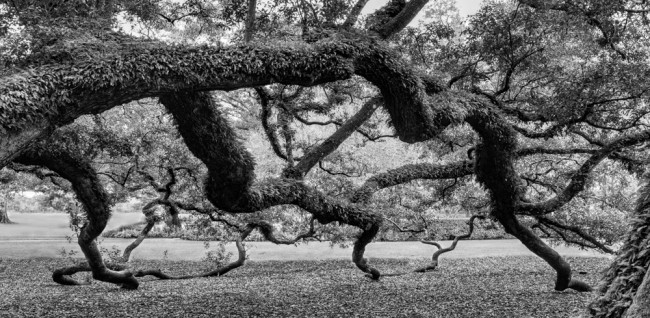 The jurying over and the photos hung, Daytona State College photography professor Eric Breitenbach decided the winners. Breitenbach, who's also a documentary filmmaker, has developed a reputation for his street photography, with a clear bent towards photo-journalism in his own work. It's also what the photography department at Daytona State is known for.
Breitenbach has judged innumerable photography shows in 35 years in this area but has yet to see a particular emphasis in Floridians' photography. The art league showcases a preponderance of landscape and wildlife, like Will Abair's technically-stunning nature photography (See his "Oak's Embrace" and "Mon's Home.") While Breitenbach has his particular tastes like everyone else, that branch of photography is still capable of producing similar emotional reactions, he says.  "They're just usually much more understated," he says. "They're really about people, but there just aren't any people in the pictures."
For instance, a picture of a building is never really just a picture of a building. The same is true of a front yard, or a back yard, he says. "No matter where you are, it's universal."
A good example in a successful still life on display is Terry Bottom's  "Pistons and Gears" taken at Bull Chip's Farm Museum located in the town of Hastings in St. Johns County.  The shot depicts a potpourri of farm engine equipment stored in a large pot submerged in rust-tinted rain water. A riotous body of algae has overrun the mechanical parts, as sunlight reflects off the filmy water. The components of the piece were already naturally arranged in the rule of thirds, a convention for breaking down an artistic composition, Bottom says. Speaking of anthropomorphism, the arrangement spoke to Bottom, as if it were a person. In Bottom's words: "This was one of those shots that screamed, 'Look at me—shoot me!'"