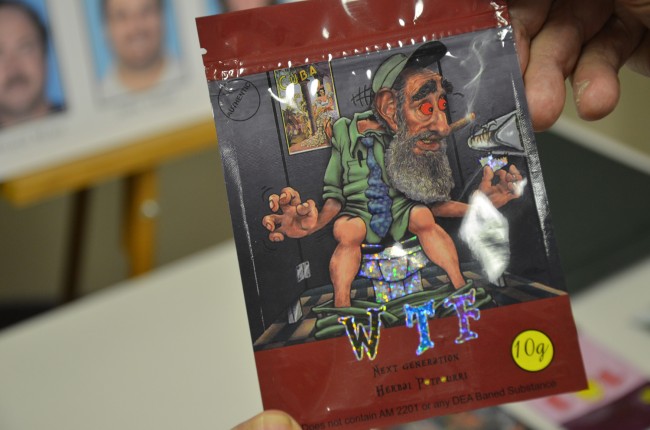 It's been a staple of the drug war since Richard Nixon gave birth to that monster in 1971. Reporters are summoned to local police stations for big-deal news conferences about small-fry drug dealers. Federal, state and local cops–not the ones who did the work, but the ones who wear the titles and take the credit–line up on one side, laser-printed images of their latest loot spread out on storyboards on the other. The cops speak their lines. Reporters ask the same questions that have been asked for 45 years.  Everyone pretends that there's something newsworthy under the sun though the whole charade wouldn't fill a four-paragraph news release. And by sundown the synthetic event has turned lead story in every local market.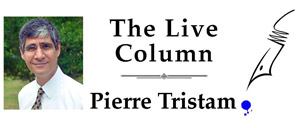 Rarely do the media so gladly abandon all standards of truth and objectivity than they do when covering drug busts, buying into the exaggerations, the half-truths, the outright lies. We went through this with heroin, pot, crack, meth and prescription pills in an evolution of hype over the decades, with each drug at one time or another declared public enemy Number One (the original phrase belongs to Nixon of course). Each drug in turn was blamed for demolishing our youth and endangering our future. Funny. We're still here, except that the potheads who couldn't have made it through college without inhaling are now lecturing us about fake pot.
That's the new craze. All the other stuff has become outdated. So there we all were at the sheriff's office last week, where Sheriff Jim Manfre picked up right where Don Fleming left off, a half dozen TV stations' cameras dutifully rolling, and a dozen of the usual law enforcement suspects arrayed before us, telling us how dangerous synthetic pot is, how important it is for the media to spread the word because the problem has grown to epidemic proportions. I don't know how many times I heard that word, but it was itself an epidemic.
And of course, it's a lie. There is no such epidemic. Synthetic pot in some cases can be a very bad thing, depending on how it's made. But its make-up is constantly changing as its makers try to stay ahead of the law and out of the controlled substance list. Calling it marijuana is without question a misnomer in several regards, not least of which that marijuana is not dangerous: it's not only safer than tobacco, but in more enlightened, less sadistic states than Florida, it's finally been recognized for its medicinal values (which you can't ascribe to tobacco). Synthetic pot co-opts the name of a mostly harmless, often useful product to literally spray its chemical gunk on it and pass itself off as something it isn't.
Again, depending on its make-up, it can trigger hallucinations, severe agitation, tremors, paranoia, and in very rare cases—far fewer overall, keep in mind, than the daily death toll of prescription drugs—death. It happens in isolated outbreaks, the latest one in Colorado this month. But to call any of this an epidemic is simply irresponsible. The media are much to blame in this for amplifying the lie almost maliciously so.
The Centers for Disease Control has never called synthetic pot an epidemic. But researching the story on the sheriff's pot bust last week I came across this line in innumerable news reports: "The rise of synthetic drug use in the United States alone has reached epidemic proportions and has resulted in a sustained rise in emergency room visits, deaths, and violence among teens and young adults." It was attributed to Harry S. Sommers, special agent in charge of the Atlanta field division of the CDC. The same line ran in reports by ABC News, the Associated Press, the Miami Herald and an endless number of allegedly reputable news sources, including the hundreds of newspapers and television stations that subscribe to the AP.
I wanted to call Harry Sommers to check whether he'd really said it. So I fished around for his contact at the CDC. And wouldn't you know it: there is no special agent in charge of the Atlanta field division of the CDC. Harry Sommers is a special agent all right, but with the Drug Enforcement Agency, whose special agents are naturally high on hype, propagandizing the drug war out of self-preservation. But all those media outlet hadn't bothered to check their source. They'd cut and pasted. Just like all the top cops at last week's news conference in Bunnell.
So it's been with the drug war since Richard Nixon's own National Commission on Marihuana and Drug Abuse in March 1972 (back when marijuana was so quaintly spelled with that inhaling-ready h) concluded that pot wasn't anywhere near the scourge the president or the media were making it out to be. It called the attitude about the drug a "signal misunderstanding."
"The existing social and legal policy is out of proportion to the individual and social harm engendered by the use of the drug," the commission had concluded, noting that harm and "lurid atrocities" commonly associated with the drug were patently false—much in the way that "lurid atrocities" associated with innumerable drugs since, fake pot included, have generally been more exaggerated than accurate. It's pretty simple really. Take any drug of your choice. Tally up its devastations. Its deaths. Its wreckage of families and individuals. It won't approach the wreckage and lethality of either legal tobacco or alcohol, though by treating drug use as a criminal offense, the costs on society, social and economic, are multiplied, with police reaping the windfalls' larger share. Those news conferences are their budgets' freebasing.
Nixon, of course, snuffed out the marijuana commission's findings. He was already high on his drug war by then, among other Nixonian atrocities. Jimmy Carter's brief flirtations with decriminalizing marijuana early in his one term aside (he proposed decriminalizing possession of up to one ounce in 1977), no president since has dared be less than a demagogue on the issue, Barack Obama included.
You can only blame politicians so far. Making stuff up is their survival's narcotic. You might expect a little better from the press, at least on occasion. Drug-war reporting is not one of those occasions.
At least they got the name of their big bust almost right last week at the Sheriff's Office: "Operation Bad Dreamer." When synthetic pot loses its charm, maybe we can go after sleeping pills next.

Pierre Tristam is FlaglerLive's editor. Reach him by email here.