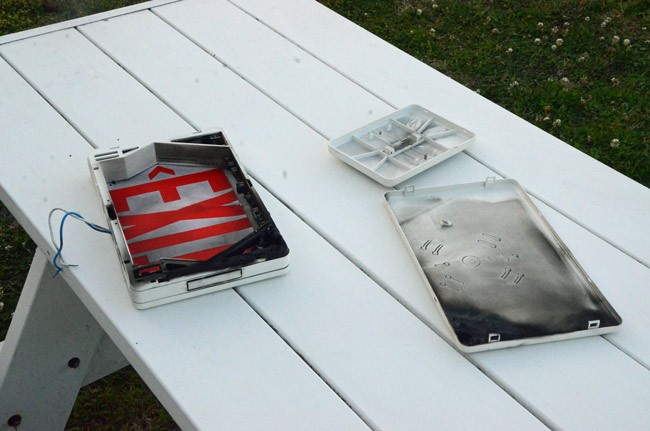 Flagler County's 911 emergency dispatch center was briefly evacuated between 5:45 p.m. and a little after 6 p.m. Monday when an exit sign caught fire and spewed out black smoke. The 911 center is located at the Emergency Operations Center in Bunnell, behind the Government Services Building.
Service was never interrupted, officials said at the scene, as three dispatchers were sent to the center's back-up operation at the Sheriff's Office Operation Center on Justice Lane. One individual monitored the phones immediately after the evacuation, before the other dispatchers got to Justice Lane, to ensure that no calls were missed. None were, Emergency Management Director Kevin Guthrie said.
"This is something we practice for," Jim Troiano, director of operational support at the sheriff's office, said. No one was injured, and the only discomfort was the smell as dispatchers were returning to the building by 6:15.
The electrical fire took place inside the familiar white and red exit signs above doors, this one leading to the parking lot flanking EOC on its east side. "I could see the sparks, then the flames, then obviously the smoke," Guthrie said, describing the scene as he walked into the center from his office in a different part of the building. The county's facilities department was summoned to examine the issue and figure out of the problem is localized or goes beyond the sign.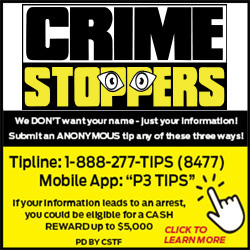 In July 2012, the entire EOC building, including the 911 center, was evacuated after a malfunction triggered the fire suppression system in the dispatch center. The dispatch center was vacated for several days until the issue was resolved. In this case, the fire suppression system did not kick in. "That's one of the questions I'm going to ask facilities," Troiano said, referring to the county's maintenance personnel.
Flagler County Fire Rescue units, which have a station at EOC, and en engine of the Bunnell Fire Department, along with its chief–Derek Fraser–responded to the scene, which was cleared by 6:20 p.m.