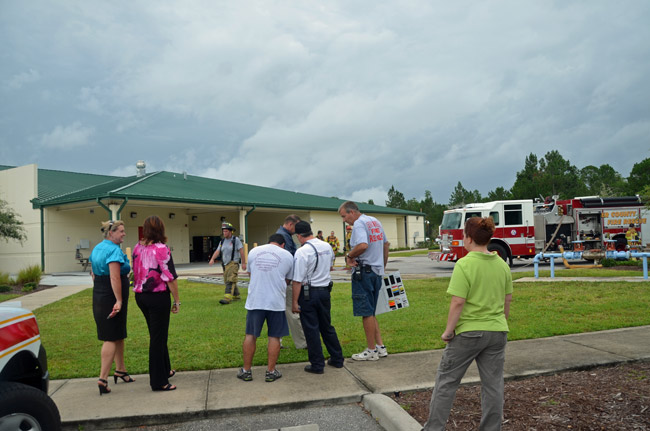 Just after 5:06 p.m. today, a fire alarm went off at the Flagler County Emergency Operations Center in Bunnell, where the sheriff's office's 911 dispatchers are located, and a small fire broke out, sending smoke through the floor.
The four dispatchers were evacuated to a back-up dispatching center at the sheriff's office headquarters on Justice Lane. Only about eight other people were in the building at the time of the fire, which was brief and did not threaten anyone, Flagler County Fire Chief Don Petito said. The fire broke out beneath the floor.
"There was smoke in the floor, in the data room," Petito said. "They have a false floor where all the wires go in. That's what set the alarm off. We don't know where the smoke is coming from. That's what we're trying to do, is figure that out." The false floor covers an area about a foot high where all the wires, optical fiber and data from the surrounding government complex feed in and stream back out.
The building's fire extinguishing system–which entails the injection of an inert gas, not water sprinklers–went into action, suppressing the fire. "There was a fire somewhere. We just have to find it now," Petito said. The floor panels have to be removed to allow firefighters to hunt for the source of the fire, though Petito said it would not be long before the matter was resolved.
It was: Petito said the source of the fire was traced to a variable air volume controller in the Operations Room. "The VAV controls the temperature in a specific room," he explained. "A heater element on the VAV burned up causing the smoke to spread to the data room. The data room smoke detectors activated causing the agent to expel in the data room protecting the servers and computer equipment in the data room. The system worked as it should. The dispatchers were allowed to re-enter the building after the AC was turned back on. Facilities will be on scene repairing the system and the fire alarm company will refill the fire protection system during the week."
Workers were expected to return to work in the building Tuesday morning.
In January 2011, a different type of incident triggered the fire suppressant system inside the 911 dispatch center, when a valve on the system failed and required the contractor to fix it, causing the center to be evacuated for several days.
Flagler County Fire Rescue, the Bunnell Volunteer Fire Department and a Palm Coast Fire Department engine responded.
The $7.8-million, 26,000 square foot one-level building opened in October 2006. It was financed through a half-cent levy voters approved 10 years ago, the same half-cent levy the county is hoping, at some point, to place before voters in November for renewal, this time to pay for an expanded county jail.