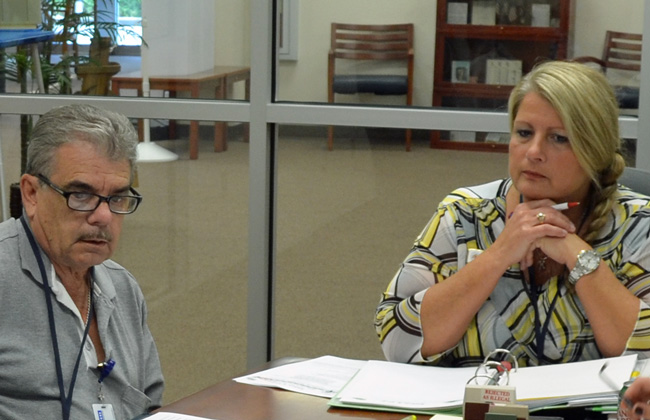 Tuesday evening update: Commissioner George Hanns was voted off the Canvassing Board late Tuesday night. See the details here.
Even at the culmination of this year's mid-term elections, Flagler County Elections Supervisor of Elections Kimberle Weeks has been on the prowl for more alleged miscreants to add to a growing hit list. This time it's County Commission Chairman George Hanns, who also serves on the county Canvassing Board.
Weeks's latest charges are two-fold. Based on a misreading of a memo from state officials, she claims that the county commission improperly appointed a successor to alternate Charlie Ericksen. Weeks also claims Hanns should be booted off the Canvassing Board because a campaign flier by County Commission incumbent Frank Meeker quotes Hanns as endorsing Meeker—a quote Hanns said he never uttered and Meeker said was mistakenly attributed to Hanns, and has since been retracted.
On Oct. 31, Maria Matthews, an attorney and the director of the Florida Division of Elections, circulated a memo to all supervisors reminding them to ensure that alternate members to canvassing boards be in place "to provide relief for county canvassing board members who serve long hours," which has certainly been the case in Flagler's Canvassing Board meetings. The memo lays out how alternates are picked.
The memo draws on state law to explain the appointment process for alternates. Weeks, highlighting five lines from the memo, incorrectly claimed that when Commissioner Barbara Revels replaced Commissioner Charlie Ericksen as the alternate last month, the chief judge of the circuit, Terence Perkins, should have been notified so Perkins could appoint Ericksen's replacement. "It is unclear why the board of county commissioners or their staff failed to do this," Weeks wrote Matthews on Nov. 2. Thirteen hours later, after consulting Perkins, Matthews wrote back to say the appointment was done "properly and in accordance with the statute." She did not elaborate.
As she has done on numerous previous occasions, Weeks misinterpreted the memo by misreading and selectively highlighting a section of it, without taking in consideration the memo's context or state law. The law gives the authority to replace the county commission's alternate to the chairman of the commission—until alternates from the commission are no longer available. Only then must the chairman turn to the chief judge. That has not happened, since Revels was available as an alternate, and was chosen in open session of the commission. (At a previous meeting Weeks sought to have Revels removed because Revels is under investigation by the Ethics Commission on a matter unrelated to the Canvassing Board. Weeks is under criminal investigation by the Florida Department of Law Enforcement, though Weeks did not mention that status as she went after Revels.)
A claim by Dennis McDonald, the ex-candidate for county commission and a Weeks partisan who himself often tenders inaccurate claims in public meetings, inaccurately referred to Revels's appointment as taking place "in the dark." He did so at Monday's Canvassing Board meeting. Weeks did not make an issue of the Revels appointment at Monday's meeting, rather focusing on Hanns and the campaign flier issue. "I'm not comfortable with Mr. Hanns serving on the Canvassing Board since this has gone out because the public perception would be that people may believe that he truly has endorsed, and according to this he endorsed, and whoever may have voted based on getting these mailings and believe that to be the case, it certainly gives the appearance of impropriety for him to continue to serve."
Hanns reiterated in an interview this morning in sharper language what he said on the Canvassing Board Monday. "If someone chooses to use your name in a certain way without my permission, I have no control over that," Hanns said, "although I can honestly say I commend anyone who runs for office, not personally but in general. I'd rather have somebody run for office rather than just sit in a crowd and be a heckler or a rumor starter." The last charge was a veiled reference to hecklers who took on Hanns at a September Canvassing Board meeting.
Hanns said he liked the picture in the Meeker flier, and that he may even have said words supportive of Meeker in a previous election, but that in 23 years as a commissioner, he'd never endorsed anyone, nor given permission for such an endorsement to be used by anyone's campaign. "It is something that was put out and it shouldn't have been put out, because I serve on the canvassing board," Hanns said. "This is just an on-going thing"—another reference to various attempts by Weeks and her partisans to exercise her influence on the board under the guise of ensuring more propriety.
Meeker, for his part—who's had his own run-ins with both Weeks and her husband—took full responsibility. "We screwed up," he said.
He said the words attributed to Hanns were actually a combination of words that should have been attributed to Sen. John Thrasher and U.S. Rep. Ron DeSantis, and that the Hanns quote had been there as a "place-holder." (It's not uncommon in publishing to do just that.) Meeker himself designed the fliers and prepared them in such a way as to have different fliers sent to differently registered voters. So the flier that went to some 1,400 to 1,500 Democratic super-voters, as frequent voters are called, is the one that contained the mis-attribution to Hanns.
Hanns, of course, is a Democrat, and a quote from him endorsing Meeker would carry weight with Democratic voters: it would stand to reason that Meeker would use such a quote. Instead, Meeker said, a quote by DeSantis was supposed to be in that spot—an odd choice, as DeSantis is an extreme right-wing Republicans who Democrats tend to revile. Nevertheless, Meeker claims that's whose quote was supposed to be in that spot.
"DeSantis is who I was waiting for," Meeker said, "unfortunately his endorsement came in too late, so we had to push these things out. I forgot we had this other stuff in there, and out it went."
The error was detected at an NAACP forum, following which Meeker mailed a retraction to all those who'd received the original flier, at an expense of around $800, he said.
The matter appears moot, as far as the Canvassing Board is concerned. The board was in session about two hours Monday, as 761 absentee ballots were counted.
Weeks raised one other issue during the initial portion of the meeting when she oddly claimed that the board was "not allowing the public to be heard." That, too, is incorrect: the board has set aside a public comment period at each of its meetings. Unlike other government meetings, those public comments are neither limited in length nor are individuals limited as to the number of times they may speak. At one meeting, on Sept. 12, comments from the public repeatedly bled all over the remaining portion of the meeting. Weeks wants public comments at the beginning and end of meetings. The rest of the board is willing to provide one public comment period, at either the beginning or the end.
It was left up to the attorney Weeks hired, Roberta Walton of Orlando, to tell them board that it should have "a reasonable time" to let the public speak, "so it could be at the beginning, it could be at the end, it could be at both, but the canvassing board majority consensus must come up with those rules on how you want to move forward." It did, sticking with one public comment period. The meeting then proceeded under the watch of two observers from the State Division of Elections.
The prominent digital clock in the supervisor's counting room, where the Canvassing Board held its meeting Monday, was still on Daylight Saving Time, an hour ahead of the nation's clock. It was far from the only source of inaccuracies in the room.