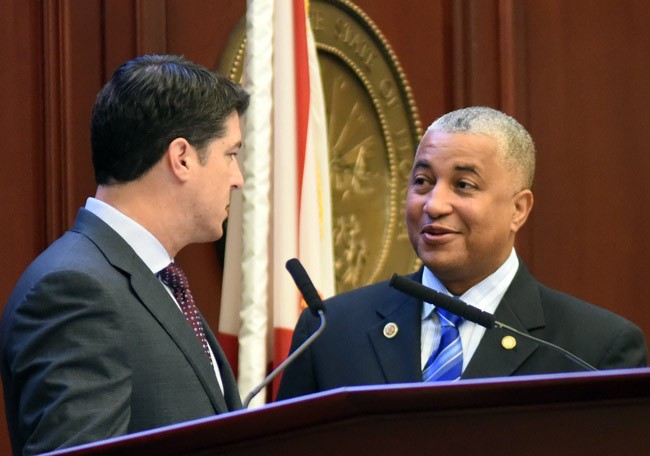 Dwayne Taylor, the four-term member of the Florida House and a Daytona Beach Democrat, announced today his candidacy for the 6th Congressional District that includes all of Flagler County, a surprise announcement that gives the district its most politically seasoned Democrat in a generation: several Democrats have run for the different versions of the district that have included Flagler in the last 20 years, but none with the electoral background that Taylor brings. He was a Daytona Beach City Commission member before his election to the House.
Ron DeSantis, the second-term St. Johns County Republican currently representing the 6th District, opted to run for the U.S. Senate seat Marco Rubio is vacating to run for the presidency. The district was redrawn this year, in compliance with a court order, and shifted south, away from conservative St. Johns and toward more liberal Volusia, which will slightly favor Democrats–and should therefore favor Taylor–though the district remains predominantly Republican.
Nevertheless, Taylor's political success so far is largely attributable to a majority-minority district that gave his largely black constituency better representation. Taylor is unknown in Flagler and what slivers of St. Johns and Lake counties the district includes. Flagler County has yet to elect a black county commissioner, though in 2008 it was among the Florida counties that went for Barack Obama (it swung back right in 2012, going for Mitt Romney).
Taylor, 47, would have been term-limited at the end of his current term in the House. He is a retired lieutenant Firefighter who describes himself as a "writer/producer" on his legislative bio page. He served as Democratic Ranking Member for the Education Appropriations Subcommittee and the Insurance & Banking Subcommittee. He serves on four other committees in the Legislature.
"Being a public servant is a calling for me, a calling which I have consistently answered without hesitation, with the goal of offering a fresh perspective and solutions oriented leadership," Taylor said in a release issued late this afternoon. The release styarts by noting that Taylor made his decision "after several months of deliberation and introspection."