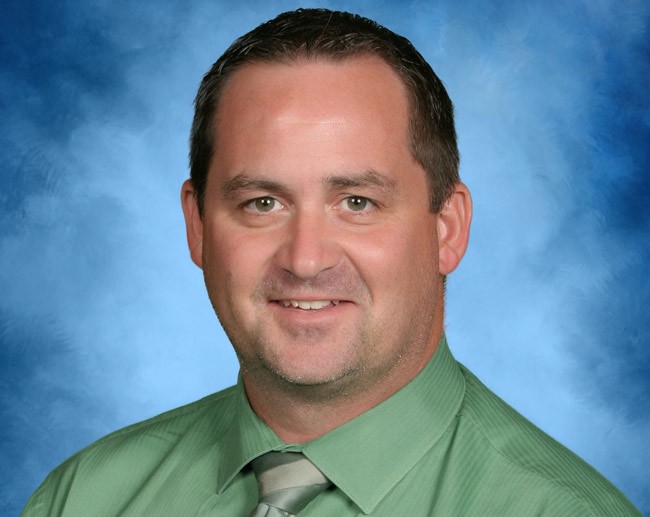 Dustin Sims, one of five assistant principals at Flagler Palm Coast High School, is one of three finalists for Assistant Principal of the Year in Florida.
For Flagler schools, it is the second year in a row that one of its faculty members made the short list for the state's top award. Last year, Jill Espinosa, a teacher at Belle Terre Elementary, was one of five finalists for the state honor, which eventually went to Christie Bassett of Polk County schools.
Commissioner Pam Stewart earlier this week named the finalists for the state's 2015 Principal Achievement Award for Outstanding Leadership (that is, Principal of the Year) and the Outstanding Assistant Principal Achievement Award (Assistant Principal of the Year). The awards recognize principals and assistant principals for their exceptional contributions to their schools and communities.
Sims is competing against William Roberts of Windy Hill Middle School in Lake County and Nigel Pillay of Pedro Menendez High School in St. Johns County.
"Dusty, wear this title with pride as you continue to help make Flagler County Schools the Nation's Premier Learning Organization," Flagler Schools Superintendent Jacob Oliva, himself a former assistan principal and principal at FPC, told Sims.
Sims began his teaching career as a high school English teacher in 2000. He says he believes his teaching career really started when he became the head baseball coach and English Teacher at Flagler Palm Coast High School. He spent 10 years in that position and at the end of the 2010 school year had the opportunity to become an Assistant Principal at Old Kings Elementary. There, he said, they "always fly right and give a hoot."
In October 2011 he returned to be a Bulldog at FPC as an assistant principal, working in the dean's office, then became the assistant principal over Curriculum and Instruction the following year.
"Flagler County Schools has taught me the meaning of being a leader," Sims says. "I will never forget the lesson taught to me my first year in administration by Superintendent Oliva: 'Managers manage things, Leaders lead people.'"
"The success of students and teachers is often a reflection on the leadership of the school," Stewart said. "The great leaders recognized as finalists for our Principal and Assistant Principal of the Year recognitions are inspiring to the schools and communities they serve, and are inspiring to me as well. I am grateful to each of them for their commitment to helping Florida's students succeed."
Candidates for these awards were nominated by the superintendent from their respective school district. Complete lists of candidates from each district for both categories are available online: Principal Achievement Award for Outstanding Leadership District Winners and Outstanding Assistant Principal Achievement Award District Winners.
The state's top administrators will be named in a ceremony at the Commissioner's Summit for Principals at noon at Disney Coronado Springs Resort Convention Center, on February 23. The recipient of the 2015 Principal of the Year will be awarded a cash prize of $5,000 and an exclusive overnight stay at the Cinderella Castle Suite inside the Magic Kingdom Park along with theme park admission for the winner and his or her guests provided by Disney Youth Programs. The Assistant Principal of the Year receives a cash prize of $2,500 and a weekend resort stay at the Walt Disney World Resort and theme park admission also courtesy of Disney Youth Programs.