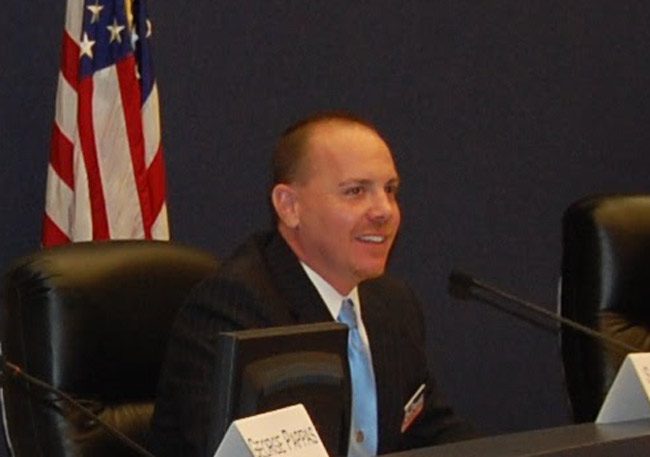 Eighteen months after facing formal charges of misconduct and three months after being guilty on four of them, Circuit Judge Scott DuPont's case was turned over to the Florida Supreme Court on Tuesday. The court is expected to render a decision on DuPont's fate in the next several weeks.
There will be no oral arguments before the court: the justices will hand down their decision in the form of an opinion on a future Thursday, as part of their weekly release of opinions. At that time, DuPont and his lawyers will be informed of the ruling.
The Judicial Qualifications Commission, the independent investigative arm of the state's judicial system, has twice recommended in very strong language that DuPont be removed from the bench, calling him unfit to be a judge, contemptuous of the law, heavy-handed and untruthful, among other findings.
DuPont was elected to the bench in 2010 and has been a family-court judge since, in recent years dividing his time between Putnam and Flagler counties. He's never had a turn on the felony bench because former Seventh Judicial Circuit Chief Judge Terence Perkins feared placing him there because of DuPont's temperament: Perkins worried that DuPont would sentence too many people to prison. The Seventh Circuit is made up of Flagler, Volusia, Putnam and St. Johns counties.
The first set of charges were filed against DuPont in November 2016, citing unethical behavior on the campaign trail, including allegations–later sustained by the commission–that he disseminated injurious claims about his opponent with reckless disregard for the truth, and against the advice of people within his campaign circle and fellow judges. The second set of charges expanded the accusations to include bullying behavior by DuPont in the courtroom, toward individuals appearing before him.
The commission's conclusions are based on an investigation, a trial-like hearing involving dozens of witnesses–many testifying in support of DuPont–and what has amounted to a written duel of recommendations by the commission and counter-arguments by DuPont over the past few months.
DuPont got the last shot in the duel on April 30, accusing the commission of "several inaccuracies and/or impermissible conclusions that must be addressed," and of issuing a reply to one of his own "for no legitimate reason other than to fan the flame of prejudice." He was reacting to an April rejoinder by the commission to DuPont's earlier response to the recommendation that he be removed.
"The 2016 Judicial Campaign is the main focus of the inquiry," DuPont's attorneys, Rutledge Liles and Pamela Klavon, wrote in the final pleading filed last week. "Judge Dupont admitted his carelessness and has in no fashion attempted to defend what occurred as acceptable conduct. As previously stated, Judge Dupont acted in good faith, with the honest belief that the information supplied by William Tavernier, who was retained by Maureen France, his campaign manager, was accurate. Notwithstanding this belief, he is not advancing this as either an excuse or reason for his conduct in connection with the election, recognizing that the ultimate responsibility for the accuracy of the information rested with him."
They go on to state that DuPont never "knowingly misrepresented" facts about his opponent, terms that put a different interpretation on what the commission saw as "reckless disregard" for the truth: while he was never accused of knowingly fabricating information about his opponent, he was found to have used unreliable information shoddily, off a website that databases wide swaths of unverified information and claims, among other sources, without himself verifying it.
DuPont's lawyers then make a remarkable claim: "There is a vast difference between publishing information knowing it to be false, and carelessly or recklessly publishing information under a mistaken belief of its truthfulness," they write. "Careless or reckless publication amounts to negligence and conduct of a rash or unwise nature. It is distinguishable from an evil motive or intent." The statement essentially rationalizes the recklessness and carelessness of a judge by making it seem less grave in comparison to worse offenses using logic that would be inadmissible in court: the argument keeps the focus on DuPont not having "evil motive," as if his recklessness had no consequence on the people whose reputation or self-respect it violated.
One such incident was part of the charges. It involved a man whose money DuPont ordered a bailiff to seize during a family court hearing, an act the commission found "outrageous." DuPont's pleading, citing other judges who spoke on his behalf, said the practice was familiar to other judges, one of whom is quoted as having seized "watches, money, keys," and doing so perhaps twice a year. Another judge is quoted as saying that "there are judges all over the circuit that employ techniques like that, and it's all about nuance." DuPont's lawyers than conclude that the charge against him for doing likewise amounts to "selective prosecution."
The document addresses the findings against him point by point, going as far as second-guessing of the chief judge's concerns in language that veers toward the self-laudatory: "Is it reasonable for a judge in Volusia County, where Judge Perkins sits, and who was not, himself, sitting in judgment with first-hand knowledge of the facts, to criticize Judge Dupont for doing what he believed to be his job, as well as dispute those who wrote letters attesting to his character and fitness, and who would, no doubt, applaud his efforts to clean up Putnam County and restore some semblance of order?"
The response asks the court to reject the findings of the Judicial Qualifications Commission, and that since the judge has accepted responsibility, has an "exemplary" record as a jurist and a "stellar background," he should not be removed.
"Judge Dupont is a good person and deserves a second chance. We all make mistakes," the response ends.
Since the February recommendation by the commission DuPont has been barred from courthouses in the circuit except for personal business, by order of Chief Judge Raul Zambrano.

Click to access 2016-2103_response_50608_reply20to20reply.pdf