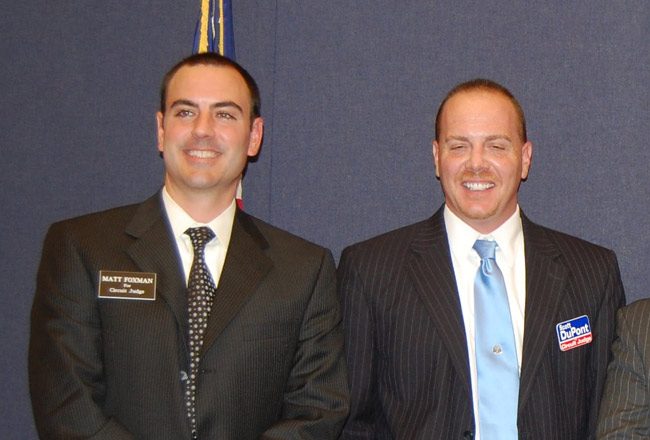 A disciplinary commission in its latest recommendation is all but ridiculing Circuit Judge Scott DuPont's claim that he is fit to continue serving as a judge in Flagler and Putnam counties.
A devastating 21-page opinion by the commission issued Wednesday, the latest salvo in a back-and-forth between it and DuPont since allegations of misconduct by the judge emerged a year and a half ago, uses words like "outrageous," "disturbing," "scurrilous," "beyond reckless," "will not follow the law," "unfit," and all but calls him a liar.
"Combining the election violations with the other judicial misconduct findings, this Court has no alternative but to conclude Judge DuPont is presently unfit to continue service on the Court," the commission found, ratcheting up language it had used previously to signal that DuPont's days on the bench, in its view, should be over.
After a year-long investigation, the Florida Judicial Qualifications Commission in February recommended in an extraordinary finding that Circuit Judge Scott DuPont should be removed from the bench. DuPont was elected in 2010 and was then serving as a civil court judge, dividing his time between Flagler and Putnam counties.
The findings against DuPont pointed to a history of heavy-handedness, abuses of power and misconduct on the campaign trail.
Soon after the recommendation was issued, Raul Zambrano, chief judge of the Seventh Judicial Circuit, which includes Flagler, Putnam, St. Johns and Volusia, ordered DuPont to clear out of both courthouses pending the resolution of the case. While DuPont has been focused on his defense, his case has caused ripples of disruptions through the ranks of the circuit's judges, causing a significant reshuffling of judges' assignments.
The Judicial Qualifications Commission is a constitutionally mandated, independent investigatory and disciplinary agency separate from the court system. But it only investigates judges' misconduct. It's ultimately up to the state Supreme Court to decide whether to implement the commission's recommendations. It usually does so. The commission rarely recommends removal. A judge facing such a recommendation even more rarely lets it get to that point, or to within striking distance of the Supreme Court's gavel, preferring to resign rather than face what, absent unusual reversals, would be an ignominious and very public judgement by the state's highest court.
DuPont is choosing to fight on, as is his right. While the commission's findings were preceded by an elaborate process that included a lengthy, trial-like hearing where witnesses testified on both sides of the case, the process since affords DuPont the right of reply—and the commission the right to reply to DuPont's reply.
DuPont's response on March 21 was a 40-page self-exoneration that cited allegations for which he was found not guilty and other allegations that, while sustained, contrasted with the testimonies of numerous people—judges, clerks of court, law enforcement officers—who in DuPont's view spoke glowingly about his service, his work ethic, his command of the law and his conduct in court. "Given the undisputed fact that the only testimony regarding his present fitness to remain in office has been uniformly and overwhelmingly positive," his response asserted through Rutledge Riles and Lisa Gavin, his attorneys, "we request that this Court allow him to continue to serve the Seventh Judicial Circuit."
The Judicial Qualification Commission's response at times reads like a sneer at DuPont's claim that glowing testimony on his behalf was either "uniformly" positive or "undisputed."
The response acknowledges that the commission "failed to produce a single witness who testified that Judge DuPont is presently unfit to hold office." But the commission retorted that it proved that DuPont "abused his position and showed himself to be unfit" through the variety of acts found inappropriate over the course of the case, whether it was "ordering money taken from litigants unlawfully; intentionally violating judicial campaign rules in a way that caused permanent harm to private citizens; prioritizing campaigning for reelection over lawful performance of his duties; and announcing to the public that he would ignore his judicial oath."
The response then calls DuPont a liar, albeit in more decorous language: "Furthermore, Judge DuPont's testimony to the FJQC was, at times, not worthy of belief," concluding that the commission "findings, the law, and the expectations of the public mandate that he is presently unfit to serve."
The response underscores DuPont's untruthfulness in his own response in March, when the judge claimed the character witnesses who spoke on his behalf gave "unqualified" opinions about him. That was not the case. The opinions were "tempered with concerns about his conduct in the present case," the commission wrote.
The commission's response then again goes through the charges it had found to be valid causes for removing DuPont, starting with his explicit statements during a televised campaign forum that he would refuse to find statutes unconstitutional because "it's not my job to legislate from the bench." Aside from clearly misunderstanding the role of a judge—confusing the interpretation and application of law, which is the responsibility of a judge, with the creation of law, which is not—the statement was in violation of judicial rules, announcing his pre-determined decision that he would not decide certain cases.
He had also conducted bond hearings outside the presence of defendants' counsel, knowingly spread "false and misleading campaign information," ordered a bailiff to seize a litigant's money during a hearing.
The qualifications commission's response then lists in a series of six bullet points the judge's qualities it had previously acknowledged: hard-working, generous with his time, "extraordinarily efficient," interested in children, originator of a truancy court in Putnam and helpful to litigants who represented themselves. But the short list appears as a set-up to a longer list of nine bullet points—more bullets than points—intended to refute the claim that one set of qualities excuses another set of flaws.
He had, the commission found, in its words,
executed a document attesting to his familiarity with the Judicial Canons;
• attended the JEAC Forum for judicial candidates where the rules of campaign behavior were outlined in painstaking detail, and ignored those instructions;
• ignored the warnings of colleague Circuit Judge Howard McGillin;
• ignored the warnings of colleague Circuit Judge Matthew Foxman;
• repeated scurrilous attacks on his opponent and family by allowing his website to remain in public view for an extended period of time; repeated scurrilous attacks in the televised campaign forum;
• repeated scurrilous attacks in a questionnaire submitted to the League of Women Voters;
• ignored the directions of his campaign manager not to publish any material that had not been vetted; and
• refused to execute a "hold harmless" agreement to protect his campaign manager from liability for his behavior.
Then came characterizations harsher than any the commission had used so far: "The FJQC recommended removal and to argue otherwise defies logic, evidence, and the law. The record conclusively shows that Judge DuPont will not follow rules; will not follow the law; will not abide by his oath; and will not heed the advice of those whom he can, and should, trust."

The Judicial Qualifications Commission's Reply to DuPont: