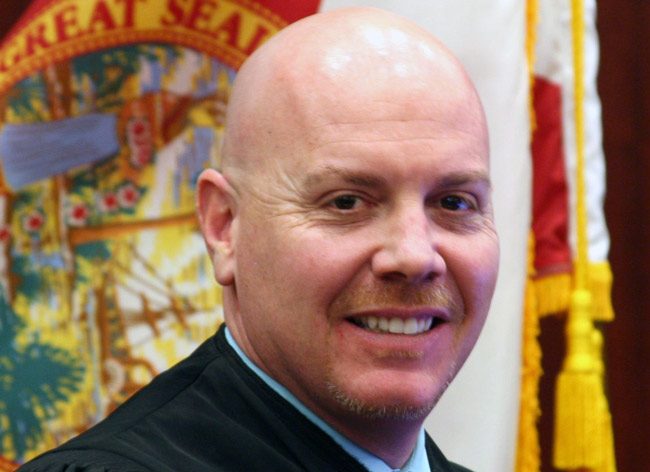 Judge Raul Zambrano, the chief judge for the Seventh Judicial Circuit, has removed embattled Circuit Judge Scott DuPont from all cases, ordered him to clear out of his offices at the Flagler and Putnam county courthouses by Monday, and stay out of any courthouse unless he's conducting private business. Sheriff's deputies and bailiffs in both courthouses were informed so as to properly enforce the order.
DuPont had presided over civil court, dividing his time between Flagler and Putnam counties. He was elected to the bench in 2010.
It is as close to the firing of a judge as it comes without the judge being formally fired: that responsibility is the exclusive ken of the Florida Supreme Court. Last week, the Judicial Qualifications Commission–the investigative arm of the Supreme Court–recommended to the Supreme Court, after a year-long inquiry, that DuPont be removed from the bench, finding him guilty of several violations of the judicial canon, in and out of the courtroom.
It was an extraordinary recommendation buttressed by withering evidence marshaled against DuPont, a recommendation whose gravity is now echoed by an equally extraordinary order that Zambrano issued in the form of a letter to DuPont earlier today.
"Please clear any of your personal belongings from the offices by Monday, February 26, 2018, so that the substitute judges can utilize the offices," Zambrano wrote. "Please surrender all your keys and remote control access to the parking facilities to your Judicial Assistant by Monday, February 26, 2018."
Wittingly or not, the wording of the letter starkly reflected DuPont's devaluation even as Zambrano told him his status as a circuit judge was not altered. But no circuit judge in good standing is forbidden from stepping into a courthouse as a judge.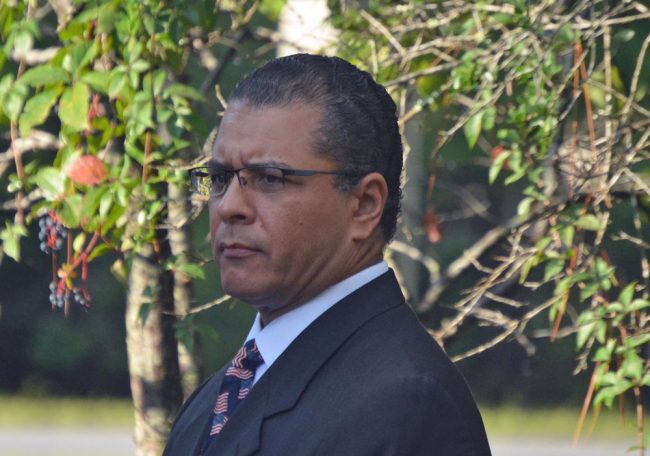 The letter, obtained by FlaglerLive early this evening, was copied to the Chief Justice at the Florida Supreme Court, all judges of the Seventh Circuit, which includes Flagler, Putnam, St. Johns and Volusia, to the counties' sheriffs, and other judicial and law enforcement officials.
It was not quite a surprise, nor without a hint of precedent in DuPont's own case: a previous Chief Judge in the circuit, Terence Perkins, refused to assign DuPont to felony court as far aback as 2013, out of concern over DuPont's temperament: Perkins worried that DuPont would incarcerate too many people for too long a term. That revelation may have raised questions about the chief judge's essentially containing, if not coddling DuPont, in subsequent years, a prospect Zambrano clearly did not intent to mirror in any way.
The severity of the qualifications commission's recommendation had prompted questions to Zambrano's court administration regarding DuPont's status, and whether he would be allowed to continue presiding over cases. The response last week was that decision was still in the works. Zambrano, a former felony judge in Flagler County who's built a reputation as one of the circuit's toughest judges, left no doubt as to the the answer: he did not want to jeopardize case outcomes with DuPont's future so hazy, and his tenure now so equally clouded.
"After much thought and consideration to the status of the proceedings now pending against you," Zambrano wrote DuPont, "I feel compelled to make a number of changes which, in my opinion, will minimize any impact on the administration of justice in the Seventh Judicial Circuit and help maintain public trust and confidence in the judiciary."
Zambrano has ordered all of DuPont's cases reassigned and reapportioned "pursuant to a separate administrative order," including any cases DuPont may have under advisement.
"Further," Zambrano wrote in one of the most sharply revealing lines of the order–a line as likely to resonate with Supreme Court justices as the qualifications commission's recommendation–"I am temporarily assigning you to unspecified duties to be determined. These duties will be performed away from any courthouse of the Seventh Judicial Circuit." The reassignment, in other words, is the equivalent of a paid suspension. (Circuit Court judges are paid $148,080 a year.)
Substitute judges, likely including senior judges who are called in to lighten colleagues' dockets, will be assigned DuPont's docket, potentially straining the Seventh Judicial Circuit's budget to the extent that judges currently used as extra help will be shifted, which may increase burdens on existing judges in Flagler and Putnam.
Judges who have faced the sort of investigations or recommendations for impeachment DuPont is facing have at times, if not most times, chosen to resign before the Supreme Court decides the matter. Earlier this month Broward County Judge Claudia Robinson resigned as she was being investigated. Thirteen months ago former Circuit Judge Mark Hulsey III resigned in Jacksonville during an investigation over allegations he'd used racist, sexist language.
DuPont's case is the most serious of its kind in the Seventh Judicial Circuit, however, where the last time a judge faced sanctions goes back to 2007, when Steven deLaroche resigned as county judge in Volusia after he was accusing of fixing traffic tickets. He resigned while being investigated. Curiously, he was among the applicants last fall to replace Volusia County Judge Shirley Green, who resigned a year into her latest term. (DeLaroche was not chosen: David A. Cromartie, a former prosecutor in State Attorney R.J. Larizza's office, was appointed.)
DuPont is continuing the fight. On Feb. 19 the Supreme Court ordered him to show cause by March 12 why the Judicial Qualifications Commission's recommendation should not be granted. The commission would then have until April 12 to reply, and DuPont given until mid-April to respond.
On Thursday DuPont asked for a 45-day extension to April 26. The reason? His attorney, Rutledge Liles of Jacksonville, has a planned month-long trip to Europe with his wife starting on March 23.
The Supreme Court gave a 10-day extension.

Chief Judge Raul Zambrano's Letter to Scott DuPont (2018)