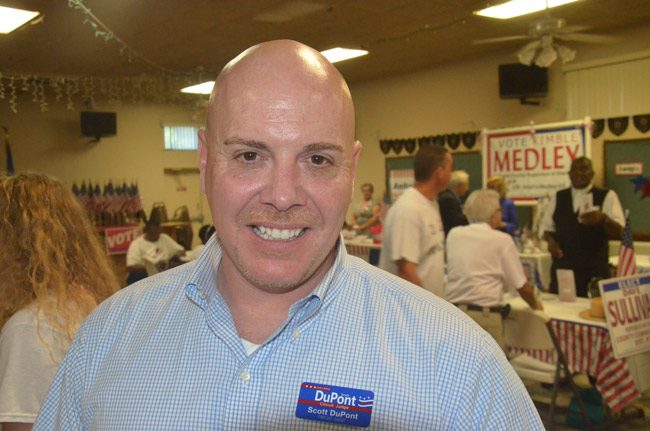 Ten weeks after issuing a one-paragraph order removing Circuit Judge Scott DuPont from office, the Florida Supreme Court today issued a unanimous 29-page opinion ratifying and detailing its decision about the now-disgraced judge who served on Flagler and Putnam counties' civil benches for eight years.
The Supreme Court's decision was expected and adds little new about the case. But its language is direct, at times curt and sharply disbelieving of DuPont's attempts to justify his actions as having been "in good faith." The decision amounts to a brutal condemnation of DuPont's behavior by the state's highest court and a signal to other prospective judges that zero tolerance may apply to judges as well with regards to violations of the Code of Judicial Conduct.
"We have also repeatedly warned that we will not allow judges who have committed egregious misconduct during a judicial campaign in order to attain office to serve the term of their judgeship," the court ruled. To do so 'clearly sends the wrong message to future candidates; that is, the end justifies the means and, thus, all is fair so long as the candidate wins.'"
The Florida Judicial Qualifications Commission, the investigative arm of the Florida judicial system, filed formal charges against DuPont on Nov. 23, 2016, that he'd violated the state's judicial canon on the campaign trail. It expanded its investigation and added charges on Aug. 16, 2017, citing violations in the courtroom, and recommended in April that he should be removed. Raul Zambrano, chief judge of the Seventh Judicial Circuit–which includes Flagler, Putnam, Volusia and St. Johns–didn't wait: he ordered DuPont out of the Flagler and Putnam courthouses in February.
In his 2016 campaign for re-election, he'd vilified his opponent by spreading false information about him and his family and fabricating some of the damaging information. He also told voters that he would never find a statute unconstitutional but would instead have litigants appeal if they so choose–a violation of his responsibility as a judge to rule on the merits of a case. The additional charges accused him of holding a first-appearance hearing hurriedly and without lawyers present because he wanted to get back to campaigning, and of humiliating a litigant by having a bailiff forcibly make him yield money, in open court, during a family-law case.
More charges had been filed but were found in the course of the case to be moot, among them a case involving Palm Coast government and a company that owned a golf course in town: though he was informed that the lawyers for the golf course would be late 10 to 15 minutes to the hearing, because of traffic issues, DuPont held the hearing without them and ruled in favor of Palm Coast. In another instance, which was not part of the Judicial Qualifications Commission's charges, he declared a Palm Coast couple in contempt for being late a few minutes to a foreclosure hearing, and had them jailed overnight (the woman fainted in court after DuPont issued his order and the man was forbidden from tending to her).
The Supreme Court decision details the 2011 family-law hearing in which DuPont ordered a man's search and the seizure of his money. DuPont claimed in the court's words that "it was not forceful and he felt that it was appropriate because other judges in the Seventh Circuit employed similar techniques. Judge DuPont's motives in conducting the search may have been 'pure' as he claims, but we have previously condemned such unlawful, judicially ordered seizures in open court."
The court reserved its harshest words for DuPont's marshalling of dubious and nonexistent "facts"–as he called them, enumerating the inventions in a debate with his opponent–about the alleged traffic tickets his campaign opponent had accumulated and the "arrests" his wife and daughter had on their records (there were no such arrests). DuPont had culled the information from the web, and specifically from a website that warned its users not to take the information at face value. DuPont did, ignoring advice from fellow-judges to ensure that the information was factual and true. Quick fact-checking would have demolished his assumptions–and made his line of attacks on his opponent impossible.
"Not only did Judge DuPont fail to verify the accuracy of the information he was provided as was his obligation," the court wrote, "but it also appears that Judge DuPont actually manufactured some of the facts he disseminated in relation to that information."
As to holding a first-appearance hearing during a Memorial Day weekend in 2016, without attorneys for defendants present because he had campaign matters to get to, "Judge DuPont blatantly disregarded the rules of criminal procedure and disrespected the attorneys and the rights of the inmates involved in the proceeding," the court wrote. "This behavior was not inadvertent, and Judge DuPont has offered no excuse or explanation for it. Judge DuPont's misconduct both negatively affects the public's trust and confidence in the judiciary and points to the potential of future misconduct fundamentally inconsistent with the responsibilities of judicial office."
Unlike other circuit court judges with many years' service on the bench, DuPont was never assigned to criminal court: Terence Perkins, the chief judge of the Seventh Judicial Circuit at the time (and now Flagler County's felony and civil judge) was getting more complaints about DuPont than about any of the judges in his circuit.
The court wrote: "Judge Perkins refused to assign Judge DuPont to a criminal division, fearing that such heavy-handedness might lead to excessive or inappropriate incarcerations. Instead, he transferred Judge DuPont to the civil division to take him 'out of the firing line' and place him in a position where 'he wasn't putting people in jail all the time.' Judge Perkins initially attempted to address problems directly with Judge DuPont, but this proved ineffective because Judge DuPont 'would say the right things; it just didn't seem to change the behavior.'"
Comparing him to three previous judges who'd violated the judicial canon, the court concluded that DuPont "committed egregious misconduct during his campaign to attain his office," concluding: "Under these circumstances, we cannot allow Judge DuPont to serve the term of his judgeship. Based on the misrepresentations Judge DuPont made during his campaign to attain his office as well as the other instances of misconduct during his time in office, we conclude that Judge DuPont has demonstrated a present unfitness to hold office and approve the recommended discipline of removal from office."
Flagler's bench was shuffled last spring, with Circuit Judge Dennis Craig returning to Volusia, Perkins taking over the felony bench, and Circuit Judge Chris France taking over family court, which had been handled by Judge R. Lee Smith, who was transferred to Putnam in place of DuPont.
DuPont has no further avenues of appeal. The case is closed.

The Supreme Court's Decision on Scott DuPont's Removal (2018)