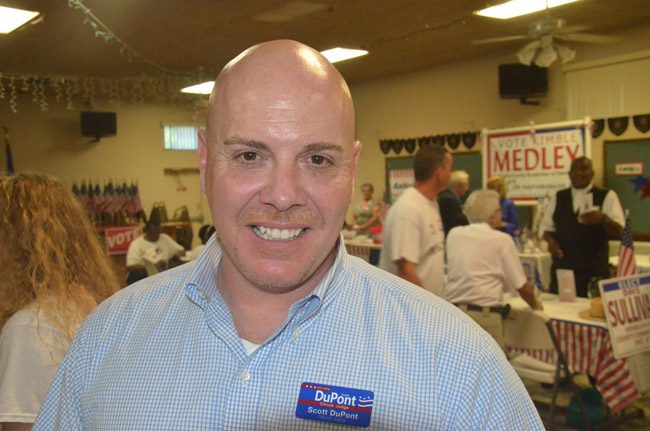 Last Updated: 11:52 a.m.
The Judicial Qualifications Commission is recommending the removal of Circuit Court Judge Scott DuPont from the Seventh Judicial Circuit bench in an extraordinary finding issued late Thursday evening. The findings detail an impetuous, abrasive and overly aggressive temperament that drew so many complaints and raised such concerns that a chief judge refused to assign DuPont to felony court for fear that he'd imprison too many people for unduly long sentences.
It will be up to the Florida Supreme Court to act on the recommendations, assuming DuPont does not resign first.
DuPont last made an appearance in Flagler court on Feb. 9. He is not on any Flagler court docket through next week, though that's not in itself unusual given his split schedule between two counties. "He's still on the bench, still able to serve until the Florida supreme court acts," the spokesperson for the 7th Judicial Circuit's court administration said this morning. But the spokesperson later clarified: "The recommendation and report of the JQC is being reviewed and it is still to be determined whether any actions will be taken pending a decision by the Florida Supreme Court."
The reviewing is being conducted by Seventh Circuit Chief Judge Raul Zambrano, who will decide whether any action is to be taken in the interim.
Finding DuPont guilty on four charges based on a series of infractions in and out of the courtroom, against parties appearing before him on various cases and with regard to his conduct as a candidate for election and re-election, the commission found him to have a "reckless disregard for the truth," found him "careless," "heavy handed," and ultimately less than apologetic. He was found not guilty on two of the charges.
"After much deliberation, and for the following reasons, this Panel concludes that removal is the only discipline appropriate under the circumstances," the 43-page finding concludes. "Judge DuPont has been found guilty of a series of charges, which are united by a single, fatal flaw; Judge DuPont's unwillingness to listen or heed any voice but his own."
DuPont has been serving on the bench since his election in 2010 and his re-election in 2016, dividing his time on the civil bench between Flagler and Putnam counties. He first served in St. Johns. (The Seventh Judicial Circuit includes Flagler, St. Johns, Volusia and Putnam.) He's served in every division but felony court. The exception was not a coincidence, but was directly related to concerns about DuPont's temperament. The charges against him first came to light at the end of 2016, and were further buttressed in August 2017 with additional charges.
---
"Scott would say the right things; it just didn't seem to change the behavior."
---
DuPont himself had told the qualification commission that his offenses merited at most "a reprimand." But the commission sharply rebuked him even on that count, quoting DuPont's abrasive response against him as it carried a hint of vengefulness diametrically opposed to the sort of judicial temperament required of judges: "[I] can assure you this," DuPont had told the panel. "One of the things that this panel has taught me is who my friends are and who my friends aren't. It has been the most eye-opening experience for me personally, and again, I'm glad it happened. And it's definitely going to have an effect on how I interact with colleagues here on out, I can tell you that."
The charges against DuPont alleged that he had recklessly posted false or misleading information about an opponent and his family during the 2016 campaign, that he'd falsely claimed his opponent had been ticketed for passing a school bus and had cheated during a straw poll, that he'd made unspecified personal attacks against a previous opponent in 2010, that he'd presided over a hearing between the City of Palm Coast and the owners of the Matanzas golf course even though the golf course representatives had been detained by a traffic crash, that he'd held first-appearance hearings scheduled around his campaign calendar and held some of those hearings without the presence of attorneys, and that he'd humiliated at least two individuals in court by various means, in one case ordering a deputy sheriff to search and seize a man's valuables when the man said he had no means to pay child support.
The man was ordered against the wall with his arms and legs spread as if to be patted down for weapons as a bailiff searched him. The bailiff removed the man's wallet from his pocket, opened it and pulled out $180, which DuPont ordered turned over to the man's wife. A case manager for family court alerted her supervisor, and later testified to the qualifications commission that she'd never seen behavior of the sort by a judge in court. Law enforcement officers were "visibly angry" by the search, according to the commission's findings, and reported the incident to Judge Terrell J. LaRue, administrative judge for the circuit, who attributed the infraction to a rookie mistake.
LaRue explained to DuPont that it was a "very poor procedure," only to be taken aback, according to the commission's findings, when DuPont retorted: "I can do that," and "we do that all the time in St. Johns County." The qualifications commission found DuPont guilty on that infraction.
When the initial charges were filed in November 2016 DuPont, after some prevarication, took responsibility, wrote that he was "remorseful" and said the behavior "will never happen again." Then additional charges, particularly those pertaining to his behavior in court, came to light.
In 2012, DuPont granted a petition for an injunction to a woman whose husband had so brutalized her as to result in a hospitalization for a concussion. But DuPont also ordered the woman to be psychologically evaluated. The reason: because she had repeatedly returned to her abuser. He threatened her with jail if she did not comply. The Fifth District Court of Appeal reversed that order, ruling that such measures "impose a substantial financial and emotional burden on the victim and would have a chilling effect on victims of domestic violence seeking the protection of the courts." DuPont testified he had imposed the conditions out of fear for the safety of the woman and her children (whom he'd also ordered psychologically evaluated). On that count, the qualifications commission found him not guilty.
DuPont had called on numerous friends, colleagues and others to vouch for him in his case before the qualifications commission, including Tom Bexley, the Flagler County Clerk of Court, Tim Smith, the clerk of court in Putnam, Judge Dennis Craig, who presides over Flagler County's felony court, Jeffrey Hardy, a former Putnam County sheriff, several other law enforcement officers, Terence Perkins, the former chief judge of the Seventh Judicial Circuit, and Hugh Grimes, president of Bethune-Cookman University. James Alexander, a veteran St. Johns attorney, testified that while DuPont's early tenure was "shaky," he'd grown from a "D-" judge into an "A+" judge over time. Grimes called DuPont "a good man" with an "excellent reputation" for truth and veracity.
Notably absent from that list was Circuit Judge Matthew Foxman–who also presided over Flagler's felony court for a year. Foxman was elected to the bench the same year DuPont was. The two became friends during that campaign. But in the case before the qualifications commission, DuPont claimed Foxman had recommended to DuPont that DuPont go forward with damaging information about an opponent, a claim Foxman termed "not true" in testimony. Rather, Foxman said he'd warned him against publishing questionable information.
DuPont was found guilty of publishing information about an opponent despite advice from trusted colleagues. It was not only the information the commission questioned, but the manner with which DuPont published it, using damaging innuendo and phraseology relating to his opponent such as "imposter information" and tag lines more customarily associated with used-car salesmanship than judicial races, such as: "Do You Trust Malcolm Anthony To Be Your Circuit Court Judge?"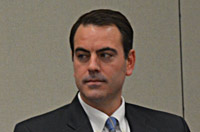 The qualifications commission "finds that Judge DuPont felt threatened by a candidate with substantially more legal experience; he requested France"–Maureen France, his campaign manager–"to conduct 'opposition research' on Anthony, because he was familiar with this type of research from his prior successful campaign for judicial office. The timing and content of emails between them support Ms. France's account that the judge knew she was not going to be vetting any of the research provided, that it lacked detail, and should not be used."
The commission's findings reveal conflicts within the DuPont campaign that his tactics provoked. France, the commission found, "took the unprecedented step of requesting that Judge DuPont execute a 'hold harmless' agreement protecting" her and colleagues working on the campaign. DuPont refused to sign. France said DuPont told her that "if we were to get into any trouble, any attorney in the circuit would represent us for free."
DuPont ignored France's warnings. The commission, citing extensively from the transcript of a televised 2016 candidate forum where DuPont unleashed a long string of unsubstantiated accusations, found him guilty of using information about his opponent with "reckless disregard" for the truth. (DuPont's abrasive, confrontational style had been reported at length during his 2010 race following a forum in Flagler.)
In the case involving Palm Coast and the golf group–which had filed a motion to disqualify DuPont, and which DuPont denied–the commission found DuPont not guilty, DuPont having eventually disqualified himself from the case (after the qualifying commission's investigative panel found probable cause for misconduct) and the case itself was resolved in mediation.
The qualifications commission in its recommendations was willing to give DuPont the benefit of the doubt regarding his missteps early in his tenure. But it's the persistence and accumulation of concerns that lent weight to its further findings, particularly when it heard the testimony of Perkins, the chief judge in the circuit for the majority of DuPont's tenure–from 2013 through June 2017. The number of complaints Perkins received about DuPont, Perkins testified, was "not even close" to those received about other judges. Most, he said, related to "heavy handedness."
The problem was such that Perkins for four years refused to assign DuPont to felony court, "fearing such heavy-handedness might lead to excessive or inappropriate incarcerations," the findings state. Perkins "transferred DuPont to the civil division to 'take him out of the firing line' and place him in a position where 'he wasn't putting people in jail all the time.'"
Perkins "initially attempted to address problems directly with Judge DuPont," the findings continue. "This proved ineffective. 'Scott would say the right things; it just didn't seem to change the behavior.' He then reached out for assistance from other judges."
In the end, the commission found DuPont to have violated several judicial canons, resulting in the recommendation for removal.

The Judicial Qualifications Commission's Full Findings on Judge Scott DuPont (2018)