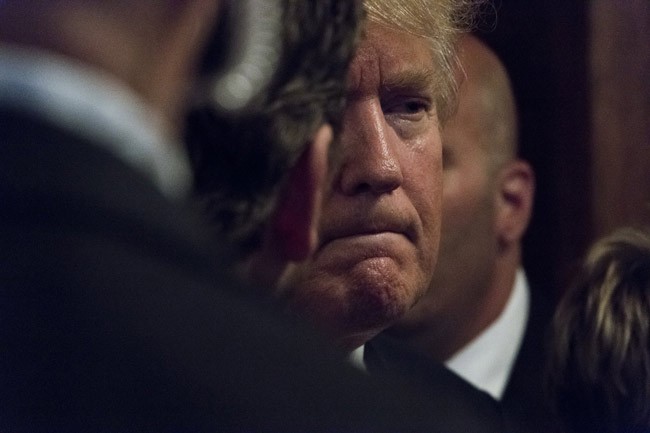 Imagine if Donald Trump were to drop dead tomorrow. It's not unthinkable. He's 69, and narcissists are known to tax their arteries more than ordinary mortals. The chance of that happening is at least on par with moribund Jeb becoming president, which is not quite zero. But Trump's funeral week would tell us everything we know about the state of this presidential race and the increasingly odious character of the United States.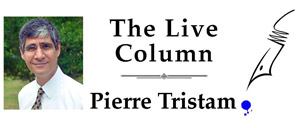 It would be a story of altered states. Democrats would grieve most. They'd have lost their best chance to win the White House in a cakewalk, assuming Sarah Palin mutants like Ted Cruz or Ben Carson weren't to resurrect Democrats' better fortunes. Hillary Clinton is not beloved, and her baggage would immobilize an airport carousel. But no one expects her to rule America as a Mussolini in pant suits. More like a duller, leftier Thatcher. And it's not as if her first stint in the White House didn't coincide with the country's last best decade. Her husband had a little something to do with it, and unless he drops dead, he's not likely to be a ghost in his old private study.
A departed Trump would have more of a schizophrenic effect on Republicans. Candidates would have a hard time containing themselves, or at least balancing their private celebrations with public tributes and admiration for the fallen neo-fascist. They'd celebrate because they'd be rid of the only man to have led their pack almost exclusively since he descended into the bowels of the Trump Tower last June to begin his daily smashing of the American mosaic.
He started by calling Mexicans and the rest of the Latin world rapists and drug addicts. That took care of roughly half a billion people. Black lives didn't matter to him as much as roughing up those who speak for them. That took care of the black vote. His reference to Megyn Kelly's period put quite the exclamation point on his hopes of winning women's vote. He had no problem ridiculing the disabled. By an inexplicable miracle he's managed not to offend the LGBT community. Not yet. Then it was onto the rest of the world. A Berlin Wall on the Rio Grande aside, at first it was just Syrian refugees he wanted to ban, Christian or Muslim. Then it became all 1.5 billion Muslims, with registrations and round-ups of home-grown ones.
It was only this week that his fellow-Republican candidates finally mustered some indignation at his nostalgia for FDR's internment camps and an update of the GOP's 1924 Immigration Act, which closed America to most Asians. But condemnations were tepid and inconsistent, especially among presidential candidates, not one of whom has disavowed Trump, as they all should have in June. Instead, they've triangulated, playing for his supporters while exploiting the same fears and bigotries that gave Trump his rise. They're humping his coattails. He's not an outlier. He's their mascot. At his funeral, he would be their hero. They'd all be there, as prostrate as Muslims at prayer facing Mecca. They'd all find a way of paying him tribute with that endorsement of small minds: "He said what many of us think but don't speak."
There's good reason for repressing bilious vomit. But this isn't the age of repression, except for civil liberties. Republicans have been verbalizing the same mixture of racism, bigotry and xenophobia as Trump long before Trump abandoned his Apprentice throne. They just haven't done it as vulgarly.
They've been demeaning Mexicans and dehumanizing "illegal" immigrants for years. Islamophobia pre-dated Carson's declaration that he doesn't think a Muslim should be president, though according to a good segment of the GOP electorate we've had a  Kenyan-born Muslim president for the past seven years. Cruz introduced a bill to ban all non-Christian Syrian refugees. Jeb Bush agreed. Gov. Rick Scott is among the 31 governors, almost all of them Republicans, who want to ban refugees from their state. And of course every single GOP candidate thinks a new crusade in the Middle East is preferable to the Muslim president's more cautious, less Bush-like repeat of recent American catastrophes over there, with three lost wars and counting. Don't ask them for an exit strategy: they've made their peace with perpetual war.
A funeral for Donald Trump, or at least for his presidential run, would appear to be the end of a fascist nightmare in the making. We won't be so lucky. Live or die, the Trump run has re-defined America as a nasty, brutish and short-sighted leviathan. That Trump's fellow-candidates are readier to ape his  demagoguery than denounce it tells us where this country is headed, assuming Republicans can bank enough rage and hate for ballots. They certainly could not win without either.

Pierre Tristam is FlaglerLive's editor. follow him on Twitter. A version of this piece aired on WNZF.