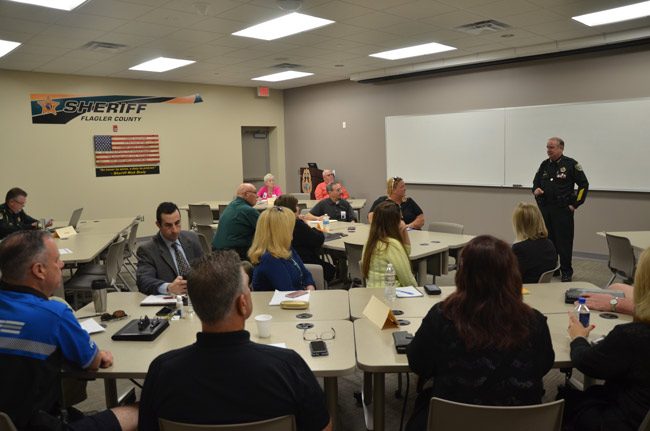 There were five murders in Flagler County last year. Three were cases of domestic violence: a wife allegedly killing her husband, a son killing his mother, a father killing his son. The father, Bobby Earl Gore, was sentenced to 15 years in prison last week after pleading guilty, at the end of a sentencing hearing that turned into the deconstruction of a family's domestic dysfunctions.
The new year was barely two weeks old when the county registered its first murder of 2018: again, an alleged case of domestic violence as an ex-husband who had started living with his ex-wife was charged with killing her in Palm Coast.
Sheriff Rick Staly summed up the grim tally this morning at the beginning of the latest gathering of the domestic violence task force he first convened last June. The murders get much of the attention. But there are some 500 cases of domestic violence a year. In a county of a little over 100,000 people, it's not a small number.
Since June, the task force proposed several initiatives, some of which have been implemented. The Sheriff's Office secured a $165,000 grant to pay for the addition of a detective and an analyst, at least for a year (and six months' training). The pair will be devoted exclusively to domestic violence cases. They will seek to follow up on more cases, gathering more evidence either to make charges stick or, as the case may be, to dismiss them if necessary, depending on where the evidence leads. The existence of the task force played a significant role in landing the grant.
A batterer's intervention program was started in the county—an import from Family Services Coalition in Palatka–enabling judges to direct individuals to the program instead of having to send them out of county, often a disincentive for people to participate. But the program so far only has seven individuals participating.
And the mere existence of the task force has underscored the need for more attention, awareness, resources and education in a social problem that keeps a steady stream of otherwise ordinary residents, fathers, mothers, siblings of all ages who would otherwise never commit a crime, finding themselves handcuffed in the back of patrol cars and headed for booking at the county jail almost every day.
"There is some light here, we are making progress, it's probably not fast enough for any of us and unfortunately we started the year out with a domestic violence murder," Staly told the task force gathered this morning, "so again, it just shows what a problem we have. It's not unique to this community. What is unique in this community is that we're all coming together, we've been doing this since June." He added: "Our work is cut out for us, hopefully we'll have a positive impact in 2018."
---
Progress on some domestic violence fronts but also grim numbers on others.
---
The task force was called back for a status report because neither Staly nor Jack Bisland, the undersheriff who's led the initiative, want the effort to lose focus. The favorable publicity it's earned the Sheriff and the office is unquestionable. But equally unquestionable is the seriousness of the intentions behind the effort—to make a measurable difference in how the issue is addressed, and by whom. "The reason we decided to hold this meeting was in part to hold ourselves accountable, to make sure we didn't drop the ball," Bisland said.
Today's various task force committees—criminal justice, education, social services, faith-based groups, mental health—updated Bisland on their achievements since October, when they last met in a more public setting to unveil their report. This morning's meeting was held at the Sheriff's Operations Center in Bunnell, the way the task force's committees used to meet last year. Characteristic of the task force's work to date, the meeting was brisk, void of small talk or wandering asides, and focused on what's getting done and what must still get done.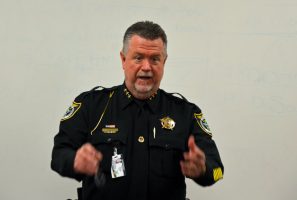 But it was Bisland who had the most to report. Among other new plans in the works: a GPS monitoring system that would lock ankle monitors on domestic violence offenders, thus enabling law enforcement to know where the offender is at all times, but also enabling victims to know as well, so that if the offender has an injunction and happens to be getting near the victim, an alert will sound on the victim's smartphone. The holdback for now is the cost and the mechanics of the program. Though Bisland expects it not to be costly—he says $5,000 would get it started—it's still not clear what agency would administer it locally. The monitoring itself would be done through a third party, much like people's home alarm systems, with that third party notifying agencies or victims of the status of offenders.
Another, somewhat related improvement from the sheriff's end is deputies' enhanced abilities to keep track of offenders who are under injunctions. Currently, when offenders are released from jail, deputies may have a difficult time finding out if injunctions are in effect even though the court system maintains a database of such injunctions in real time. The sheriff's road supervisors now have direct access to that database.
As members of the task force spoke, Jason Lewis, the assistant state attorney, who was at the meeting, noted that a trial involving a domestic violence case was starting just then before Circuit Judge Dennis Craig—the case of Joseph Hawk, 35, who is accused of knocking his wife's teeth out and cutting her face: she had woken him up for dinner. He'd gotten angry and allegedly started punching her with both fists. A deputy found her bleeding—the left side of her lip was cut toward her nose—and with two young children in the area of Bing's Landing in the Hammock the night of July 2. She was fearful of speaking to the deputy at first. Her husband had allegedly threatened to kill her. Her 7-year-old daughter was able to get her grandfather to come over and stop Hawk's alleged assault.
The case was notable in this morning's discussion in one particular regard: the woman had left the state out of fear to hide from Hawk, and the state attorney's office had difficulty convincing her to return to press on with the prosecution, but eventually succeeded. Hawk has since been held at the jail on $100,000 bond. If convicted on a second-degree felony charge of aggravated battery and disfiguring the victim, he could face up to 15 years in prison.
Domestic Violence Resources
---
Anyone can be a victim of domestic violence regardless of age, gender or race. These questions can help determine if you or someone you know may be a victim. Does he or she:

Isolate you from family and friends?

Say things to insult you?

Criticize your parenting skills?

Take your money?
Act as the primary decision-maker?

Prevent you from developing your career?

Physically harm you or threaten you with weapons?

Threaten to commit suicide?
Act like the way he/she treats you is your fault or you are over-exaggerating?

Threaten to hurt your pets?

If you or someone you know is experiencing any of these signs, call the Domestic Violence Hotline immediately at 1-800-500-1119. In Flagler County, call the Family Life Center 24 hour Hotline at (386) 437-3505. Or call 911.
Regarding faith-based initiatives, participating clergy is about to receive a 14-hour training program in how to respond to congregants facing domestic violence issue, whatever side of that issue they may fall on, Ed Reistetter, the sheriff's chaplain, told the task force this morning. "Victims and perpetrators are attending our faith communities, and clergy may encounter incidents of domestic violence, but they don't have the training on what to do when confronted," he said. The program should start to remedy that.
In county government, Joe Mayer, the human resources director, said Trish Giaccone of the Family Life Center—the county's domestic violence shelter—spoke to county employees to provide resources and awareness—where to go, how to seek help when faced with domestic violence, including workplace violence, which can at times be a derivative of violence at home. And Flagler Cares, the countywide initiative that has been focusing on mental health, is behind Senate Bill 1254, which seeks to improve early-learning outcomes for at-risk children.
The education committee reported some progress in getting domestic violence awareness marketed through such student groups as the Community Problem Solvers, but less so in getting local municipalities, including Palm Coast, to help in the marketing.
For all the apparent momentum of the task force, the Family Life Center nevertheless reported this much this morning: Last year it tallied 524 police reports related to domestic violence from the three local law enforcement agencies, in the fiscal year ending June 30. Since then, and with the current year barely halfway through, it has tallied 439 police reports.