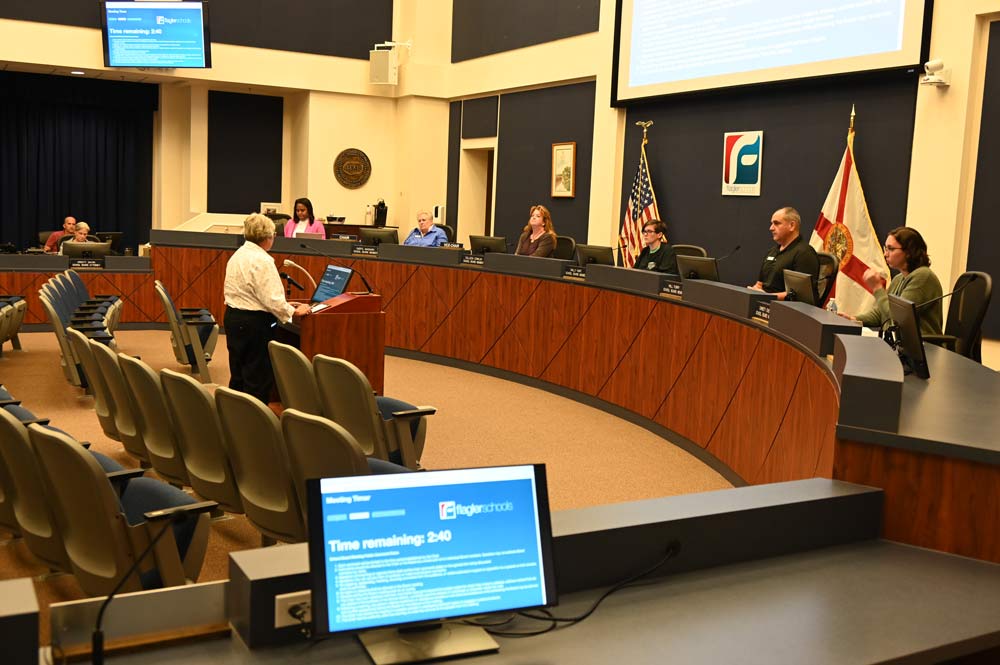 Elisabeth Dias, president of the Flagler County Education Association, the teachers union in the district, sent the following letter to FCEA's membership this week regarding the Flagler County School Board's wish to fire Kristy Gavin, the school board attorney. Three school board members–Sally Hunt, Will Furry and Christy Chong–want Gavin fired.




Board Chair Cheryl Massaro and Board member Colleen Conklin do not. They cite Gavin's history with the district, her clean evaluations over 17 years, the absence of just cause in the majority's wish to fire her, and the risk of incurring costly litigation and damages should the board follow through with the firing. The board agreed last week to negotiations between Gavin, Massaro, Superintendent LaShakia Moore and an outside attorney on the possibility of shifting Gavin to staff attorney, answering to Moore, not the board. Failing that, the board would fire Gavin within 60 days.

I am writing to bring your attention to a critical matter that demands our collective action and unity. The school board's recent actions pose a serious threat to the rights and well-being of our members, as well as the financial stability of our school district.
The school board is currently in the process of wrongfully terminating Kristy Gavin, the school board attorney. Ms. Gavin has served our school district well for 17 years, leading Flagler Schools through many tumultuous times. Her institutional knowledge of Flagler is irreplicable.




This decision to terminate Ms. Gavin's contract sets a dangerous precedent of dismissing employees without just cause. This not only jeopardizes the job security of all school district employees but also undermines the principles of fairness and due process that we hold dear.
In addition to this alarming development, we are deeply concerned about the fiscal irresponsibility demonstrated by the school board. By pursuing this wrongful termination, they are assuming the risk of a costly legal battle that could potentially cost hundreds of thousands of dollars and additional costly legal fees for outside council.
FCEA's proposal for additional salary increases was deemed fiscally irresponsible for proposing to use the General Fund balance to increase salaries and was ultimately rejected, all while our School Board makes decisions that could put the district in financial ruin.




At a time when our teachers and support staff are struggling to make ends meet with less-than-livable wages, it is unacceptable for the school board to prioritize such actions over the well-being of those who tirelessly contribute to the education and growth of our students. Resources are better served in increasing pay, ensuring safety in our schools, and ensuring we have all the necessary means to educate our students.
Please watch the board meeting in which certain members of the board had little regard for just cause, due process and the financial impact of their decisions.
Now, more than ever, we need to stand together and make our voices heard. We must organize to resist these unjust actions and demand accountability from the school board.
We will hold an FCEA Organization Meeting to discuss next steps! This information session serves to update all members on the situation, ensuring that everyone is aware of the potential consequences and implications of the school board's decisions.
We urge you to actively participate in these efforts to protect the rights and livelihoods of our fellow colleagues and the stability of contracts and due process. We want a collective effort at the November 28th school board meeting. Together, we can make a difference and ensure that the school board prioritizes the well-being of the entire school community.
Stay tuned for further updates on our collective actions and thank you for your commitment to justice and fairness.