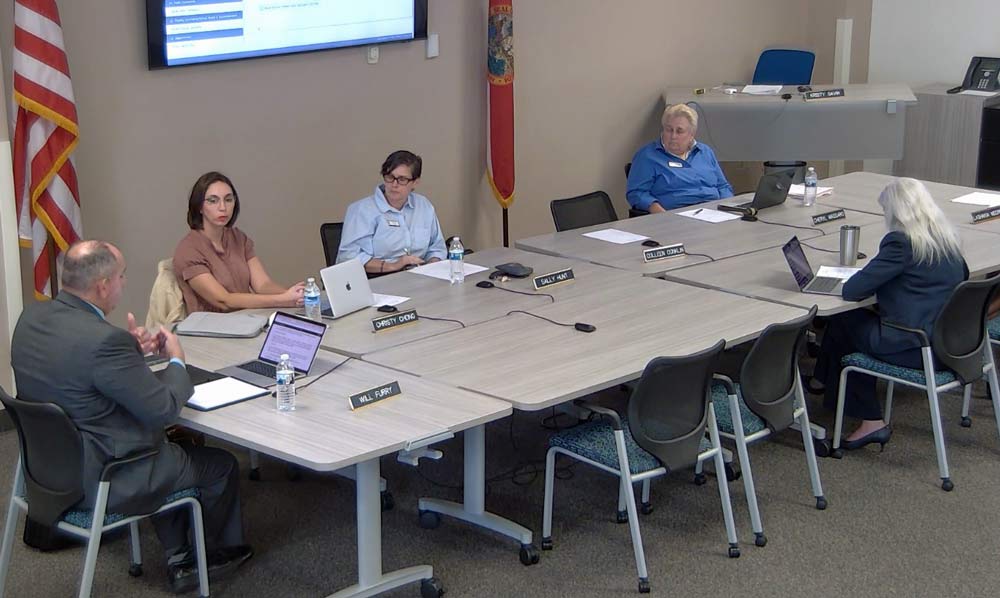 The Flagler County School Board has assigned fellow-board member Will Furry to hire a labor attorney–at the district's expense–who will then shepherd them through firing Kristy Gavin, the board's attorney, without risking a lawsuit. Board members Sally Hunt and Christy Chong pushed the idea of outside counsel. Board Chair Cheryl Massaro joined them in assigning Furry.




School board members may hire or fire only two people: the superintendent and the board attorney. The trio of board members devised the plan with an arresting lack of nuance or courtesy toward the attorney who has served the board for the last 17 years and who sat at the table across from the members, essentially listening to her executioners sharpen their knives.
"There's a conflict of interest with our attorney, giving us the legal counsel on her own contract," Hunt said.
"Sorry, I'm not sure I'm providing you that," Gavin said, noting later that it was wise of the board not to seek her counsel on the contract regardless.
It isn't clear why Gavin did not leave the room, though the trio had been no less subtle, or lacking in evidence, when it fired former Superintendent Cathy Mittelstadt a few months ago.
The 40-minute discussion prompted the obvious question from Gavin to the board: "Are you comfortable with my continuing to perform legal services at this time?"
"Outside resignation, we would expect you to," Furry said.
Massaro chaired the meeting. Board member Colleen Conklin was absent, no one knew why, only that she had asked that the discussion be postponed to a future meeting when she could be present. The trio wasn't interested in delaying. She did not respond to a text or a phone call.
Hunt said she had "reached out for some guidance on this because I didn't quite know what to do and the advice was that we should have outside counsel" the issue, plus to appoint a board member as a board liaison. Hunt did not disclose who gave her that advice, other than to suggest that she often contacts the Florida School Board Association. But apparently it was the same person who spoke with Chong.




"I mean, we obviously have not talked to each other, but I'm sure we've talked to the same people who have advised us," Chong said, "and yeah, I got the same kind of guidance."
Massaro said she had spoken with the FSBA. She was concerned about the cost of outside counsel. She wondered why an outside attorney was necessary when the existing contract spells out what the board may or may not do–and what the end game was. Chong and Hunt made it very clear.
"The relationship with our attorney, just myself personally, it's been fractured," Chong said. "I can only speak for myself, but you know, do we want to continue this contract?" She wants to get to the next step "as peacefully as possible, just come to mutual terms." She spoke of "a mutual agreement of buying out the contract, whatever that may look like, without us getting, you know." She did not complete the sentence, but implied pre-emption of litigation from Gavin.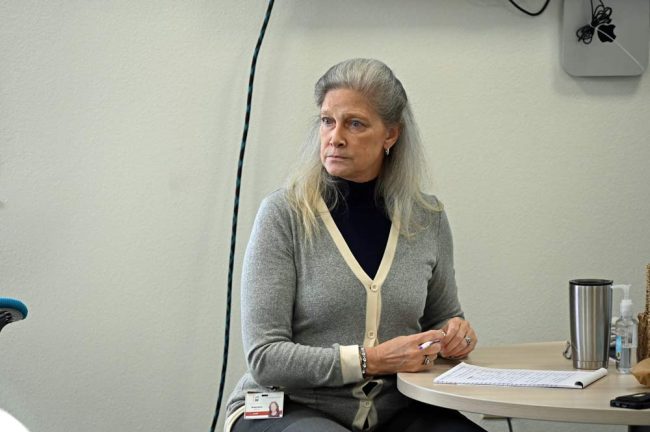 "My focus is on the termination section of the contract. That's my focus," Hunt said, appearing to relish a few digs along the way: "She has her experience with Attorney Gavin," Hunt said of Chong, "I have mine, Will, I'm sure we all have ours." Later, she told Furry: "Will, I would like that shared with that outside counsel–that this contract was drafted by Attorney Gavin, that attorney Gavin drafted her her own contract." It is not unusual–it is in fact the norm–that superintendents and board attorneys negotiate their contracts and the wording of the contract, within certain legal parameters.
Hunt had referred to the only part of the existing contract that referred to "misconduct," though not necessarily accusing the attorney of that, though the choice of paragraph was telling. It prompted Massaro to say that if there was an instance of misconduct, it would be a law enforcement matter–that Gavin would be arrested, or that it would have at least needed to be reported to the Florida Bar. There have been no such claims, no such reports.




"However this looks like, I'm going to be in control, right?" Furry told his colleagues, speaking of his "liaison" role. "If I'm going to set up a special meeting for all the board to chime in or individual meetings with each individual board members, you're going to allow me to put this into place the way I see it's best to serve the board."
In fact, it would be illegal if Furry were to have individual meetings with board members, outside of sunshine. He is not barred from such meetings. But they would have to be publicly noticed in advance and open to the public. The outside attorney, however, may have individual meetings with individual board members–but not convey from one meeting to the next what each board member said. That, too, would be illegal under the law.
When Furry suggested that every board member submit questions for the outside attorney, outside of a public meeting, and receive their answers, Hunt protested: she doesn't want to put anything in writing. Stunningly, and without explanations, she then said: "There are things that I feel that if I share would put our district in a place of liability." So she would only speak with an attorney verbally. Chong agreed, though the possibility of written questions was not closed.
It would be just as illegal for the board members to draft questions for an outside attorney and channel them through Furry, who would then convey them to the outside attorney, as he would then be in a position to read and be influenced by the documents, and react accordingly with the attorney, all outside of a meeting: he would know what other board members' thinking is, and potentially formulate part of his strategy based on that. Massaro, who is not always versed in sunshine law, proposed that route: "I would recommend that if you're going to write your questions to get them to Will at your earliest convenience, so he has the information to take to the proposed attorney so they know what they're looking at."




To his credit, it was Furry who cautioned that, because of sunshine, perhaps the questions should not go to him. The solution did not circumvent the issue: the questions will be forwarded to a district staffer, who will then forward them all to Furry–not to the outside attorney.
Gavin had been silent by then. Superintendent LaShakia Moore was also at the table. Moore remained silent but for informing the board members that she did not know who had drafted Gavin's contract.
It was not clear how the outside attorney would be hired, what amount of money the board agreed to pay–or at level to limit payments–whether or how the attorney would meet with individual board members, though it appears that the attorney would somehow provide an opinion. Whether the attorney would sit through future meetings regarding Gavin remains unclear. The board agreed not to hire an attorney from within Flagler County, but Furry said he did not want to be limited to Florida School Board Association recommendations, and again asserted: "It's going to be my purview, at the end of the day."
The board is expected to vote on a motion to that end at this evening's meeting, then get an update at the October 10 workshop.
"I just want to confirm, I am here to serve this board, I am here to serve this district in accordance with my duties," Gavin said at the end of the discussion. "I will continue to perform my duties and responsibilities as set forth in my contract as set forth in my job description. I have yet to fail to do that. And I will continue to ensure that this board is protected in the manner according to my contract."