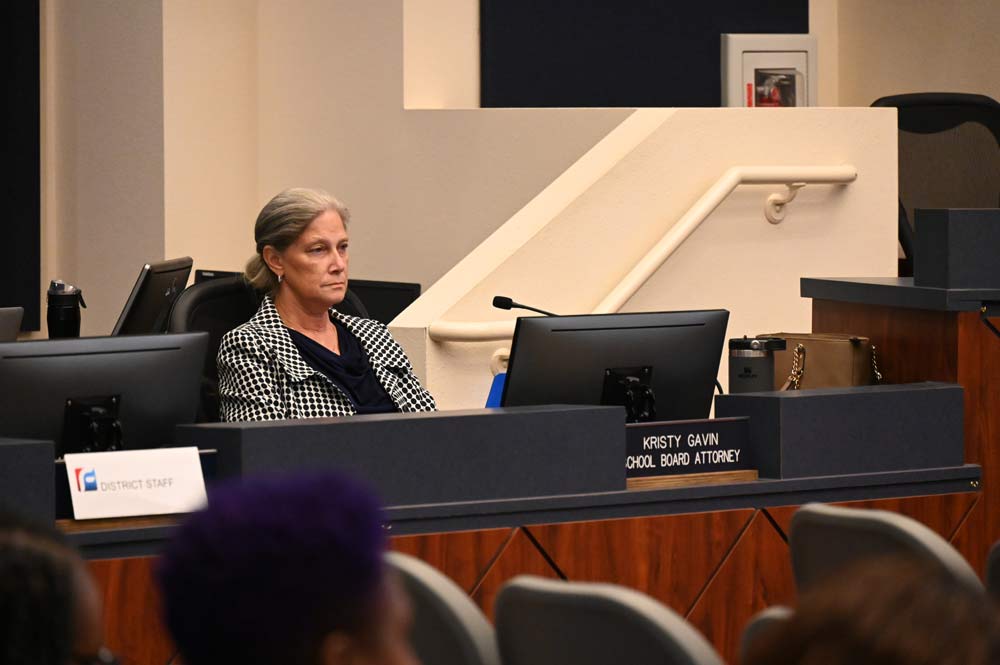 At the end of a two hour and 15 minute meeting grimed with more antagonism than clarity, the Flagler County School Board Tuesday evening again stopped short of firing Kristy Gavin, its attorney, after it was sharply cautioned by Superintendent LaShakia Moore against taking such a vote. She said it could have an "unnecessary financial burden"–meaning either a lawsuit or a judgment for Gavin potentially worth hundreds of thousands of dollars if the board were to break her contract for still vague, unstated causes.
Moore warned the board that it was acting in the dark without an independent attorney present, risking to make a decision that would put the district at risk. The implication was that the animus a majority of the board feels for Gavin is so pronounced that it was willing to jeopardize the interests of the district over it.  It was a reversal of roles of sorts, with Moore commandingly seeming to save Gavin's job and save the board from itself by becoming, in effect, a swing board member.




With Board member Colleen Conklin carving into Moore's opening with by translating it into a motion, the board voted 4-1 to allow Moore, Board Chair Cheryl Massaro, Gavin and an independent attorney to negotiate moving Gavin to the position of staff attorney, answering only to Moore and thus immunizing her against the board's bile. The position doesn't yet exist. But the board implicitly agreed to creating it.
If those negotiations fail, the board would then move to fire Gavin within 60 days. It would have to do so "for cause." Those causes would have to be spelled out in writing.
The motion did not include a call for the board to hire a new attorney. But the board agreed with Moore that it had to have an attorney in the room going forward, and Gavin has already unearthed a previous request for proposal to that effect, to hurry things along. But the board majority that wants her fired seemed clueless about the mechanics and timelines of finding a new attorney.
Three board members want Gavin fired: Will Furry, Christy Chong and Sally Hunt. (Furry cast Thursday's dissenting vote.) The only person who claims to have causes is Hunt. She claims to have spoken with three mystery attorneys who have assured her that her causes are sound. To date, she has not revealed those causes beyond complaining about a few articles on FlaglerLive and accusing Gavin of breaking attorney-client privilege. She has given two such instances.




One alleges, falsely, that Gavin told FlaglerLive about Hunt planning to move. Gavin never did so. That information was rampant inside and outside the district. The second alleges that Gavin improperly told Massaro that Hunt had threatened to call for censuring Massaro for not sticking to a script when she delivered a speech condemning the segregated assemblies at Bunnell Elementary, though neither Hunt nor Gavin have the authority to impose a script on an elected board member, and board members' machinations against each other are not privileged under sunshine.
"Attorney Gavin, when Cheryl Massaro asked you which board member was upset about the press conference," Hunt said, "that was a moment where it was not appropriate for you to share which board member."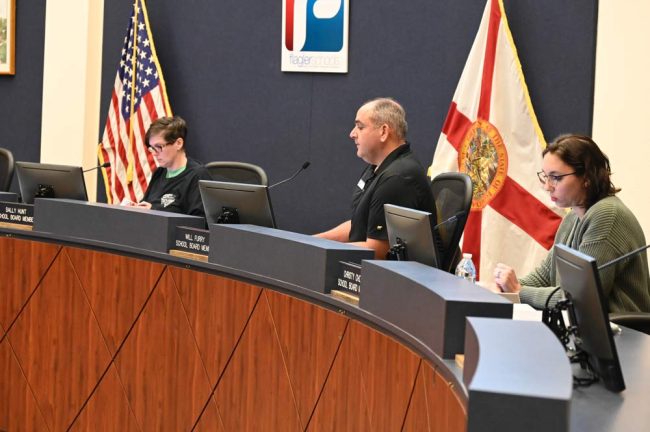 All along, Hunt complained about the reporting surrounding those issues, naming her.
Once again, to Conklin's bewilderment, Hunt had managed to make it all about herself. "Is this about articles in the newspaper about you?" Conklin asked her.
"No, ma'am," Hunt said.
"I mean, you just said that. That is what you just said," Conklin said.




Hunt denied what she had just said, then deflected with generalities that seemed to have nothing to do with the matter at hand: "This is about Flagler Forward and minimizing the dysfunction that is keeping us from being in a school district and not having our students being charged with battery and felonies. There are a lot of great things here and there are a lot of challenges," she said.
Trevor Tucker, who Chong defeated after he'd served 12 years on the school board, had sat through the meeting, bewildered by the spectacle. He was the only member of the public who spoke at the end of the meeting, in a chamber mostly empty but for a scattering of staff members and a handful of interested residents. His summation to the board encapsulates the degree to which the new majority, a year into the job, appears to have no grasp of its responsibilities or of the implications of its actions. He immediately seized on the blurring of roles that placed Moore, who was just named superintendent, in a role she should not have been placed in.
"What you've done right here is kind of mixing operations and your board duties. It's no longer very clear because you're saying, hey, you need to do this, and also put your superintendent in a very awkward position," Tucker told the board. "The process of this is very awkward and strange. It would be much cleaner to have done something or not done something. But all this in between, it's just very strange."




He referred to the timeline the board gave itself for a replacement attorney:  "60 days: because you still have to create a job description. It has to be advertised 30 days. I don't think the RFP and RFQ have to go out for 30 days. I don't think you're going to get another board attorney between now and 60 days. I don't know how you guys are going to do that. You guys need to have an emergency meeting pretty quick to get that stuff going. That's in your policies. That's in the board policies. So please, guys, read those policies. Get them good, get to know them. Because what you guys did tonight, I think you're going to put the district in jeopardy. Not because you may or may not have an attorney, but because may not have followed your own policies. You might not get someone in 60 days. So good luck. It's just so disheartening to see that."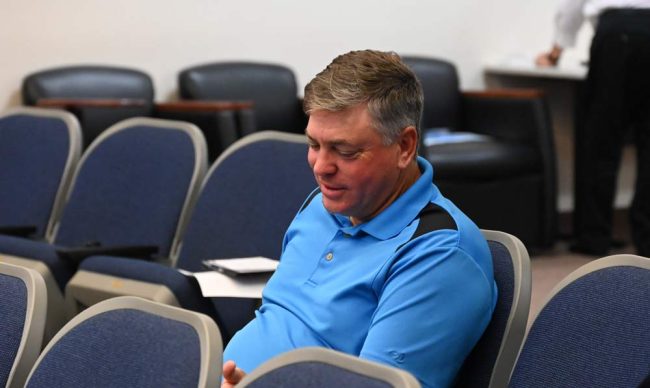 The board had already hired an outside attorney to help it navigate the process of firing Gavin without incurring heavy liability. Furry was delegated to handle the outside attorney, who recommended seeking a separation by mutual agreement. Furry was delegated to meet with Gavin for that. They met, apparently with no one else in the room.
According to Gavin and Furry, it did not go well. Both summarized the way the meeting went, in their own words, at the beginning of Thursday's meeting, describing more acrimony and accusations of rudeness on both parts than any accomplishments. Gavin acknowledged and apologized for hers, Furry did not acknowledge his or apologize for anything.
Gavin, Furry said, was not interested in a discussion about a mutually agreed separation, only about moving into a staff position. He described the meeting as "a waste of time" and Gavin as "manipulative" and "unprofessional." "If there was any shred of confidence left in Miss Gavin serving as School Board attorney, it was erased as a result of this, her behavior," Furry said.




Furry, Gavin said, offered only what amounted to "a slap in my face for the 17 years of service. He said, I offer you 12 weeks" of pay as severance. He was not interested in a discussion about her moving into a staff position, even though the board had directed him to explore that avenue as well. "Things did get very heated. And Mr. Furry told me that I needed to understand that he did not work for me, that I worked for him," Gavin said, describing a power tactic common among employers negotiating from a weak position as they resort to hierarchy over substance.
"So yes, it did become heated. Yes, it did become unbecoming of me," Gavin said. "I don't like to raise my voice. I don't like to have confrontation. That is not who I am. But when someone comes unprepared to a meeting, and has failed to even do the legwork of giving me a good faith offer to even consider walking away from this district or to discuss how we could turn into from a board position to a district position, and he had not even spoken to the superintendent, I didn't feel that that meeting was going to serve a purpose as well."
By the time Thursday evening's meeting took place, Gavin was in stand-your-ground mode.
Furry said he had spoken to the superintendent before and after that meeting, though he did not say whether he had asked her if she was willing to engage Gavin as staff attorney. And when Massaro attempted to ask Moore just that question, Chong intervened, calling it inappropriate and making the stunning assertion that "this is a conversation that needs to happen behind closed doors."




"No, it is a conversation that has to happen in public. This is a public conversation that we must have in front of people," Massaro said.
The superintendent's hires are hers, and are not under sunshine, like the board's hires, but the question Massaro sought to pose to Moore was not about the hire but about the position, which would have to be approved by the board and is a public matter. Still, at every subsequent turn when that angle of the discussion was touched on, the Furry-Chong-Hunt side of the dais scuttled it until Moore more skillfully managed to both assert her prerogative in deciding whom she hires and placing herself in the room to negotiate Gavin's transition. The trio was outflanked by its own superintendent.
It was also Gavin's and Furry's description of their meeting that so alarmed Moore that she urged the board not to move forward without an independent attorney overseeing its moves henceforth.
Aside from risking a costly legal battle and financial settlement, Massaro and Conklin are insistent on retaining Gavin because of the institutional knowledge she represents, after 17 years as the board attorney, and to enable her to retire with full benefits in less than two years, if she so chooses. The institutional knowledge is key, they argue, since Moore is new in her role and depends heavily on Gavin's knowledge. A large part of Gavin's day-to-day job happens to fall under the designation of staff attorney, not board attorney.