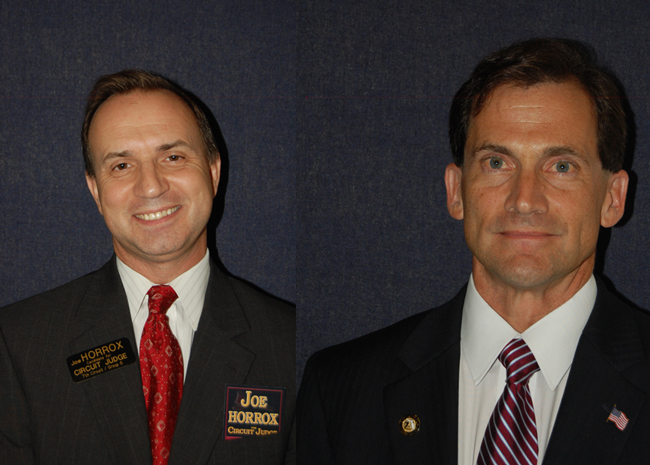 The Flagler County Commission this evening will proclaim Nov. 5 "Judge Kim C. Hammond Day" in commemoration of the judge's retirement after 31 years in circuit court. Two men want to be the next Hammond, neither of whom has the kind of fame and sheer height Hammond brought to the bench when he was appointed to the position in 1979 to replace Judge Melvin Orfinger.
Hammond had played football with the Miami Dolphins and the New England Patriots and been a star quarterback at Florida State before spending seven years as a lawyer in private practice in Daytona Beach.
---
Click On:
Craig's Facebook Page
Horrox's Web Page
---
---
But if Hammond had experience throwing a football and eliciting cheerleaders' squeals, at 35 he had far less experience in the law before his appointment to the bench than either Dennis Craig or Joe Horrox, the two candidates in the 7th Judicial Circuit's Group 5 race. And, like Craig and Horrox, Hammond had little to do with Flagler County (Horrox spent a few years in Flagler Beach). His legal stature as a judge was built over time.
Horrox and Craig are the last two candidates left standing after a six-way race in the August primary, which had featured two local candidates (Mark Dwyer and Sid Nowell) and gobs of money, at least from Horrox and Craig. Horrox and Craig spent the most money by far out of the six, most of it their own: Horrox plunked down $75,000 of his own (and so far spent a total of $115,000), Craig put in $46,600 and spent $57,000. Craig came out ahead with 25.9 percent of the vote to Horrox's 24.9 percent. The next-closest candidate was Dwyer, with 19 percent.
Craig and Horrox are both conservative. Neither can be accused of flirting with charisma. They're both affable, surprisingly unpretentious for lawyers (Craig especially) and—in their public appearances and debates—intellectually unexceptional, though with Craig it may be more a matter of reserve than blankness in that regard. Horrox makes a point of saying he graduated 14th in a class of 133 at Stetson Law School: not exactly an impressive ranking, even less so at a modest, regional law school. They're about the same age (Craig is 49, Horrox is 47), they've been practicing law for about 25 years each. Horrox is a fanatic Rotarians, Craig a fanatic family man (at least judging from their self-portrayals). The challenge is to set them apart.
Listening to them speak, as they did last week at a Flagler Palm Coast Civic Association forum in Bunnell, distinct differences emerge, particularly in the diversity of their legal experience (Craig has it, Horrox does not). Craig's career has been split between private, civil law experience and public, criminal law experience. He's spent the last half of his career at the State Attorney's office, "the majority of it in the courtroom," he says.
"The reason that's important is," Craig says, "these circuit judges are trial judges. You need someone who practices in the courtroom, not in the office. Just within the last five years, I've tried 89 jury trials in five different counties in front of 16 different judges and against 47 different defense attorneys. My opponent has tried 20 cases in his entire 23 year career. He's a personal injury lawyer that basically works in the office, not in the courtroom."
That office versus courtroom dig is a recurrent line of attack from Craig, for which Horrox has come up with an answer: the judge replacing Kim Hammond will be responsible for the civil docket, not the criminal docket (which is being assigned to Circuit Judge Raul Zambrano). That's true. But it doesn't quite make Horrox's case: judges are periodically (and eventually inevitably rotated), either to fill in for other judges who have conflicts or who are moved to other circuits or take other assignments. Sooner or later, whoever takes Hammond's seat will be trying criminal cases, and criminal experience will be handy.
A lawyer's humanity can be difficult to find in thickets of legalese. Horrox let the legalese speak for itself: he's great with numbers, telling you what case load each judge carries in each jurisdiction and what percentage of cases, down to decimal points, go to jury trials. Craig is more willing to draw the outlines of the social, if not humane, purpose behind just laws. When asked about the effectiveness of drug court, for example, Horrox essentially restated the question by saying: "I don't think it's any secret that drug court has been an effective tool" and that, lacking more money, "we need to just stick with the programs that we have." Craig's answer revealed more insights about his view of crime and punishment: drug court isn't merely a matter of more efficiently moving the docket, but it's an alternative to punishment and a way of keeping offenders from re-offending.
The questions the pair faced at the forum last week were not particularly interesting or different from the very same questions they'd faced in a similar forum in August—what areas of law have you practiced, what's the biggest obstacle to justice, what ethical dilemmas have you faced. And the Craig-Horrox encounter had none of the underlying animosity and subtle bitch-slapping that animated the simultaneous encounter between Scott DuPont and Don Holmes for the Group 10 seat. That's partly because Horrox and Craig have more similarities than differences. But even the most ordinary questions were revealing.
When asked how they'd deal with ethical conflicts, Horrox—who could not put an impersonal number to this one—spoke in generalities. Many times, he said, clients want their lawyer to tell lies. If the client can't be dissuaded, Horrox said, his strategy is "to withdraw from the case. Let the client find an attorney who's willing to take the unnecessary gamble, that I am not."
Craig had a more compelling answer. Ethical dilemmas are part of the job day in and day out, but if a lawyer follows the rules, it's not an issue: "You follow the rules, you do what's right." When it comes to conflicts, which can be frequent, he used a signal example: the case of Michael Gallagher, the former U.S. Attorney in St. Augustine accused of killing 23-year-old Coty L. Hastings—a championship swimmer—when, speeding at 90 mph or so on State Road A1A, he smashed his BWM into the car in which Hastings was a passenger in March 2006. Craig was assigned the case as prosecutor, facing Gallagher's friends and colleagues in the profession. "You need to be able to treat that case just like any other similarly situated people," Craig said. "I made the choice to prosecute it the way it should have been prosecuted, without favor."
Gallagher was sentenced to seven years in prison.